I hope you like product reviews, because you're going to be seeing a lot of new product reviews in the coming weeks. Some are products I found while on vacation. Others are from a few companies who contacted me, asking me to do a review. While I was away, they shipped me fun samples, which were waiting at my doorstep when I arrived home. (Well, technically, the samples waited inside, thanks to our neighbor who brought in our mail.) One of the new products from New York was incorporated into my lunch: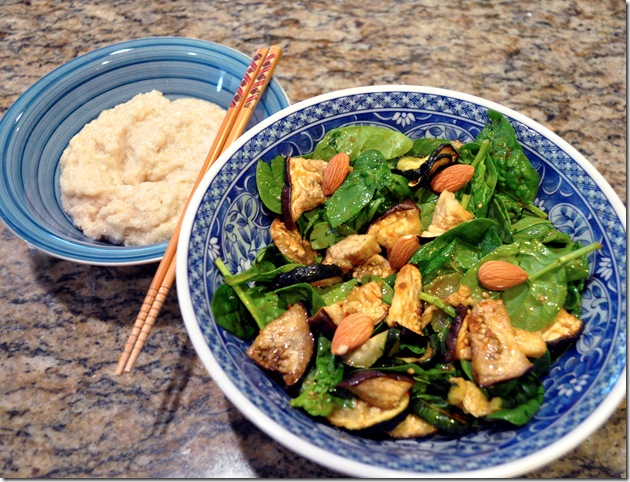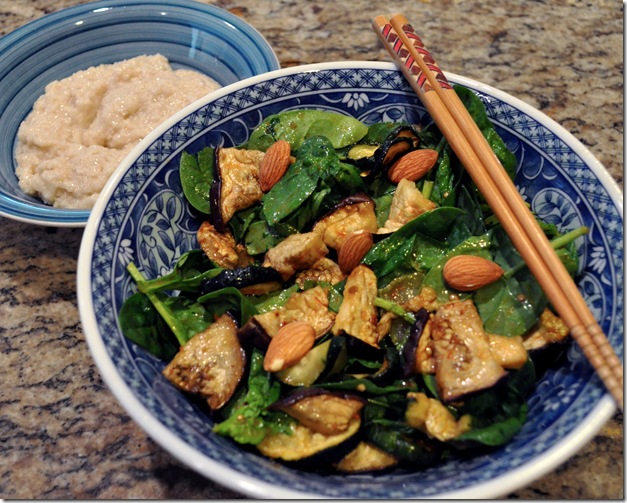 Veggies, almonds, spinach, and sauce. With a bowl of Savory Oat Bran.
Oatmeal: It's not just for breakfast.
The roasted veggies couldn't have been easier. I sliced them, drizzled on some oil, broiled on high for 12 minutes on one side, and flipped for another 12 minutes. Then I put 'em in the fridge for a while to cool, so they wouldn't wilt the spinach.  And what about the new product I mentioned?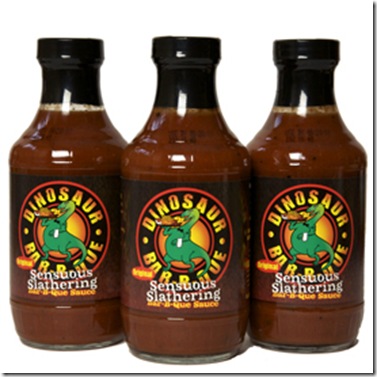 Another barbecue sauce. The above hails from a little health-food store in New York. I've been trying out new sauces lately, especially barbecue sauces, as I've yet to find a favorite.
This Dinosaur sauce, when used like traditional bbq sauce, was entirely too sweet for me, and not spicy at all. But I still loved it on the salad. I used just a bit of sauce on the salad, and the bitterness of the spinach balanced the overwhelming sweetness nicely. It was the perfect mix of sweet and bitter. I definitely see more of those salads in my future! More savory oat bran too!
Question of the Day:
What's your favorite sauce or salad dressing? And how do you use it?
I am in love with Newman's Own Sesame Ginger. It's good on salad, on veggies, and I've even made a pasta salad with it before.