So yes, I have gone back to college. And already, I'm missing the slower-paced days of summer. Tell me if this happens to you: By the end of the summer, you're totally ready for school to start again… but then, two days into the school year, you want summer back!
Lucky me, I'm only 5 minutes away from a major mall and a bazillion shops. Talk about the perfect antidote to draining class work and studying. Whenever I need a break from the monotony of college textbooks, I hop in my car (or bike, if the weather's nice and I don't have a ton of items to buy) and engage in some retail therapy—Urban Outfitters, Barnes and Noble, Sports Authority, the mall, Whole Foods… I'm not picky when it comes to shopping. Often, I don't even buy anything; just the act of getting out of the house refreshes me enough to come home and put the nose back to the grind. Or, like a few days ago, come home and make some dinner: This dinner literally took me 10 minutes to prepare. Normally, I'm not big on "meaty"-type vegan foods.
But every once in a blue moon, I find myself craving Italian-style tofu from White Wave.  The taste is robust, the texture is chewy, and you cannot beat the convenience. Just slice and go.
And lately I've been eating coleslaw with sesame dressing like it's nobody's business. Looks pretty darn gorgeous for being thrown together in about 10 minutes flat (the zucchini fries are leftovers from the day before). Such gorgeousness deserves a close-up shot, no?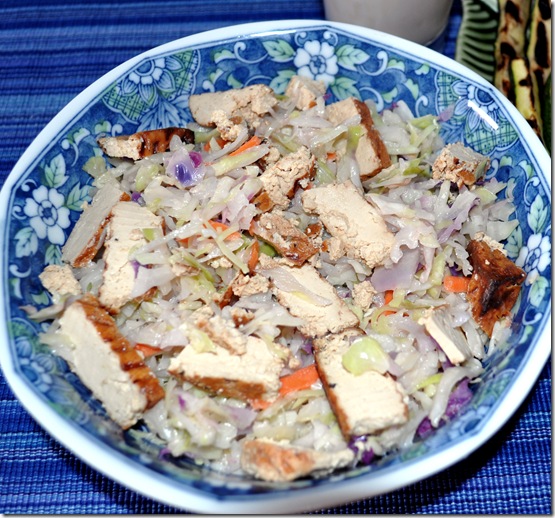 (As much as I really don't care if my food looks ugly, it's always nice when something that tastes good also happens to look good!)
Rounding out the meal with a chilled glass of Cashew Cream Milk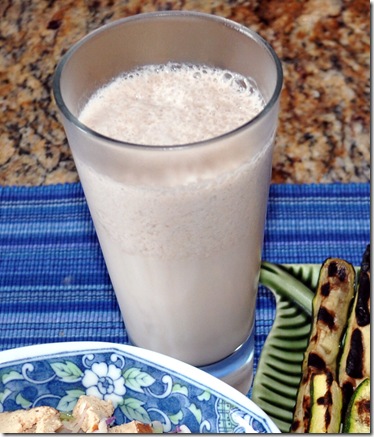 To the 2nd anonymous commenter on yesterday's post: You should totally try this recipe. It's a delicious way to get in some healthy fats. 😉
Question of the day:
I coasted through elementary, middle, and high school. My friends hated that I could ace tests without ever opening a textbook. In college, however, I met my comeuppance. Studying? What's that? How are you supposed to do it? Very quickly, I was forced to teach this old dog a new trick. Luckily, I'm slowly getting the hang of it.
Have you always been good at the art of studying, or did you pick up the habit later in life? I'd love to hear your study tips and tricks. What do you do when your mind finally rebels against any more working/studying? You know: when you're so tired or bored that even after reading the same page three times, you still have no idea what it says! I've always heard that people who take breaks (as opposed to studying non-stop for hours) actually end up being more productive. So go out and engage in some retail therapy, sans guilt!