Identity Crisis!
Today, my name is Katie Crunk, and I can be found on my friend Bianca's blog.
She, in turn, can be found right here! Stick around as we attempt to sort out this mix up ;).
Hey everybody! This is a Dirty South Crunk takeover of the lovely Miss Chocolate Covered Katie's blog (with her permission, of course). In case you don't know me, I'm Bianca and I typically do my preachin' and food porn-sharin' over at my Vegan Crunk blog.
I hail from Memphis, Tennessee and I'm currently writing a Southern vegan cookbook filled with cruelty-free downhome comfort food favorites. Think ham-free collard greens, Southern-fried tofu, sweet tater fries, and barbecue spaghetti.
Although I do lots of home-cookin', I do enjoy dining out on occasion. Problem is, Memphis doesn't have one single totally-vegan restaurant. Not even a totally-vegetarian restaurant. But that's never stopped me from finding delicious cruelty-free restaurant fare. You see, I live by some eatin'-out rules that never fail to help me find delicious vegan options in the meatiest places. Without further ado, here are my Top 8 Rules for Dining Out Vegan:
#1. Call ahead or check out the menu online — Um, duh. This rule is pretty much common sense, but I have to say it. When family or friends are planning an outing, always scan the restaurant's online menu for vegan or easily-made-veg options. If the restaurant doesn't have a website, pick up the phone and give 'em an old-fashioned phone call. Let them know a vegan is coming and inquire whether or not they have anything that is either accidentally vegan or can be made vegan by leaving off cheese or butter. You might want to explain what "vegan" means to be clear. Also, as a general rule, any Asian or Mediterranean restaurant should have ample veg options.
#2. Ask the chef — If the menu is loaded with non-vegan crap, politely ask your server if the chef can create a special vegan dish just for you. Don't feel like your being a pain-in-the-butt. You have a right to delicious vegan food, and maybe the chef will consider adding the dish to the regular menu. If the chef agrees to make you a special dish, be sure to let him or her know how much you liked it. And tip your server well. On a recent outing at Ciao Baci (a fancy-schmancy Italian place) in Little Rock, I asked my server to have the chef make me a special vegan pizza. The result was this delicious eggplant, mushroom, and tomato pie on a homemade cracker-thin crust. Yum!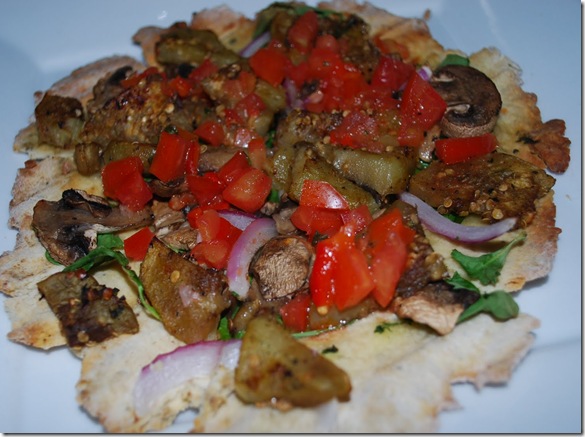 #3. Share with omnis — If the chef creates a special meal just for you or even if you find something vegan on the regular menu, offer a small bite to any omnis at the table. I don't like to share my food. I'm like a rapid dog when anyone comes near my plate, but in dining-out-with-omnis situations, I have to remember that I'm trying to change the world by creating one vegan at a time. They may never know how delicious vegan food is if I don't share.
#4. Consult vegan apps and websites — Don't forget that HappyCow.net can be a valuable resource for locating veg options in your city. The data at Happy Cow is user-driven though, so be sure to send the website info when you stumble on an unlisted vegan-friendly place. If you have an iPhone, Happy Cow's database of restaurants can be easily accessed through the Veg Out app. Also, Vegan Express makes a great iPhone app for locating veg-safe fast food.
#5. Leave off the cheese — When all else fails, most every place has at least one vegetarian dish on the menu that can be made vegan by leaving off the cheese. Think cheeseless pizzas, bean burritos, etc. These mushroom and spinach enchiladas (pictured below) from Cafe Ole in Memphis typically come smothered in cheese, but the cook topped mine with extra tomatillo sauce instead.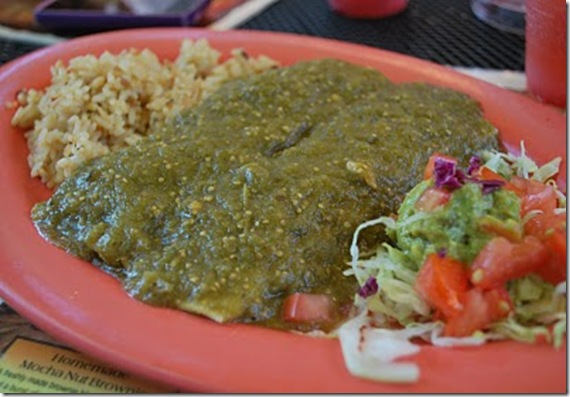 #6. Bring your own vegan food accessories — I often carry small containers of vegan cheese, vegan mayo, Tofutti sour cream, or even guacamole in my purse when I know I'm going somewhere where I'll be leaving the dairy versions of those things off my food. For example, any time I'll be ordering the BBQ Tofu Nachos (below) from my favorite Memphis bar R.P. Tracks, I first stop by Taco Bell to order a small container of their guacamole to top my dish. Yes, the people at Taco Bell give me weird looks for only ordering a tiny container of guac. And no, I don't care what they think.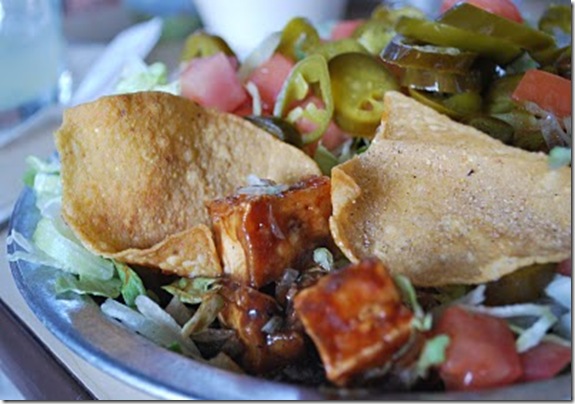 #7. Decide how vegan you want to be — I may catch hell from militant vegans for this one, but I'm not a crazy question-asker when I dine out. Especially if I'm dining with non-vegans. I will always ask if a soup is made with chicken stock or if a veggie burger contains eggs. But I'm not going to throw a fit if my bread arrives buttered. I'll eat it, but next time I'll know to ask for that butter to be left off. I think being a super militant vegan makes our lifestyle look too hard for an omni. I don't want to turn any omnis away from a possible vegan future.
#8. Bring your own dessert! — Most non-vegan restaurants don't offer egg- or dairy-free desserts. But my vegan friends and I often bring our own cupcakes instead. We never really ask if its okay. We just do it. If you're ordering dinner, most servers could care less if you bring your own cake … especially if you can't eat the cake on the menu. My friend Stephanie, the best vegan cake maker in the world, brought a big batch of these banana cupcakes with chocolate vegan cream cheese frosting (below) to an outing at our fave Vietnamese joint.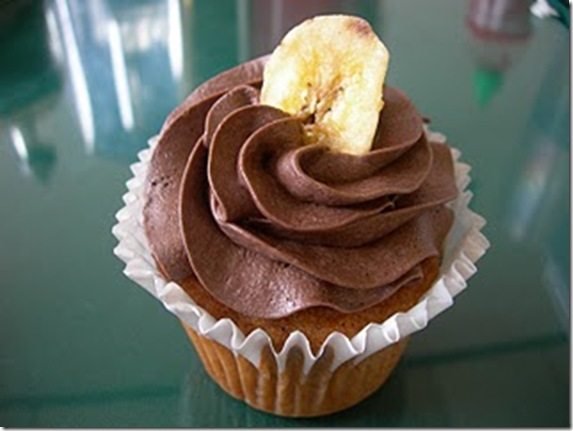 Well, that's it folks. I hope my tips are helpful. I realize much of the above is common sense, but you'd be surprised how many non-vegans or new vegans ask me for tips on finding vegan food in meat-heavy Memphis. I'm sure many of you live in not-so-vegan-friendly cities too. We can't all be lucky enough to live in Portland, right?
Thank you so much, Bianca!
Everyone, be sure to check out Bianca's Vegan Crunk blog. She's a terrific writer, a funny storyteller, compassionate soul, and a future cookbook author to boot. Bianca, we might have a problem: I like your blog so much, I might not wanna go home! You can't make me!!