Goodbye canned beans.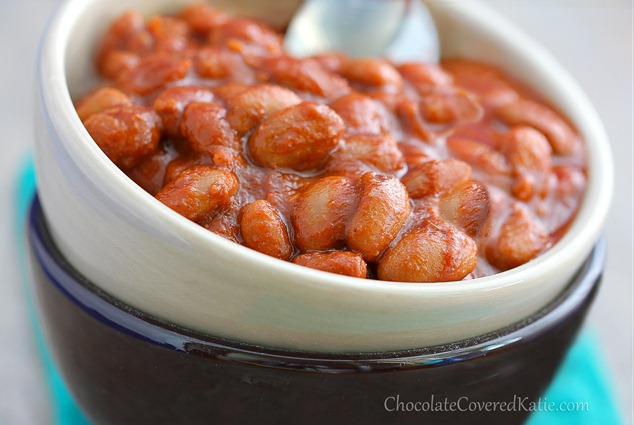 After trying this homemade baked beans recipe, it's hard to imagine going back to canned. Bush's is good and all, but it just doesn't compare to the heightened flavor and superior texture of baked beans made from scratch. Since July is National Baked Bean Month, there's never been a better time to learn how to make your own healthy baked beans. It's much easier than you might think…
When I first started learning to cook, one of my favorite meals to make was a large sweet potato topped with Bush's baked beans and melted cheddar cheese. I wasn't even a vegetarian yet, but I'd eat this meal at least once a week. It was quick and simple, and I loved the revelation that I no longer needed to rely on someone else to always cook for me.
In middle school, feeling independent is of the upmost importance… I remember around the same time, my friends' moms and mine would take us to the mall and sit on a bench while we shopped. We had to check back in every thirty minutes, but we felt super cool, shopping by ourselves. Other people in the mall were probably rolling their eyes at the 7th graders who strutted around the mall like they owned the place. But we didn't notice or care. And then I'd come home and prepare my very own homemade dinner, feeling very grown up.
Never mind that said "homemade dinner" was as simple as popping a potato in the oven, opening a can of beans, and microwaving everything together. That's beside the point

.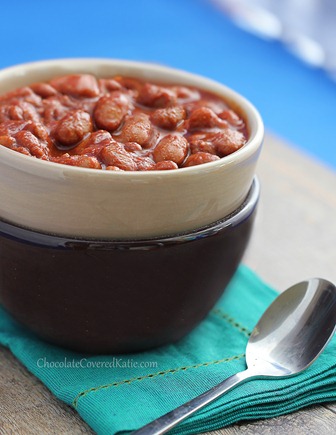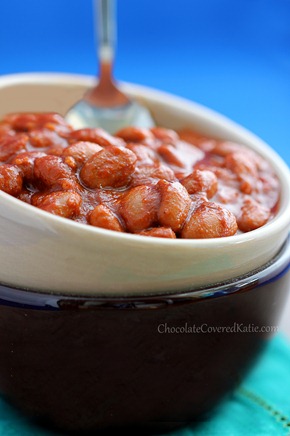 I felt the same sense of accomplishment the first time I made this vegetarian baked beans recipe from scratch a few days ago. Never mind the fact that it's as simple as throwing all the ingredients into a crockpot, putting on the lid, and waiting for it to cook.
That's beside the point.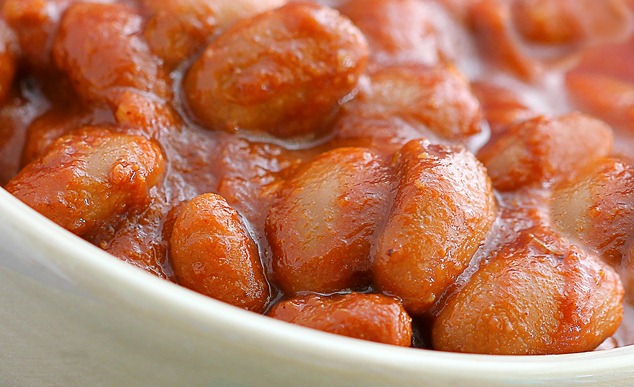 Baked Beans Recipe
Baked Beans Recipe – Healthy & Homemade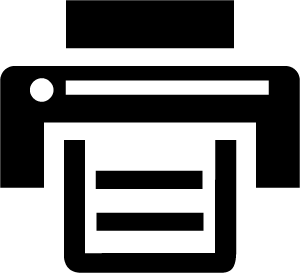 Print This Recipe
[mrp_rating_result show_count="false" show_rich_snippets="false"]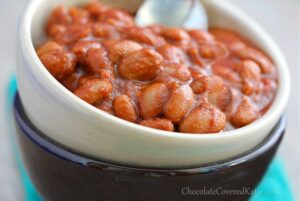 Ingredients
1/2 lb pinto or white beans, soaked overnight in water
1 can "no salt added" tomato sauce (15oz)
2 1/2 tbsp soy sauce or gluten-free soy sauce (45g)
1 3/4 cup water or vegetable broth (420g)
2 tbsp apple cider vinegar (30g)
2 tsp minced garlic (10g)
1 tbsp molasses (blackstrap or regular) (15g)
1/8 tsp pure stevia extract, or 4 tbsp brown sugar or coconut sugar
1/2 tsp salt
1 tbsp cumin powder
1 1/4 tsp chili powder
1/2 tsp onion powder
Instructions
Crockpot baked beans recipe: Drain and rinse the beans. Lightly grease a crockpot (mine is 4 quarts), then add all ingredients. Cover with the lid, and cook on high 7 hours or until beans are soft. Turning off the crockpot, but keeping the lid closed, let sit 1 hour. Serve immediately, or transfer to a container and refrigerate for up to 4 days. If reheating, add a little water (up to 1/2 cup for the entire recipe) and stir, then heat. Yields about 3 1/2 cups.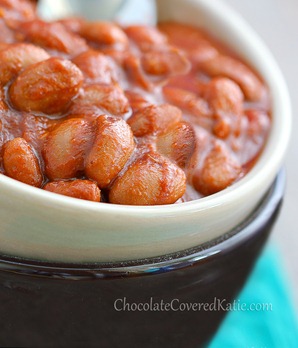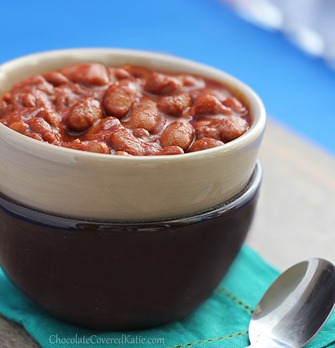 Question of the Day:
Do you remember the first thing you learned to cook?
Link of the Day: Homemade Larabars Recipes