Tired of Oatmeal?
Yes, the question is ridiculous. How could anyone tire of oatmeal, with its infinite flavor possibilities?
For endless oatmeal inspiration, see: My Oatmeal Recipes.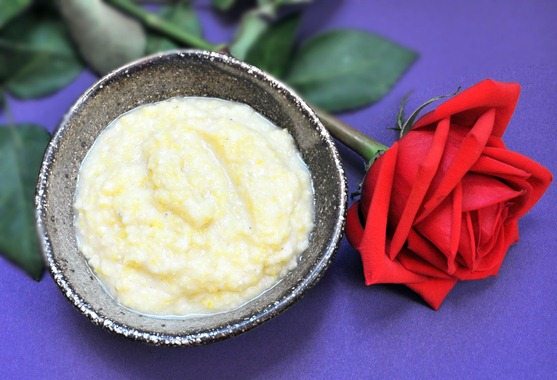 Sometimes, however,  it's good to have variety. And it's always good to have polenta!
Brekkie Polenta
(Serves 1)
1/3 cup dry cornmeal (40g) (I use whole-grain)
1 cup water or milk of choice
1/4 tsp salt
Optional: 1 tbsp coconut oil, cashew butter, or vegan butter
Optional: 2 tbsp creamer (such as Silk), or more if desired
sweetener (stevia, sugar, maple syrup, etc.) to taste
Measure your polenta, salt, and liquid into a small pot. Bring to a boil, then turn to "low" and stir occasionally until it reaches the desired consistency. (About 5-ish minutes) I like to do this the night before, so breakfast comes together more quickly in the morning, but it's not required. Right before eating, add all the desired optional ingredients and re-heat (or eat cold, if you're crazy like me!).
For a savory version, see: Creamy Polenta for One.
If, after breakfast, you still crave polenta, you can always re-visit the grain for lunch or dinner: