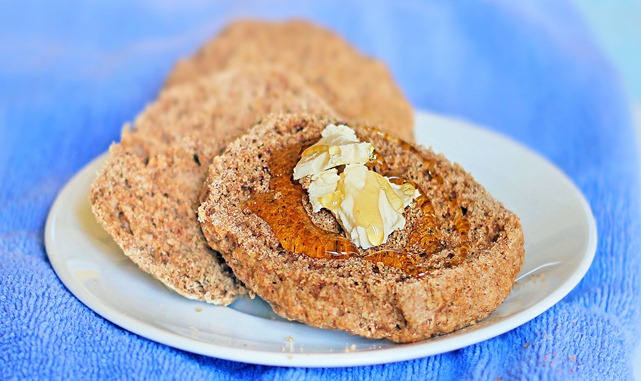 I know you just saw a biscuit post on Thursday.
But I wanted to post this pecan-pie version before Thanksgiving, as these biscuits would be perfect for Thanksgiving dinner! And they'd be even more perfect for "Thanksgiving leftovers" sandwiches the next day.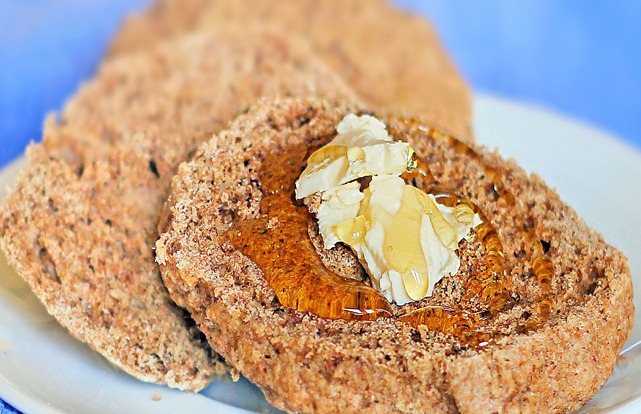 Buttery Pecan Pie Biscuits
(makes 8-12)
1 and 3/4c spelt flour (or white, or Arrowhead Mills gf mix)
1/2 cup toasted pecans
1/2 cup brown sugar (or coconut sugar)
2 1/2 tsp baking powder
1/2 tsp baking soda
1/2 plus 1/8 tsp salt
3 T coconut or canola oil
2/3 cup nondairy milk (Almond or soymilk is fine. Don't use ricemilk.)
1 T white vinegar or lemon juice
Preheat oven to 375 degrees. Pulse pecans in the food processor, then add other dry ingredients and pulse until smooth. Meanwhile, mix the vinegar and milk in a little bowl. Let sit for at least 5 minutes. Transfer the dry ingredients to a big bowl and add milk mixture and oil. Mix just until it comes together. Transfer dough to a tray, and knead a few times until it's not sticky. (Sprinkle with more flour if needed.) Press dough into a rectangle 1/2-inch thick, and cut into squares or rounds. You can bake them on the same tray. Bake 14-15 minutes.
These biscuits taste like something between a biscuit and a scone. They're good topped with a little vegan butter (and maybe some agave or molasses), or coconut butter, or perhaps even pumpkin butter.
Nutritional info per biscuit:
150 calories
5g fat
3g fiber
0g cholesterol
Speaking of pecan pie…
Yesterday afternoon, with the pecans still out on the counter from that morning, I decided to quickly experiment with a pie recipe.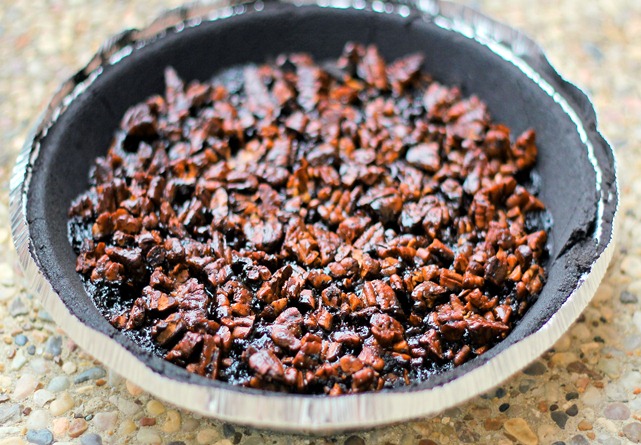 Oh yes, this is a photo to submit to Foodgawker.com.
I can just imagine what they'd say in their rejection letter: Harsh lighting and/or overexposed overcooked.
No, I am not really going to submit it to foodgawker! I'm also obviously not going to be posting the recipe. (Word of advice: don't sub agave for corn syrup, one-for-one, in a pecan pie.)
Question of the Day:
Have you ever burned anything in the kitchen?
Or had a cooking disaster? Oh, I've had so many kitchen mishaps: I've blown up oatmeal in the microwave, forgotten wheatberries on the stove while I took a shower, exploded a marshmallow while making s'mores, chopped up my Vita-Mix tamper (twice!), and once I set the microwave on fire by trying to heat a Luna Bar still in the wrapper.
Oops.