Cheesecake for Breakfast!
If the Cheesecake Factory and IHOP ever had a baby, it might look something like this: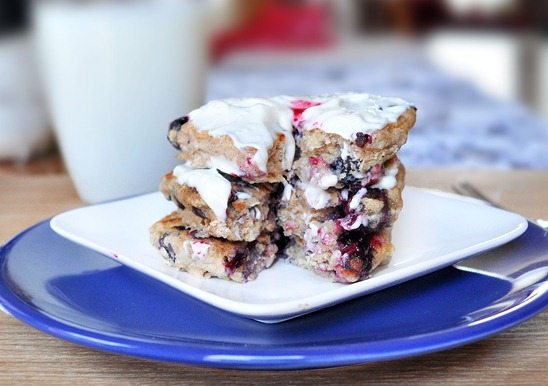 My dad likes pancakes
And he absolutely loves my Blueberry Pie Pancakes.
So I knew that's what I wanted to make for him on Fathers' Day. (Yes, I still make him breakfast on Fathers' Day. Even though I'm an adult, I'll always be my father's child. Therefore, every Fathers' Day I'm lucky enough to spend with Dad, I'll treat him to breakfast in bed.) Seeing as this was a special occasion, I didn't want to make just any old blueberry pancakes…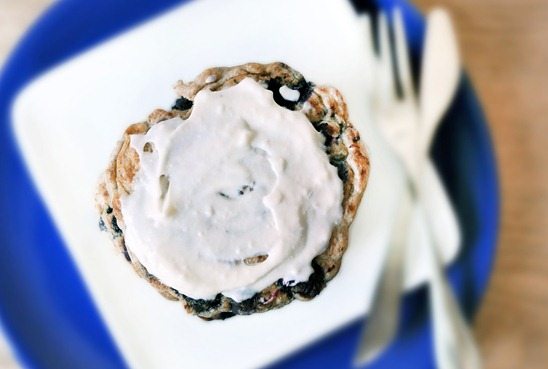 And so, I created cheesecake-topped Blueberry Pie Pancakes.
This breakfast came together in about ten minutes flat! I even squeezed in an 8-mile run and still got breakfast made before Dad woke up. (I mixed the dry ingredients for the pancakes the night before.)
Cheesecake Sauce
(Also known as "Cinnamon Roll Frosting")
1/4 cup mori-nu silken-firm tofu (50g)
3-4 tbsp cream cheese style spread (such as Tofutti non-hydrogenated)
1/4 tsp pure vanilla extract
2-3 tbsp milk of choice (depending on desired thickness)
sweetener to taste (such as sugar, stevia, agave, etc.)
optional: feel free to blend in 1/4 cup berries
Combine all ingredients in your blender or food processor and blend until smooth. I used the Magic Bullet short cup. (If you have a larger food processor, you might want to double the recipe for better blending.) Makes about 2/3 cup.  This pretty much tastes like cream cheese frosting in liquid form. You might even try doubling the recipe and maybe even adding a 1/2 cup of fruit and extra milk for a fruit-cheesecake milkshake!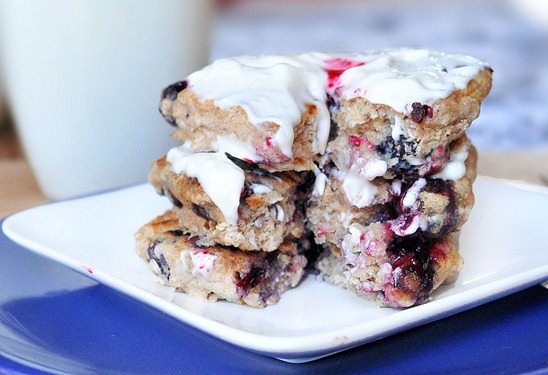 This sauce would also go well on my Healthy Red Velvet Pancakes.
Have you ever been to The Cheesecake Factory?
I've actually never eaten at The Cheesecake Factory. And I've only been to IHOP once (many years ago). I ordered crepes and excitedly dug into the mound of whipped cream on top… except it wasn't whipped cream at all; it was sour cream!