Where were we?
Let's continue with yesterday's Crazy Oatmeal Story.
.
Ah yes, in the Secret Oatmeal Lair… Sure, it would have been easy to just crumble up chocolate-chip cookies into oatmeal and call it a day.  But:
I was up for more of a challenge.
I wanted the oatmeal to be a little more nutritious than that.
I didn't have any chocolate-chip cookies on hand (sad, I know).
And so, after toiling many hours in the oatmeal chamber, I concocted this gorgeous creation: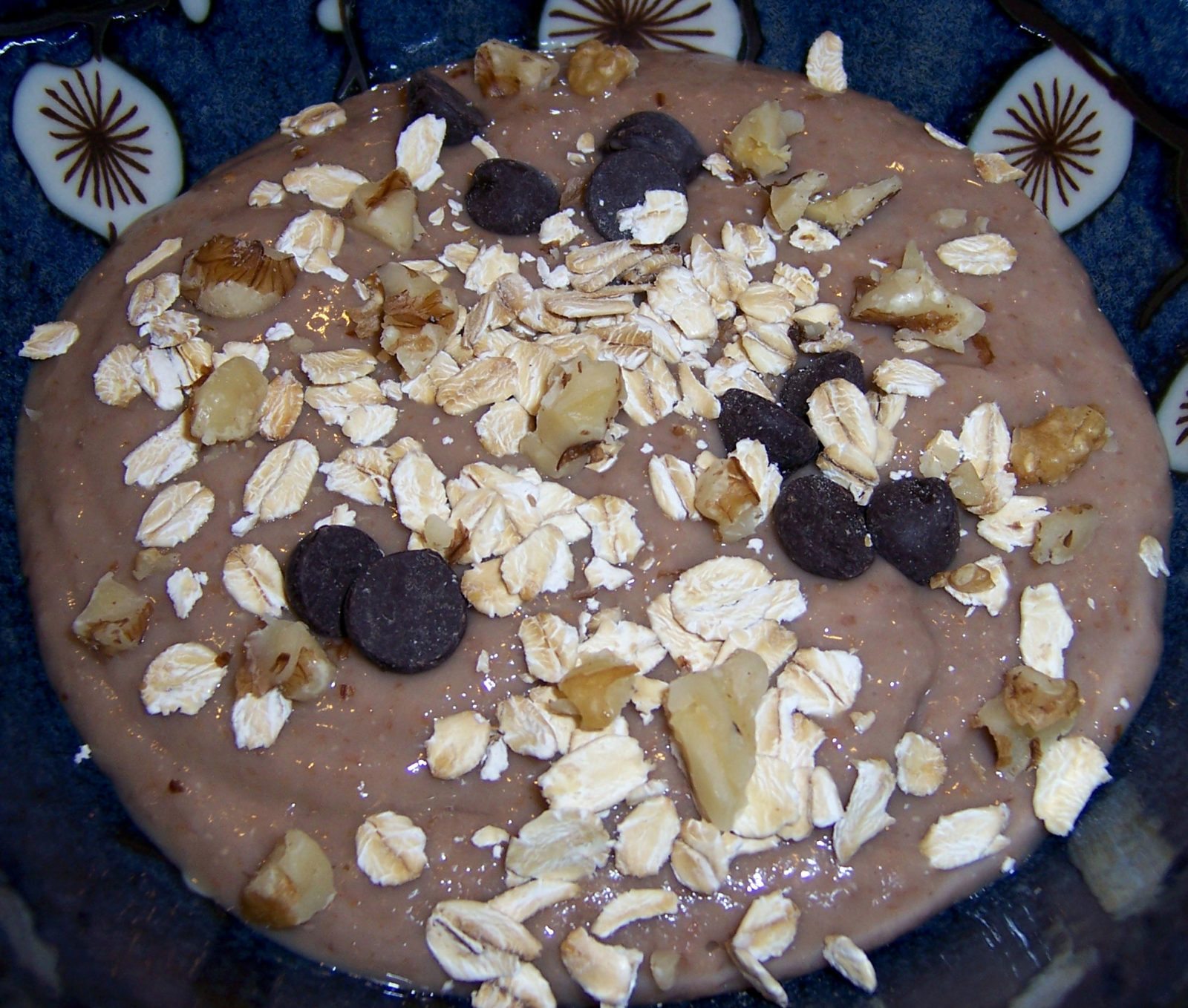 Cookie Dough Oatmeal
(Serves 1 lucky person)
1/2 cup rolled oats (40 grams) or another hot cereal (such as kamut flakes)
½ cup milk of choice, plus more if you want to cook your oats in it. (120g)
1/4 tsp salt
1/4 tsp pure vanilla extract
Chocolate chips
sweetener to taste—If I were making the recipe for myself, I probably would've either eaten it sans sugar or used the

Melted Banana Trick

.  But my friend doesn't like bananas (Seriously, why am I friends with this girl?!), so I used brown sugar for her.
Walnuts
More dry oats (You'll see why)
Cook 1 serving oats with the salt, and water or milk of choice, or a combination of both. (I use this cooking method: How to make Voluminous Oatmeal.) You can cook the oats ahead of time and fridge them until you're ready to proceed with the recipe. Throw some chocolate chips into the oats and microwave until the chips are melty. Put the oats into a blender (I used the Magic Bullet short cup) with ½ cup of milk, the sugar, and the vanilla extract. If you want your oatmeal to be a bit chewy, blend for a very short time.  Blend longer for a more pudding-like consistency. Transfer the oatmeal to a bowl and mix in more chocolate chips, raw oats, and—if you're so inclined—chopped walnuts.