When it's Snickerdoodle Oatmeal!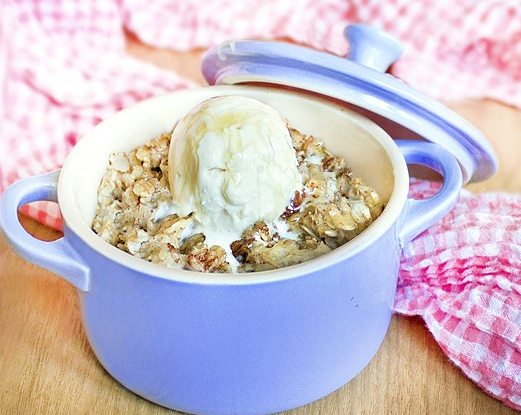 Serves one hungry CCK or one and a half normal people.  No, I do not recommend taking to the streets in search of a "half" person to eat the oatmeal you cannot finish.  Now if you want to cut your roommate in half…  Ok, no I don't recommend that either!  So what, then, would I suggest to someone who only wants a recipe that yields the standard serving?  Alter the ingredient amounts, sillies.  Your roommie will thank you.
Snickerdoodle Oatmeal
(Or sub another grain)
1 and 1/2 servings oats (or other grain) (60g)
1 tsp cinnamon
a little over 1/4 tsp salt
½ to 1 tsp pure vanilla extract (I use ½ tsp)
2 tbsp milk of choice (plus extra if you cook your cereal in milk)
Sweetener to taste (sugar, stevia, agave, etc.)
In a large Pyrex-type measuring cup, combine the flakes with about 1 and 1/2 cups liquid. Add a little salt (I use ¼ tsp plus 1/8 tsp).  Microwave for 4 minutes, 30 seconds (watching so it doesn't spill over). Leave out for around 10 minutes, then stir and put in the fridge, uncovered.  It's ok if the flakes are a bit liquidy—that'll evaporate.
The next day, your hot cereal is ready for you to play. Mix in the vanilla, cinnamon, sweetener, and almond milk.  I also add 1/8 tsp more salt. Stir. Now I like to use my hand blender, but I only do a few pulses (like 4 or 5), so the Snickerdoodle cereal will keep its magical chewy texture.  If you like your cereal to be hot, you can microwave it again at this time.  I actually prefer the cereal cold.  Especially after a run, the coolness is very refreshing.
**This works well with The Voluminous Oatmeal Trick!
Still craving Snickerdoodles?
You can always make these: Snickerdoodle Blondies.