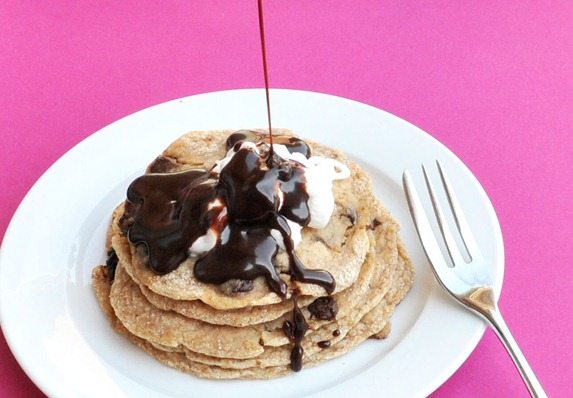 Chock full of hearty oats and melty chocolate chips, you'll feel like you are eating cookie dough for breakfast!
Hmm. The same can be said for my Cookie Dough Baked Oatmeal.
I guess I just really like chocolate for breakfast.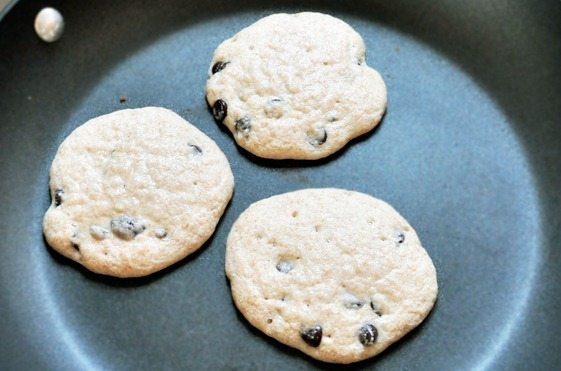 No, I didn't really top my pancakes—the ones I actually ate—with chocolate syrup. But I'd cooked a batch the day before and put them in a plastic bag to stay fresh. Well, silly me didn't know that if you cover a batch of pancakes, they get gooey-moist and go bad. No worries; I now had a whole batch of pancakes to use for a crazy photo shoot. So the pancakes didn't go to waste. (I hate wasting food.) And the next day, I quickly made up a new batch to eat for real.
Cookie Dough Pancakes
(Serves 1-2)
1/3 cup spelt or white flour (40g)
1/3 cup rolled oats (40g)
1/2 tsp pure vanilla extract and optional 3 drops almond extract
pinch stevia OR 2 tbsp brown sugar
1/8 tsp salt
3/4 tsp baking powder (and optional pinch baking soda for flavor)
1/2 tsp ener-g egg (or just add extra baking powder)
up to 1/2 cup water or milk of choice
chocolate chips!
Mix all the dry ingredients. (This can be done days in advance.) Put liquid ingredients into dry, then stir. Cook on medium-low, flipping 1/2-way through.
For more recipes: 19 Healthy Pancake Recipes