These chocolate chip pumpkin bars are the perfect easy dessert for Fall!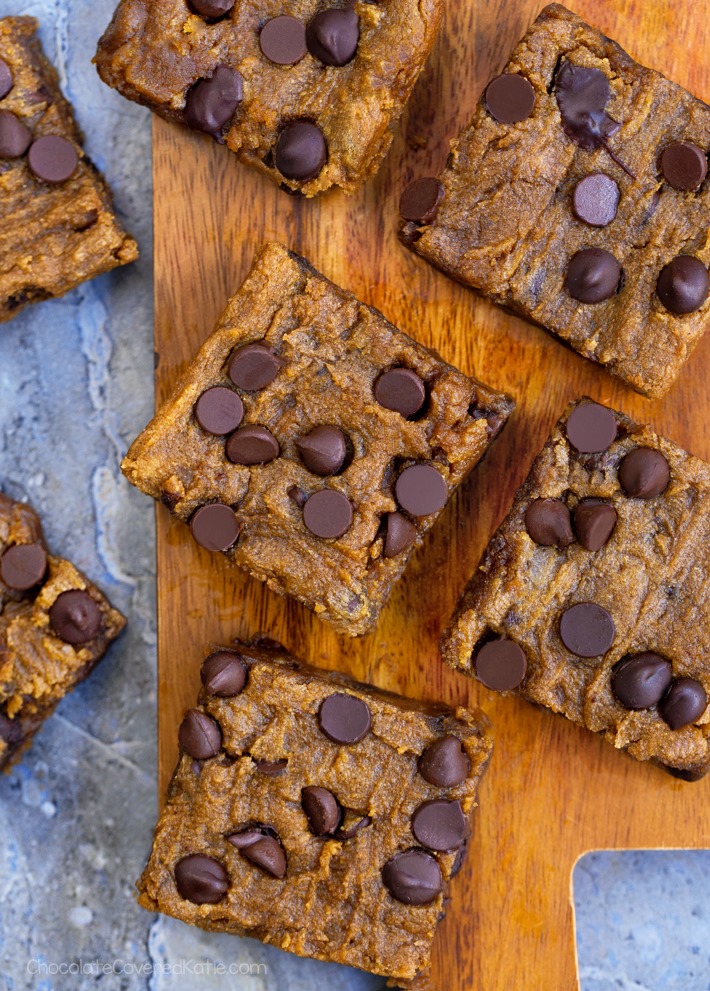 Gooey Chocolate Chip Pumpkin Bars
They're like a cross between chocolate chip cookies and homemade pumpkin pie.
I wasn't sure if September was too early for pumpkin recipes, but when I asked on Instagram, everyone's response was a resounding Please start posting pumpkin recipes, like, RIGHT NOW!
I took that as a good sign for getting this recipe up as soon as possible. Apparently the internet really loves pumpkin. Who knew?
(Everyone. Everyone knew.)
Trending Now: Keto Cookies – low carb recipe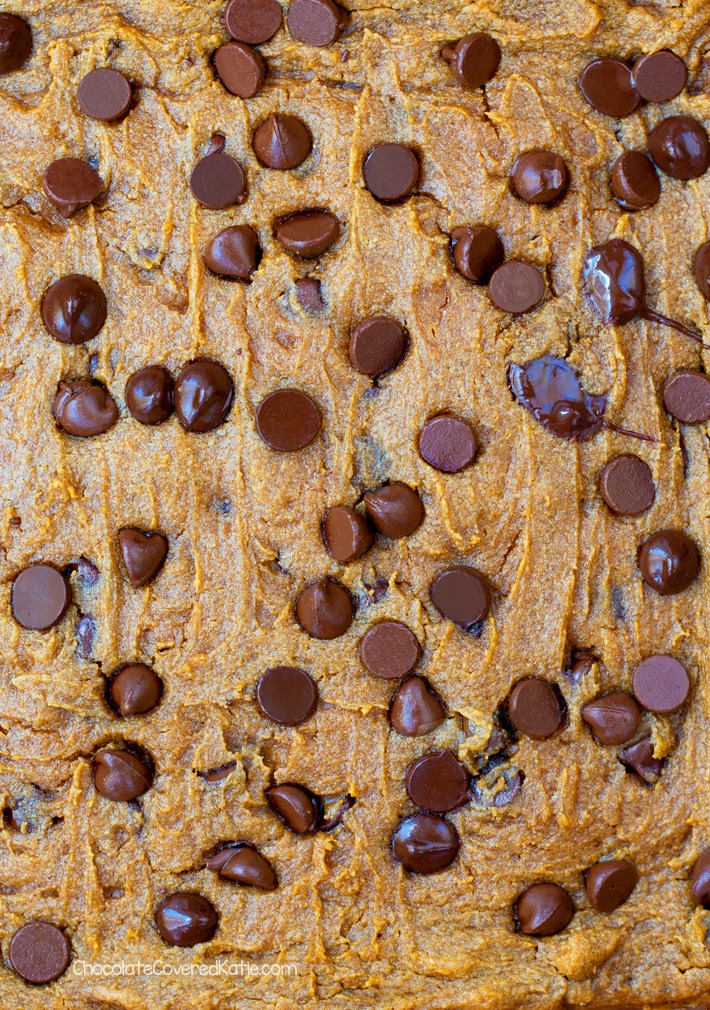 Grab your flannel shirts and leggings
Put on your Ugg boots
Make a batch of these gooey chocolate chip pumpkin bars
And surrender yourself to the basicness of Pumpkin Season.
Seeing that Starbucks decided to bring back their infamous Pumpkin Spice Lattes in August, which then caused many other coffee shops and restaurants to follow suit, I guess I'm actually late to pumpkin season this year.
(Seriously, Starbucks? August??)
Figured now that the weather is finally getting cooler, I'd make up for it in true Chocolate-Covered-Katie fashion – with both pumpkin and chocolate.
Also Try These Vegan Brownies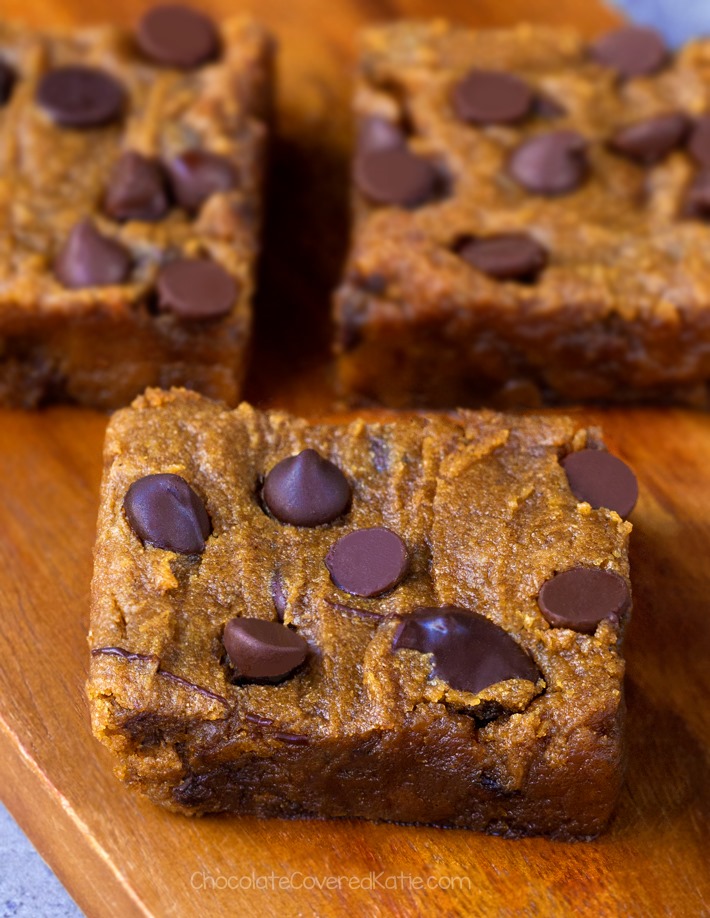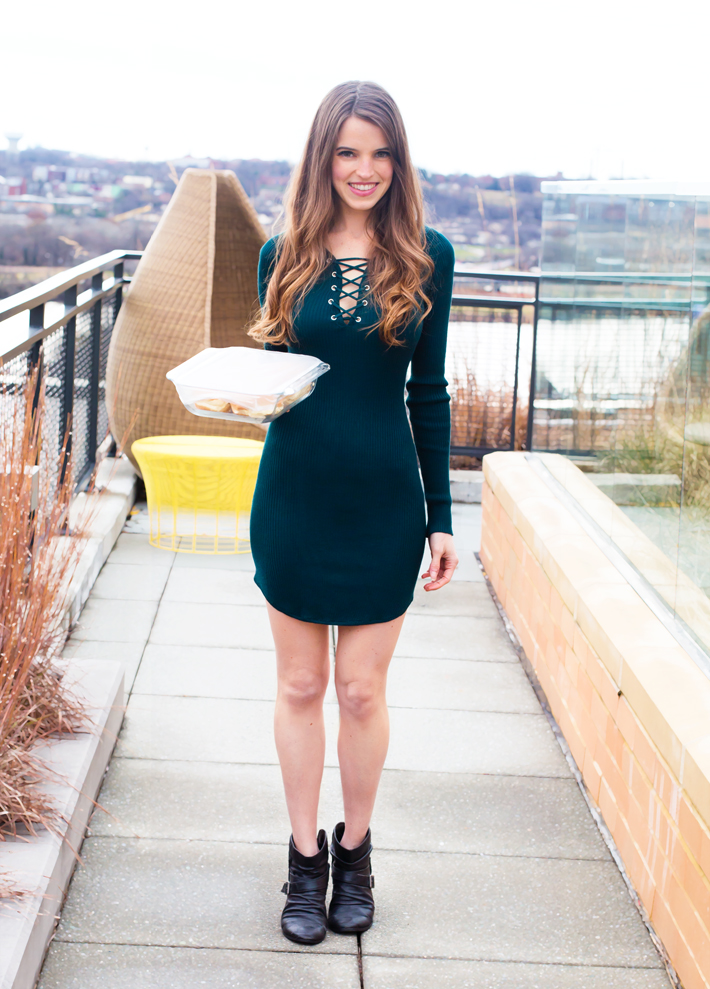 Almond Butter Version: Almond butter has a neutral flavor that works really well here, and it's my top pick for this recipe.
Using almond butter instead of oil adds fiber, vitamins, healthy fats, and nutrition to the oil-free pumpkin bars.
Peanut Butter Version: If you love both peanut butter and pumpkin, you might want to try the recipe with peanut butter. It definitely will have a peanut butter flavor though, so be sure to keep that in mind.
Sunbutter Version: This is a great option if you need bars that are more allergy-friendly and can be served in a peanut-free environment.
Readers have mentioned in my similar recipe for Ryan Reynolds Blondies that the bars turn kind of a funny color if made with sunflower butter but that they still taste just as delicious.
Other Nut Butters Or Butter Spreads: I haven't tried the recipe using anything else but I'd imagine any nut butter—such as pecan, walnut, or cashew—would work here.
I'd also think a regular butter spread such as Earth Balance would be fine to sub but haven't tried it yet. If you do experiment, be sure to report back with results!


Chocolate Chip Pumpkin Bars
These gooey chocolate chip pumpkin bars are the perfect easy dessert for Fall.
Ingredients
3/4

cup

pumpkin puree or sweet potato

1/2

cup

milk of choice

2

cups

almond butter or allergy-friendly sub

2 1/2

tsp

pure vanilla extract

3/4

cup

flour,

such as oat, white, spelt, sorghum, or even almond

1

cup

sugar,

unrefined or erythritol if desired

2

tsp

baking soda

1/4

tsp

salt

1/2

tsp

cinnamon

3/4

tsp

pumpkin pie spice,

or additional cinnamon

1/2

cup

chocolate chips,

or more as desired
Instructions
Preheat the oven to 350 F. Line a 9×13 pan with parchment. Stir all ingredients together to form a batter. Add more milk of choice if needed to achieve a cookie-dough-like batter – the amount will depend on the flour and type of nut butter you use. Smooth the batter into the pan. If desired, press more chocolate chips on top. Bake 15-20 minutes on the center rack. They'll look way underdone – let them cool for at least an hour, during which time they'll firm up, and they firm up even more overnight if covered loosely on the counter.

View Nutrition Facts
More Healthy Pumpkin Recipes: