Oh yes, crustless pumpkin pie!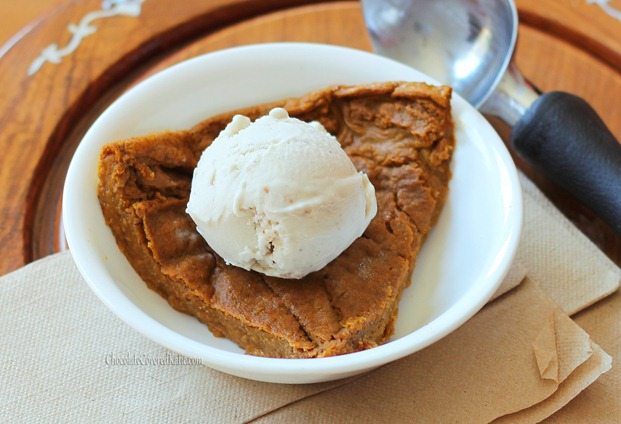 This crustless pumpkin pie recipe is crazy.
You could actually eat the entire 8 servings of pie and still consume less fat and fewer calories than if you ate just one slice of many traditional pies!
Not that I'd recommend eating an entire pie in one serving… But you could!

But this crustless pumpkin pie, with its rich and almost custard-like texture, is so good you might want to do just that.
I know what I'm making for Thanksgiving. And Christmas. And Easter.
And Fourth of July…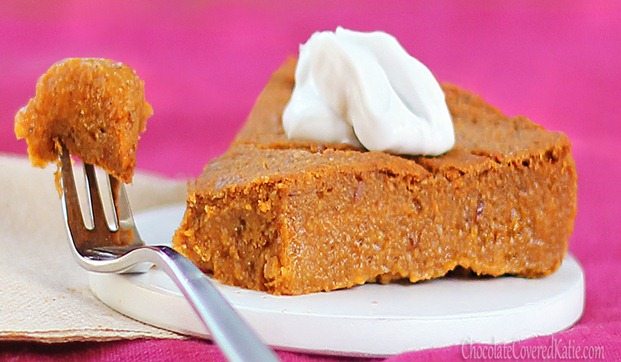 Maybe that's going a little too far. 

Shown below, with my Coconut Ice Cream Recipe.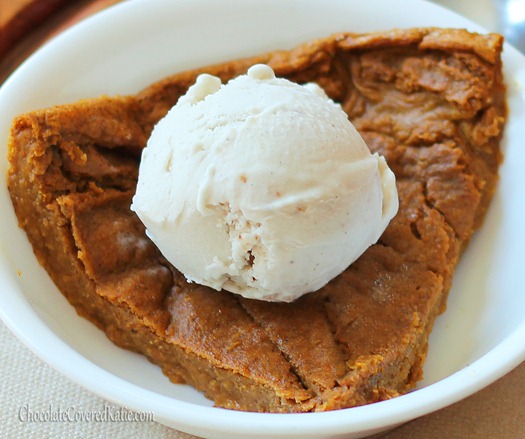 Happy Thanksgiving!!!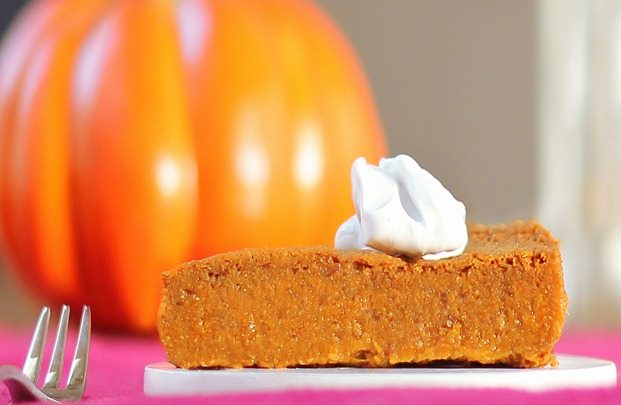 Crustless Pumpkin Pie
Crustless Pumpkin Pie
Yield:
Makes a 10-inch pan
Print This Recipe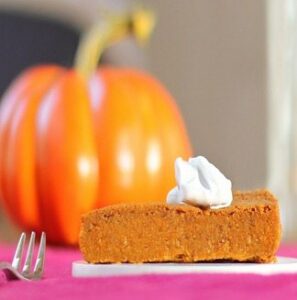 Ingredients
1 tsp pumpkin pie spice
2 tsp cinnamon
1/2 tsp salt
2 tsp baking powder
1/3 cup flour (Almost any will work, including all-purpose gluten-free, but not coconut flour) (42g)
1/3 cup xylitol or brown sugar (You can use a liquid sweetener. It'll just be a bit gummy) (53g)
pinch uncut stevia OR 2 extra tbsp brown sugar
1 (15-oz) can pumpkin puree
3/4 cup plus 2 tbsp milk of choice (210g)
2 tbsp oil, or omit and increase milk to 1 cup
1 tsp ener-g powder or 1 tablespoon ground flax (a commenter said cornstarch works, but I haven't personally tried it.)
2 1/2 tsp pure vanilla extract
Instructions
Preheat oven to 400 F, and grease a 10-inch round pan. In a large mixing bowl, combine first 7 ingredients, and stir very well. In a separate bowl, combine all liquid ingredients with the energ or flax, and whisk. Pour wet into dry, stir to combine, then pour into the pan and bake 35 minutes. (It'll still be gooey after baking, but that's ok.) Allow to cool completely before transferring uncovered to the fridge to "set" for at least 6 hours before trying to slice.
What's your favorite part about Thanksgiving?
My favorite part is getting to be with my entire family, which doesn't happen as often now that we're older. But eating pumpkin and pecan pie comes in a close second! (If you're not in America, please still feel free to answer the question. I'd love to hear about your country's Thanksgiving if you have one.)
P.S. If you'd prefer a more traditional pumpkin pie, my favorite recipe can be found here: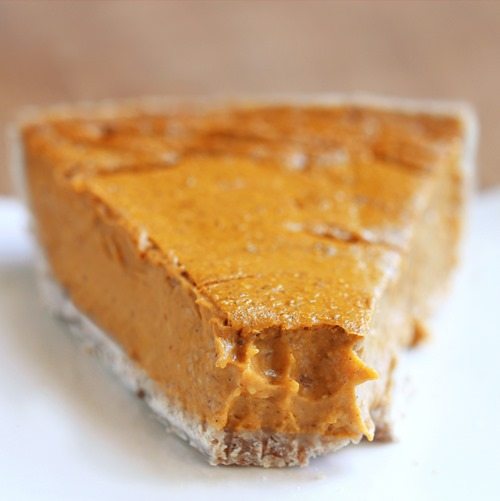 Healthy Pumpkin Pie – The Creamiest Pumpkin Pie You'll Ever Try!