Repeat after me: Y-U-M.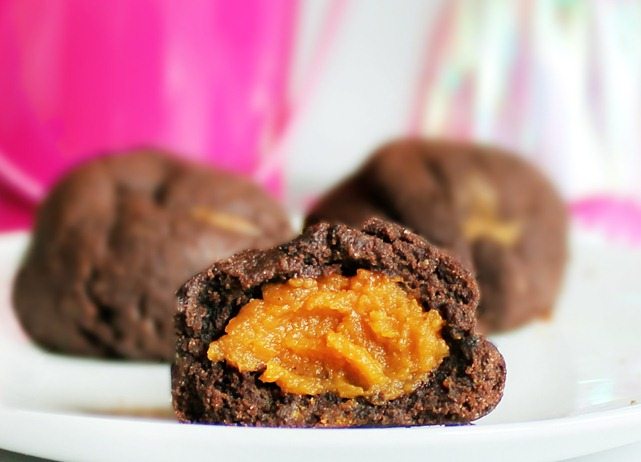 Now repeat a few more times.
Yum yum yum.
Yum yum.
Yum.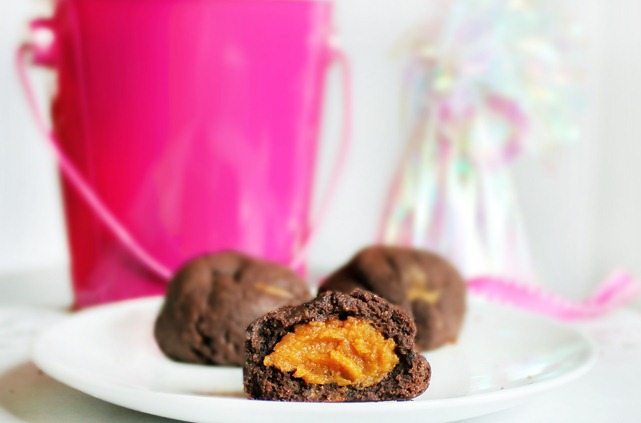 These cookies are soft, rich, chocolatey… and filled with pumpkin pie!
Oh my.
If you own the cookbook, Vegan Cookies take over your Cookie Jar, you'll probably remember one of the yummiest-looking cookies in the book: their peanut butter chocolate pillows. When I saw that particular recipe, I fell in love with the concept of a "stuffed" cookie. The possibilities swirled through my head like a soft-serve frozen yogurt machine.
Why stop at peanut butter?
I could stuff cookies with raspberry jam, with chocolate fudge, with pumpkin…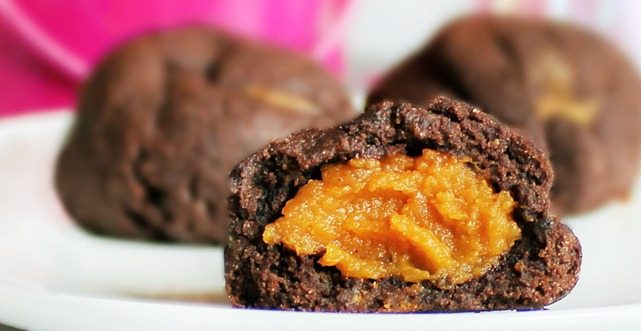 Today, we're going with pumpkin.
"Inside-Out" Chocolate Pumpkin Cookies
Filling inspired by Pumpkin Peanut Butter.
3/4 cup white-ww flour (or white or spelt)
6 tbsp plus 1 tsp cocoa powder
scant 1/4 tsp salt
1/4 tsp baking soda
1/4 cup plus 2 tbsp sugar (xylitol might work, but I haven't tried it)
2 tbsp maple syrup or agave
3 tbsp milk of choice
1/2 tsp pure vanilla extract
3 tbsp plus 2 tsp vegetable oil
3 tbsp pureed pumpkin
3 tbsp nut butter of choice (I used pb. For a fat-free option, a few readers have subbed more pumpkin. I can't personally vouch for it, though.)
1/4 tsp cinnamon
1/2 packet stevia (or 1/2 tablespoon sugar)
1/8 tsp pure vanilla extract
Combine first 5 ingredients, and mix very well. Add ingredients 6-9 and mix again to form dough. In a separate bowl, combine all other ingredients to make the filling. Using about a heaping tablespoon of dough, roll into a ball and then flatten. Place a little scoop of the filling in the center and fold up the sides of the dough. Form into a ball. (The sides might crack a little, but that's ok. They don't need to be perfect.) Bake at 330 F (preheated) for around 10 minutes. They should be a little undercooked when you take them out. Let stand 10 minutes… if you can wait that long!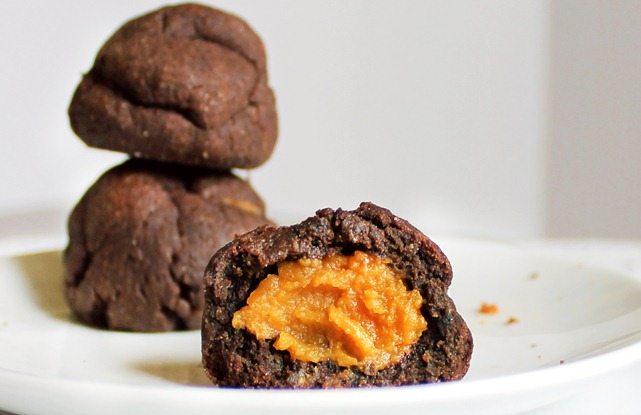 Fill in the blank:
What would be a dream cookie filling?
Mine would be filled with this recipe: Healthy Nutella.
I'm also dreaming up ways to do a mint filling.