Because we had a Labor Day Barbecue to attend on Monday, my parents treated me to a birthday dinner Sunday night. Hey, I was born in England, so technically, it was my birthday at the exact time we celebrated… Not that I didn't celebrate on Monday as well. Two birthdays are better than one.
Tell me if any of you have this problem: You're such a good cook that you don't normally like to eat out, because the entire time, you're sitting there thinking, "I could make this better."  When I do eat out, I try to go to places that offer food I can't easily make myself, such as Indian (like this past Sunday's dinner) or Korean (think Hangawi in NYC) or Ethiopian, like my vegan Ethiopian post of a few years ago.
This weekend, we decided to try a new restaurant, called Clay Pit. Well it's not really new, but it's new to us. They have a separate section specifically for vegetarian items, so I was a happy camper. Plus, when I called ahead of time (to ensure that the vegetarian items could be made with oil, not butter), the manager told me that they can even change some of their non-vegan dishes to accommodate my needs if I so desire, such as leaving the cream out of the dahl. A lovely offer, but I didn't even need to take advantage of it, as there were plenty of already-vegan options at my disposal. Sometimes it's actually simpler if there aren't; it's easier to decide! That night, I went with Aloo Ghobi, a traditional Indian cauliflower-potato dish. However, since I'm not the biggest potato freak (I think they're mushy and bland), I asked for mixed-veggie Aloo Ghobi instead.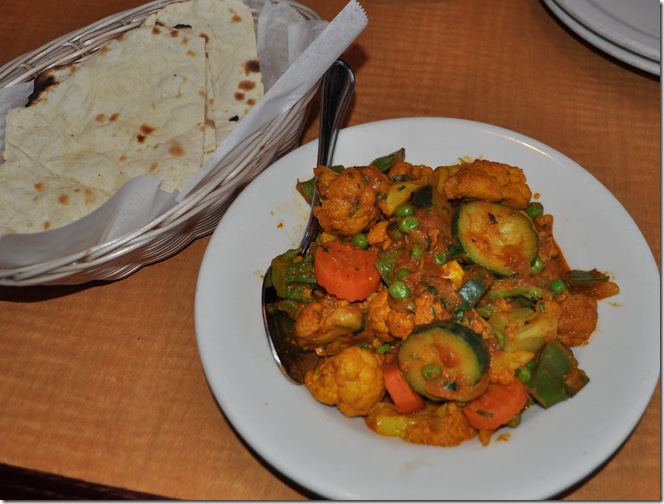 Above, my no-potato Aloo Ghobi, alongside an order of roti bread. This was so good! You bet your socks I licked the dish clean (when no one was watching, of course). The whole-wheat roti bread was a perfect accompaniment for the saucy curry. Ingredients: whole wheat flour, oil, water, and salt. That's it. Oh, it was so soft and flavorful… I must learn how to make this!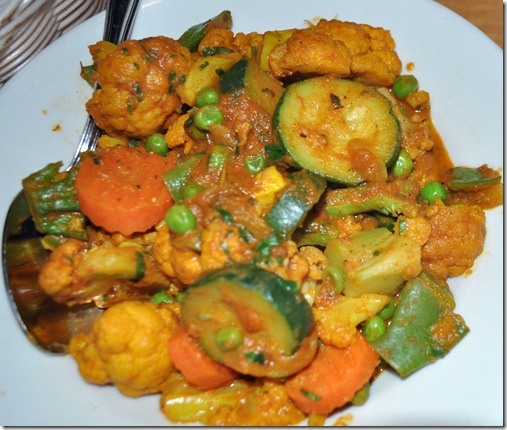 Curry close up. The veggies were cauliflower, zucchini, carrots, peas, and broccoli.