Do you resemble a certain member of your family?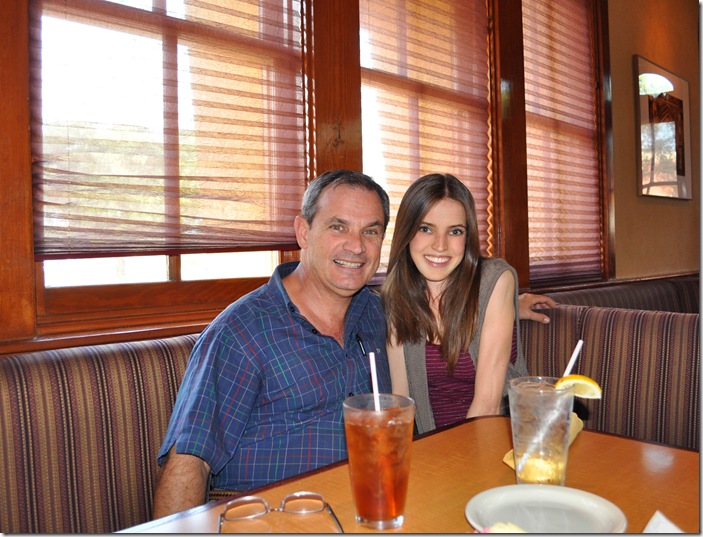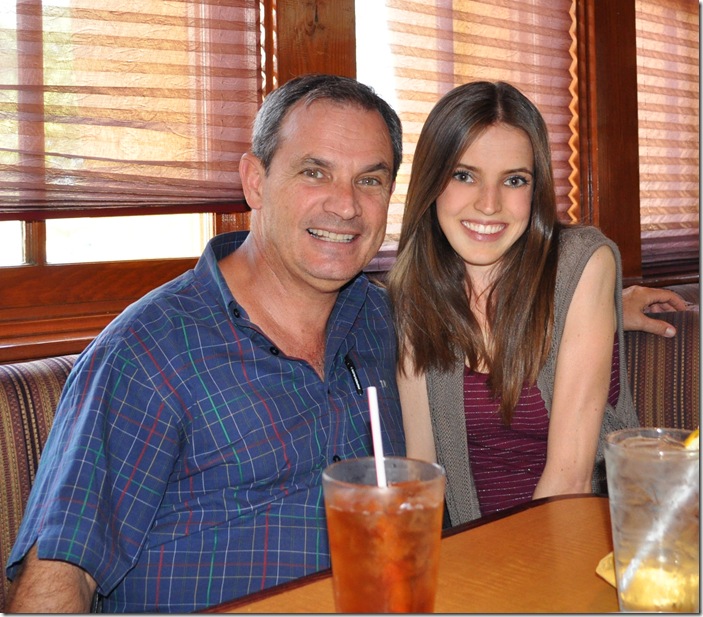 But first, another shot from dinner at the Clay Pit.
And a close up, because when I was looking at this photo, I saw something that made me stop short. It's super-obvious who takes after whom in our family: I am my mom and my sister is my dad. (Actually, my sister is my cousin Julie. Those two could be twins. But that's another story.) I never thought I looked anything like my dad. He is short, dark-skinned, and built for power, while I'm lanky and paler-than-pale, without exhibiting a single physical trace of his Italian heritage. But lo and behold, we do share something: My dad and I have the same eyebrows that curve in the exact same place.
Hmmm, well maybe that just means we share a common way of posing for photos. But in any case, I thought it was cool to catch a hint that perhaps I wasn't dropped off by the stork after all.
By the way, does anyone else sense the need for a Friends reference? Joey: My identical hand twin! The person whose hands are exactly like mine! This thing is a gold mine! Now you're all going to think I'm strange for putting so much stock—an entire paragraph's worth—into the subject of eyebrows. Hey, I never claimed to be normal. Normal is so boring.
Something else my dad and I share: a love of chewy breakfast grains (He's a huge steel-cut oatmeal fan, but I'm quickly selling him on the wonders of bulgur beyond the world of tabbouleh.) When he offered to make me breakfast on Monday morning (my birthday morning), I jumped at the chance. After a glorious run (It's finally cooling off; no more 90-degree mornings!), I came home to find breakfast waiting for me. And what a breakfast it was!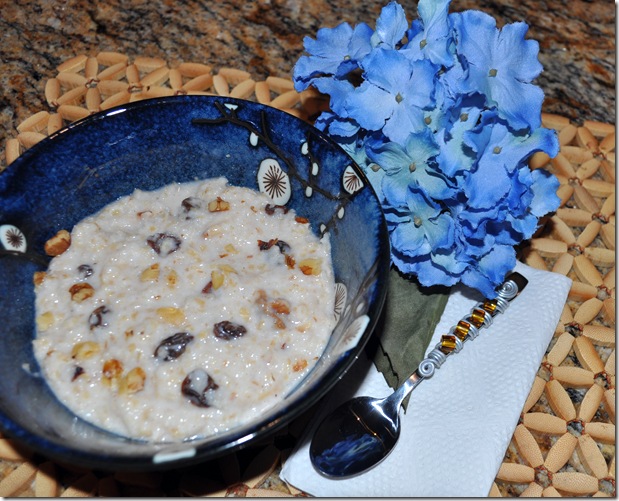 Dad made three servings of Cinnamon-Raisin Breakfast Pudding. (I added the flowers.) He'd better watch out; I might have to start asking him to make me breakfast every day!  (Well, maybe not. I enjoy concocting my own breakfast experiments. But sometimes it's nice to be waited on.) When I came in from my run, Momma Bear, Pappa Bear, and CCK Bear sat down to a perfect family breakfast, after which it was time to open presents. The breakfast was delicious, the present-opening was exciting (duh), but the best part was spending quality time with the people I love.  If you had my parents you'd want to hang out with them too. They are two incredible people (and I'm not just saying that to suck up to Dad so he'll make me breakfast again).
Cinnamon Breakfast Pudding
1 serving cooked bulgur or oatmeal (See: How to Cook Bulgur)
1/8 cup (or more) Silk creamer
sweetener to taste
generous shake of cinnamon
handful of raisins
optional: chopped walnuts
Put the cooked bulgur (or other grain) in your blending gadget (such as a Magic Bullet short cup). Add everything else. Blend! Now add in the raisins and optional walnuts.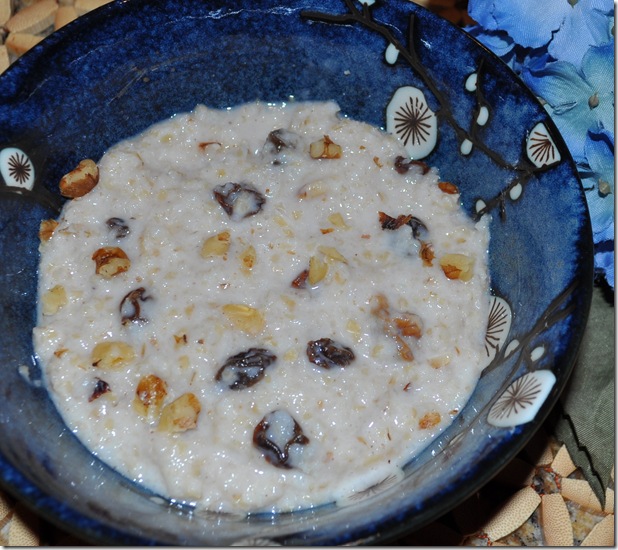 Sharing time!
Do you like spending time with your family?
And do you resemble a certain member of your family? Or maybe you all look alike?