Hello Chocolate Covered Katie readers, Heather from Heather Eats Almond Butter here (HEAB for short). Many thanks to Katie, one of my favorite bloggers, for allowing me to guest post on her blog. Really Katie, it's an honor! So, we all know how much Katie likes her ice-cream. If you haven't done so, you should really check out her Black Forest Ice-Cream.
And have you tried her Peanut Butter Banana Ice-Cream recipe yet?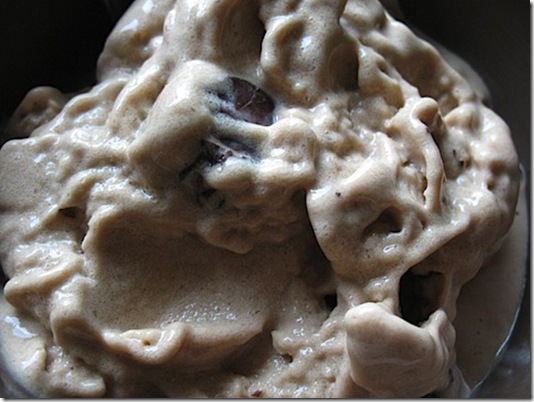 Oh, and I really liked Katie's 3-Ingredient Coffee Ice-Cream as well.
Wow Katie, come to think of it, you have a lot of great ice-cream recipes. Thanks for sharing!
Now, I'll share my favorite homemade ice-cream recipe with you. It doesn't require an ice-cream maker or any refreezing. Nope, all you need is a blender and a few ingredients, including two special ingredients known as The Gums.
Ingredients:
*1 cup non-dairy milk (I prefer unsweetened vanilla or chocolate almond milk)
* 1 scoop (30 grams) protein powder 
* 1 TBSP dark cocoa powder (Optional)
* 1/2 tsp vanilla
* 1 packet stevia or other sweetener of choice (Optional. I actually think the protein powder alone makes it sweet enough.)
* 1 tsp cinnamon (Optional)
* Pinch of Celtic sea salt
* 1/3 tsp xanthan gum*
* 1/2 heaping tsp guar gum*
* 17 – 18 ice cubes
*I use the Bob's Red Mill brand of xanthan and guar gums. If you can't find them in your area, I've found the cheapest place to buy them is at iherb.com. Keep in mind you only need to use a little at a time, and the bags will last you forever. So worth the investment in my opinion!
Directions:
Blend all ingredients except ice in high-speed blender until well blended. Then add in ice 1 handful at a time and blend…unless you have a Vita-Mix. With a Vita, just throw all the ice in at once and tamp away.
Troubleshooting/Other variations:
I've gotten many emails regarding protein ice-cream disasters, and before you try it, I have several tips to share:
1) Not all protein powders are created equal. First off, make sure you like the taste of your particular powder. If you don't, then you won't like the ice-cream. Also some protein powders already contain either xanthan or guar gum themselves, and so you may need to adjust the amount of gums you add. If you end up with a gloopy mess, then something went wrong.
2) I always use BOTH gums. Xanthan thickens the ice-cream, and guar gum makes it creamy. So, if it's too thin, add more xanthan, and if it's too icy, add more guar. It may take some trial and error, but you when you get it right, the texture should resemble soft serve ice-cream.
2)You don't have to use protein powder. Instead of the powder, try adding a frozen banana or any other frozen fruit, but again, keep in mind you might have to adjust the gums. Often times, instead of protein powder, I'll use 1/2 frozen banana and 1 TBSP cocoa powder or hot chocolate mix. So yummy!
Need even more instructions? Then please see the protein ice-cream video I made below. I hope it helps, and I hope you enjoy some HEABified ice-cream soon!