Yes, healthy peppermint bark!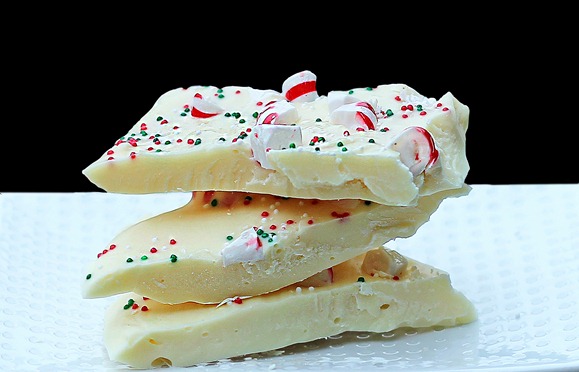 Candyland!
By far, my favorite holiday candy is my Coconut Butter Candy Melties.
Apparently, everyone else's favorite holiday candy is peppermint bark. So I figured I'd combine my favorite with everyone else's favorite to get something we all can love: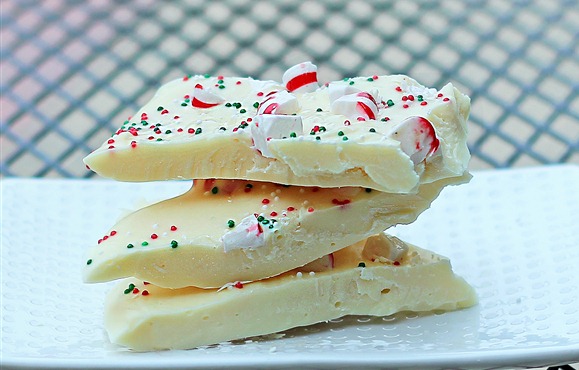 When it's difficult to keep from eating the whole thing before I can even take a photo, I know a recipe is a success. Staying away from this bark was hard!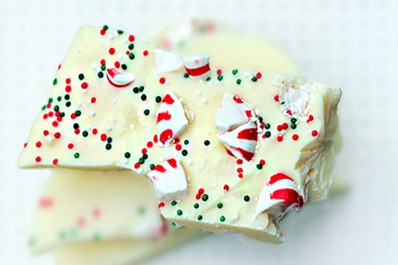 Candyland Healthy Peppermint Bark
(gluten-free)
1/2 cup coconut butter (Cacao butter might work, but I haven't tried.)
12 drops pure peppermint extract (scant 1/4 tsp), or more if desired
1 1/2 tbsp pure maple syrup OR stevia drops to taste (I even like it unsweetened, so you can try that too!)
optional sprinkles, crushed candy canes, or other garnishes
Mix all ingredients together in a bowl. (Make sure to melt your coconut butter into a thick paste first if it's rock-hard. I like to stick the jar in a warm—not hot—oven for just a few minutes then stir. If your coconut butter refuses to melt into a spreadable paste, you can add a little melted virgin coconut oil to the jar, stir, and it works like a charm!) Spread the mixture onto wax paper, then put it in the fridge or freezer to harden. After just a few minutes in the freezer, it's become delicious bark!
Chocolate Peppermint Bark: Replace the coconut butter with Homemade Hot Chocolate Butter.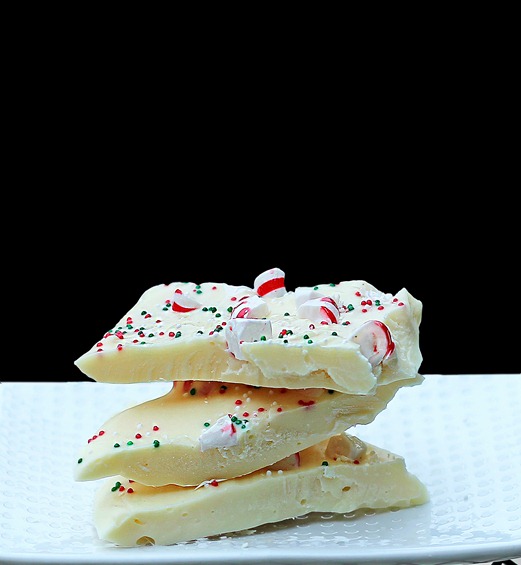 Do you remember the game Candyland?
My sister and I played that game all the time! That and Shoots-n-Ladders. We especially liked to play with my grandma, and we'd team up against her… But looking back, I'm pretty sure she let us win.
For more coconut recipes: Over 100 Healthy Coconut Butter Recipes.