I am speechless.
And that doesn't happen often.
I can't believe the response to the post on My Big Decision.
Over 300 of the sweetest, most heartfelt comments (and facebook messages, emails, and tweets), and each one made me smile more than the one before it. No wait, that's not true. They all made me smile the same: a ton! I thought about the kindness involved for someone to take time out of his or her day in order to make someone else's day brighter. We all lead such busy lives, yet so many of you stopped to wish me well. Reading your comments, I actually started to cry. (I feel silly admitting this, but it's true!) Thank you all so much, from the bottom of my heart.
Today's breakfast mirrored my bright and happy mood: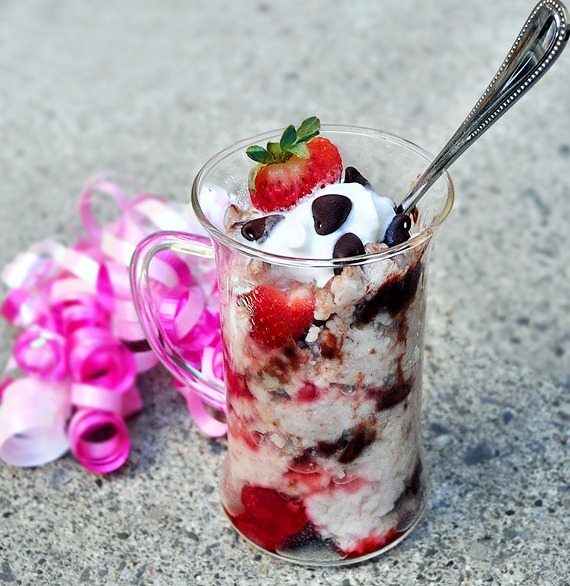 And it tasted absolutely delicious:
Chocolate-Strawberry Hugs Oatmeal
1 serving raw oats (40g)
1 cup frozen strawberries (100g)
salt (I used very scant 1/4 tsp)
about 1 cup water or milk of choice (240g)
1-3 tbsp creamer (I used 15g Silk)
chocolate chips
sweetener: I didn't use any, but most people will want some.*
*In place of sugar, you can use the Melted Banana Trick.
Procedure: The night before, I microwave the oats, salt, and water in a large pyrex measuring cup for 3 minutes (2 minutes if using quick oats). Then I leave it in the microwave for 5 more minutes before transferring—uncovered—to the fridge. Next day, I add the other ingredients, stir, and microwave again until the berries melt into the oats. You can even blend it all together if you wish! The Magic Bullet is great for this. As for the chocolate… well, everyone knows that strawberries and chocolate go great together, right? So add some chips, nibs, powder, whatever!
I feel so classy eating oatmeal from a pretty glass.
Classy is the new weird.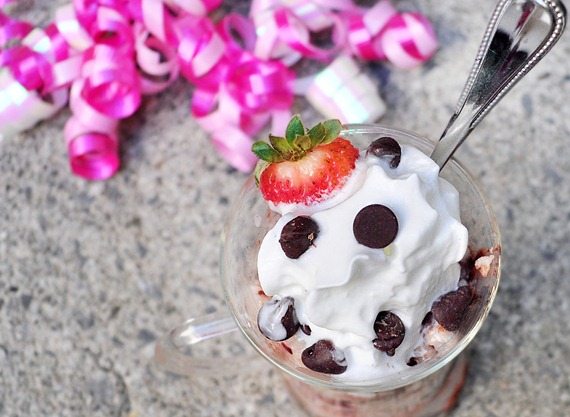 After breakfast, I lounged around in my pjs sweaty running gear (sorry, tmi?) and read incredible comment after incredible comment.
Seriously, I could not get over all the incredible comments!!
This guy caught up on some reading, too: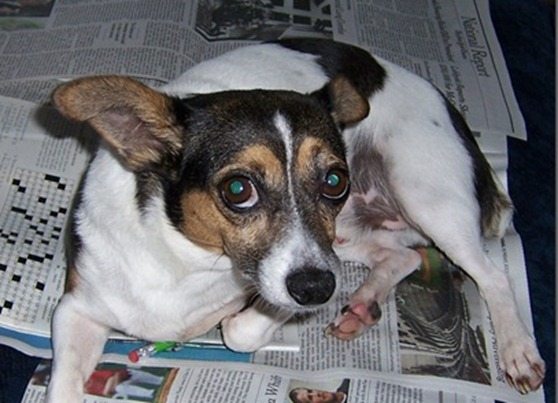 And then he took a nap.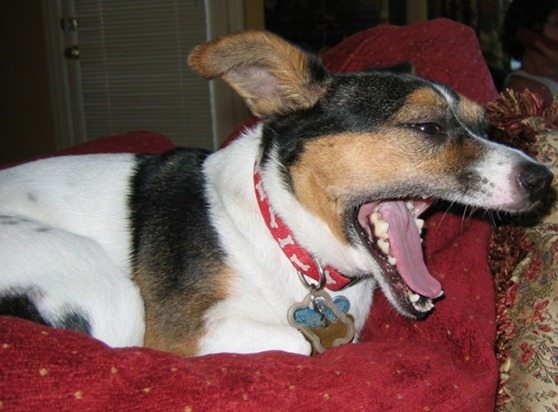 For tomorrow's recipe post, how about "readers' choice"?
Your Choice:
PB&J Blondies
Rice Crispy Treat Babies
Banana Bon Bons
Flourless Chocolate-Chip Cookies
Or a surprise? Tomorrow's post will be for whichever recipe gets the most votes.
And thank you all again!!!