Like a peanut butter and jelly sandwich
In blondie form.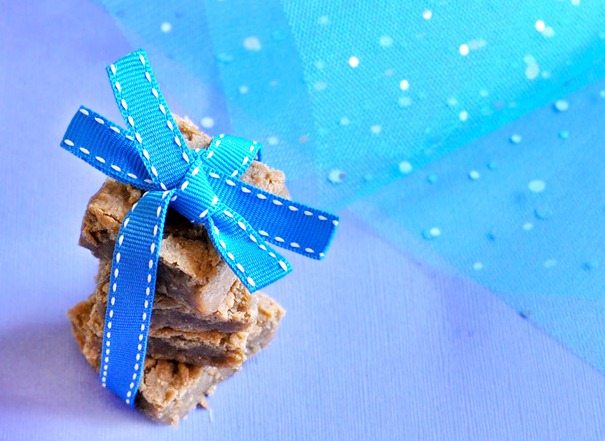 Recently, a friend asked if I'd make my famous Chocolate-Chip Blondies.
When she wanted to know her daughter's choice of cake flavors for her birthday party, the little girl answered, "No cake. Chocolate-Covered Katie blondies!"
I have never felt so honored.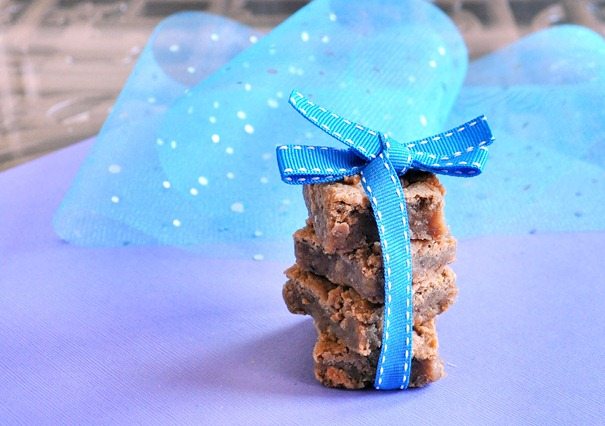 I talked with the birthday girl about what she'd like, and we decided that I'd not make chocolate-chip blondies, but a new flavor: pb and jelly!
Gooey PB&J Blondies
Based off of my Chocolate-Chip Blondies
1 can garbanzo beans (or white beans), drained and rinsed
1/2 cup peanut butter (not unsalted)
1/4 cup quick oats
3/4 tsp baking powder
1/8 tsp baking soda
1/4 plus 1/8 tsp salt
2/3 cup brown sugar (feel free to use less or sub some with stevia)
1/2 cup jam of choice
Preheat oven to 350 degrees. Blend all ingredients (except jam) until very smooth. Scoop into a greased (or tinfoil-lined) 8×8 pan. (If you want fatter blondies, don't spread all the way to the sides.) Spread the jam on top and bake for 35-38 minutes.
These are also very similar to the Snickerdoodle Blondies.
Nutrition Info: I haven't calculated nutritional info, but a commenter said the blondies have 120 calories if cut into 16 squares. Since the first two photos don't do a good job of conveying the blondies' beauty, here's what the final version of the blondies looked like, jelly and all: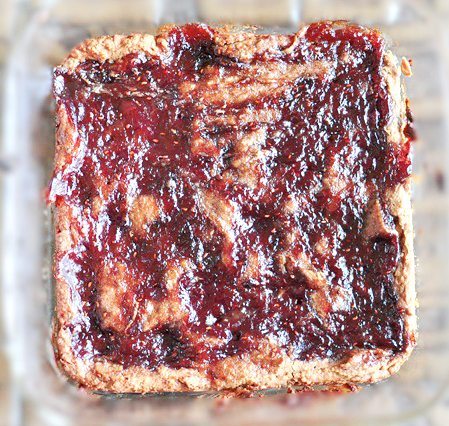 Up close, personal, and super gooey.
I wasn't at the actual party, but my friend said the kids polished off the blondies in record time.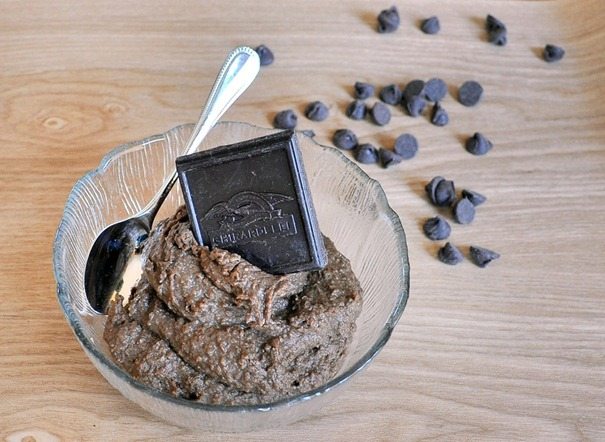 She also served Chocolate Brownie Batter Dip.
When I heard this, I tried not to think about the poor moms whose children attended the party and came home filled with beans.
Question of the Day:
Do you remember any of your childhood birthday parties?
Mine always had a theme: one year was Snow White, another year was 101 Dalmations. And I liked pool parties. My mom would always make an adorable homemade cake to match each year's specific theme. I'm definitely going to go all out for my future kids' birthday parties.
Is it a bad thing to want kids just so I can plan their birthday parties? 😉