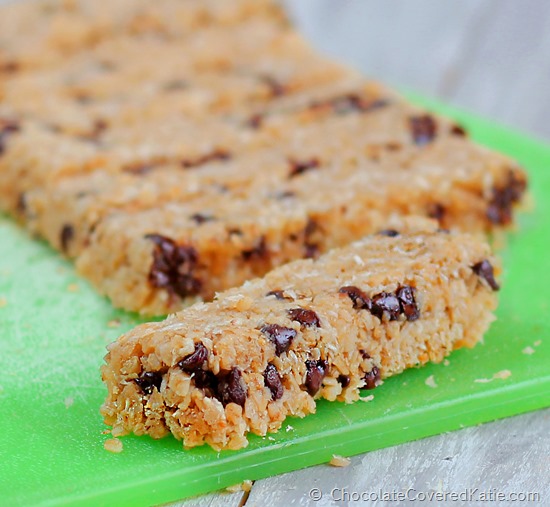 I've spent most of the weekend, most of the week before it, and really most of the entire month before that working on a blog post to be published either tomorrow or Tuesday… and I don't think I've ever been so nervous or excited about anything I've ever published before.
After hours staring at a computer screen, writing and then promptly deleting paragraphs over and over again, I very often found myself needing "study breaks." And—just like back in high school—my favorite form of procrastination from working is to make and eat food.
Some things don't change!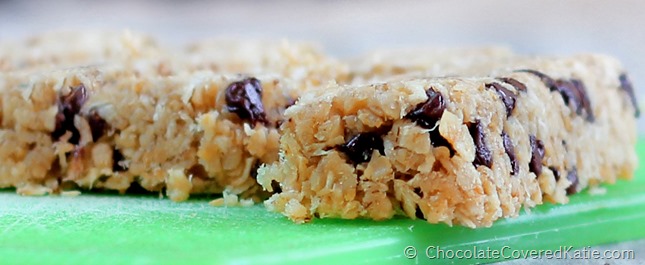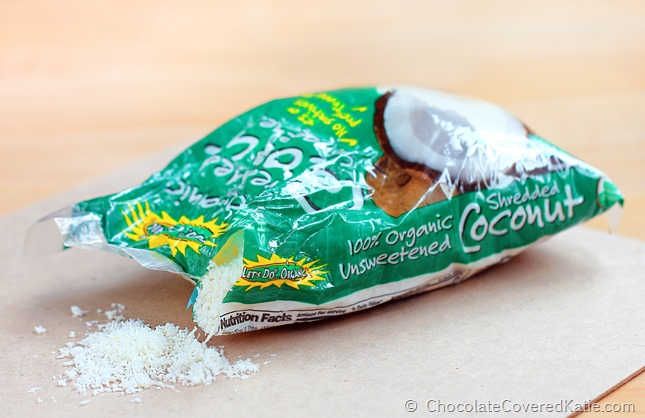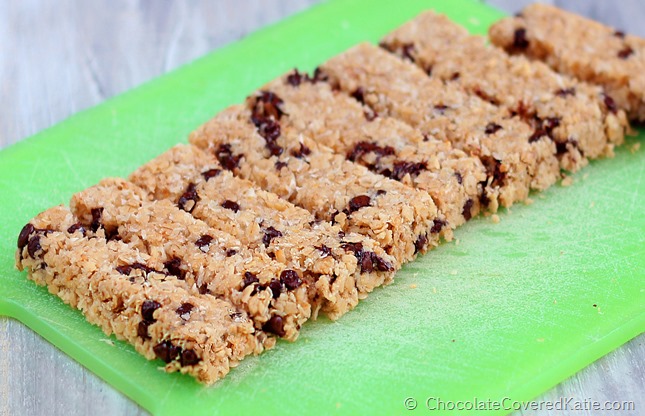 These granola bars are a product of one such study break. It's amazing how productive you can be at a task when you're trying to procrastinate doing something else.
Don't believe me? Just try cleaning your apartment the next time you don't want to work… 😉
They can be sugar-free, flourless, and there's no baking required. If you can imagine eating one of those popular Coconut Seven Layer Bars in the form of a granola bar, that sort of describes these!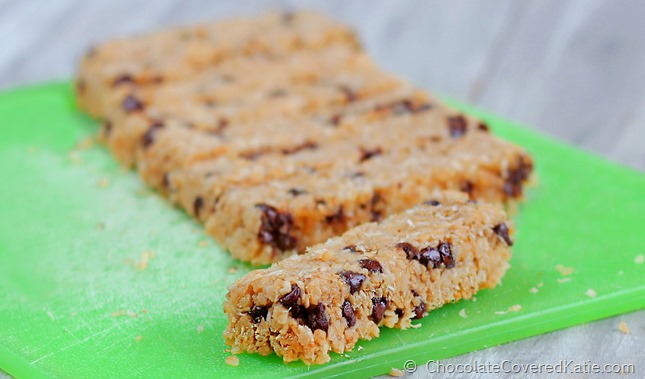 Coconut Chocolate Chip "Magic" Granola Bars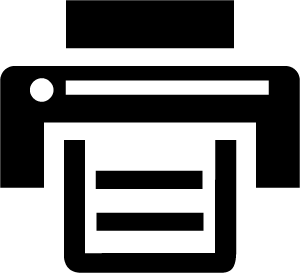 Print This Recipe
[mrp_rating_result show_count="false" show_rich_snippets="false"]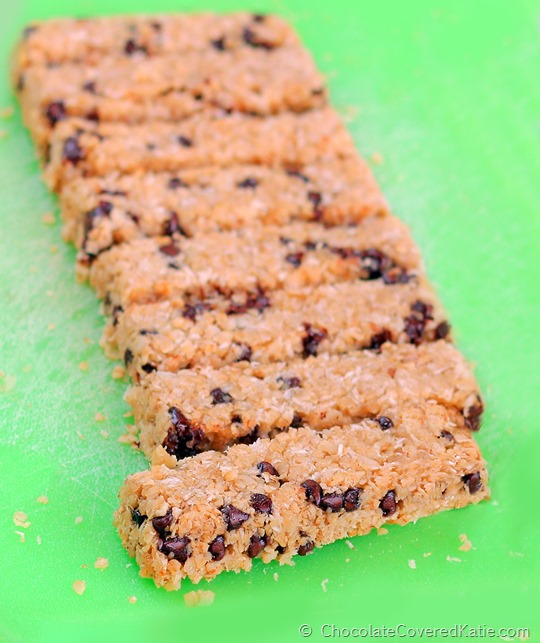 Ingredients
1 cup quick oats, or gluten-free quick oats (80g)
1/4 cup shredded coconut, regular or reduced-fat (14g) (Don't like coconut? Try these bars)
1/4 cup oat flour, gluten-free if desired (or grind up rolled oats in a food processor, then measure out 1/4 cup) (35g)
1/4 tsp salt
3-4 tbsp mini chocolate chips (30-40g)
1/4 cup coconut or vegetable oil (40g)
pinch uncut stevia OR 2 tbsp agave or pure maple syrup (or honey for non-vegans)
1/4 cup milk of choice (60g) (decrease to 2 tbsp if using agave or maple)
1 tsp pure vanilla extract
Instructions
If using coconut oil, you can freeze instead of baking for no-bake granola bars. Otherwise, grease a loaf pan and preheat oven to 400 F. In a mixing bowl, combine all ingredients until evenly incorporated. Transfer to the loaf pan, spread out, and press down VERY firmly with a sheet of wax paper or a small spatula. Bake 10 minutes. Then press down very firmly again. So that they don't crumble, wait for the bars to cool completely before trying to invert the loaf pan onto a plate. If cooled completely, they should come off the pan in one big piece. Then you can cut into bars. Refrigerate or freeze leftovers for optimal freshness.
Question of the Day:
What is your favorite way to procrastinate?
Link of the Day: