This cookie dough oatmeal is like eating a warm chocolate chip cookie, with gooey, melted chocolate in every delicious bite!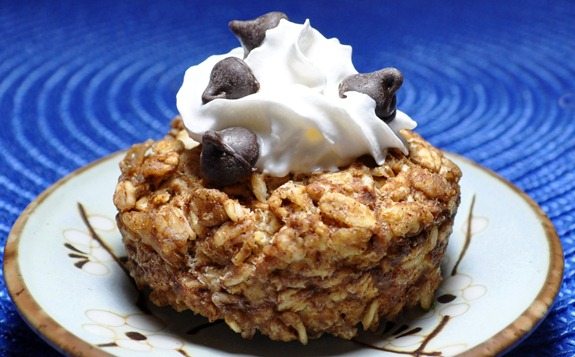 A variation of the popular Pumpkin Baked Oatmeal.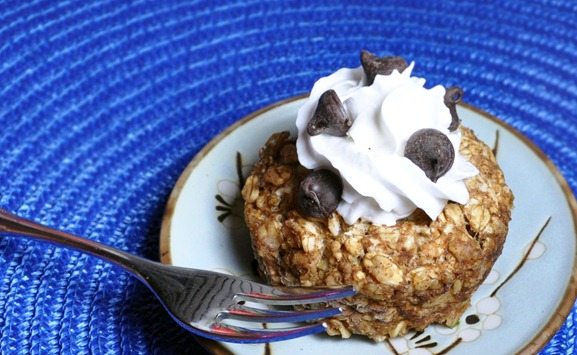 And now you'll be wanting a recipe, yes?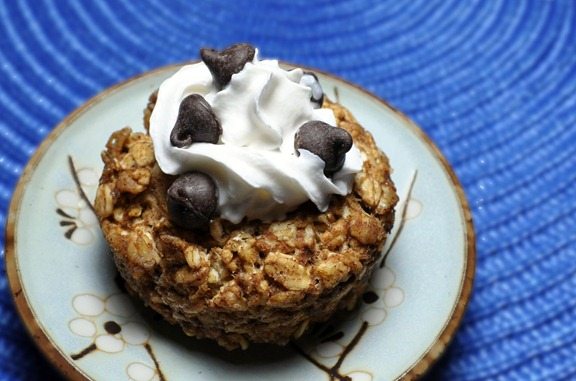 Cookie Dough Baked Oatmeal
(Serves One!)
1/2 cup rolled oats (50g)
1/4 tsp pure vanilla extract
sweetener, such as 1 1/2 tbsp maple syrup or 1 to 1 1/2 packs stevia (I omitted, but I've cautioned you before about my lack of sweet tooth.)
1/4 cup unsweetened applesauce (60g) (Or sub banana… it's awesome this way!)
1/4 cup milk of choice, creamer, juice, or water
1/8 tsp salt
Handful of chocolate chips (and a few for the top, too!)
Optional: unless you like the taste of fat-free baking, add 1 tbsp oil, buttery spread, or nut butter (If oil, scale the milk back a little)
Optional: 1/4 to 1/2 tsp cinnamon (If you like cinnamon in chocolate chip cookies)
Preheat oven to 380 degrees. Combine dry ingredients, then mix in wet. Pour into a small baking pan, loaf pan, or 1-cup ramekin (or, for mini boats, two 1/2-cup ramekins). Cook for 20 minutes, or more until it's firm. Finally, set your oven to "high broil" for 3-5 more minutes (or simply just bake longer, but broiling gives it a nice crust). Don't forget to spray your ramekins first if you want your cakes to pop out.
See the following link for Nutritional Information.
If you're like me and are not trying to lose weight, I definitely recommend including the optional nut butter or oil in the recipe for more calories, because this oatmeal cake really fills you up!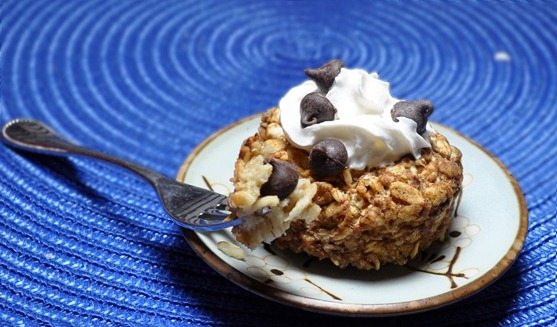 Are there any breakfast foods that don't fill you up?
I tend to steer clear of cold cereal, because whenever I eat it for breakfast, I'm hungry an hour later! Same thing with waffles or pancakes. In the case of pancakes, I'll often eat them for snack instead of as breakfast.
Or with something filling, like a Whipped Cream Bowl.