Spinach Ice Cream?
The spinach will be our little secret; I swear you cannot taste it at all!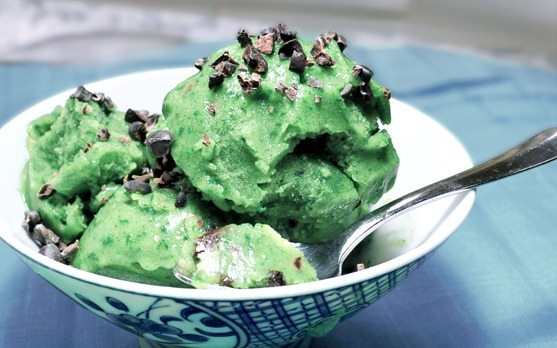 It's an ice-cream version of a recipe posted a few weeks ago.
This recipe: Mint-Chocolate Milkshake.
(That shake is one of my fave recipes on the whole blog!)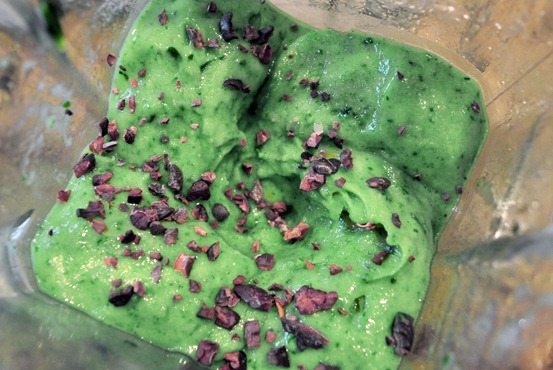 Finally the weather's getting warmer. When I discovered that the temperature was a perfect 74 degrees, I decided to celebrate: with ice cream. Taking advantage of the waning spring-break hours, I invited two friends over to eat ice cream on the patio.
Yes, I really did serve spinach ice cream. And yes, my friends really did eat it all up! I honestly don't even know why they allow me to feed them anymore, for how many times I've snuck funny things into their food—tofu chocolate mousse, spinach ice cream, kale milkshakes…My friends laughed when I told them the truth (after they finished eating). Then they requested more. (For theirs, I replaced the cacao nibs with regular chocolate chips. I know not everyone shares my love of those bitter little crunchies.)
Spinach Ice Cream
(sugar-free)
One of my Raw Dessert Recipes.
2 frozen bananas, as ripe as possible
2-3 drops pure peppermint extract
scant 1/16th tsp salt
1/4 cup or more frozen spinach (I used 40g) (If you don't like spinach, you can sub food coloring or omit completely.)
scant 2 tbsp milk of choice (I used almond milk)
chocolate chips or cacao nibs
Blend everything together in the Vita-Mix. (If you don't have a high-powered blender, just add more liquid; it won't be as ice-cream-like, but it'll still taste good!) Use an ice-cream scoop for authentic-looking ice cream.
Not a fan of spinach?
If you prefer, try this recipe for real Healthy Mint-Chip Ice Cream.
(The above link is also much healthier than traditional mint-chocolate chip ice cream… but it doesn't have spinach! So check that one out if you still don't trust me about spinach ice cream!)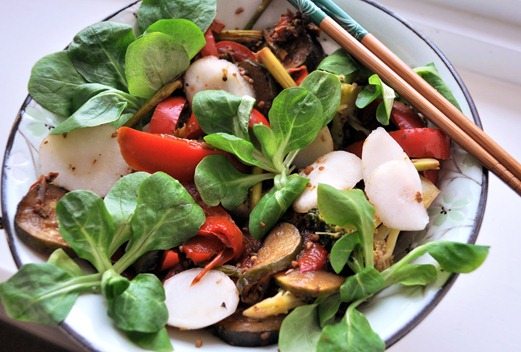 After my friends left, I continued the St. Patrick's Day theme (and the leafy-green theme) with dinner. It's just a simple stir-fry over bulgur. But the mache greens look like four-leaf clovers! I also ate a spoonful of raw cashew butter, straight-up. Anyone else like eating nut butters straight-up?
How do you get your daily servings of leafy greens?
And thanks for all the feedback about My FAQ Page.
I really appreciate it!