Make these thick and creamy tiramisu overnight oats, for a filling healthy breakfast recipe that tastes like dessert!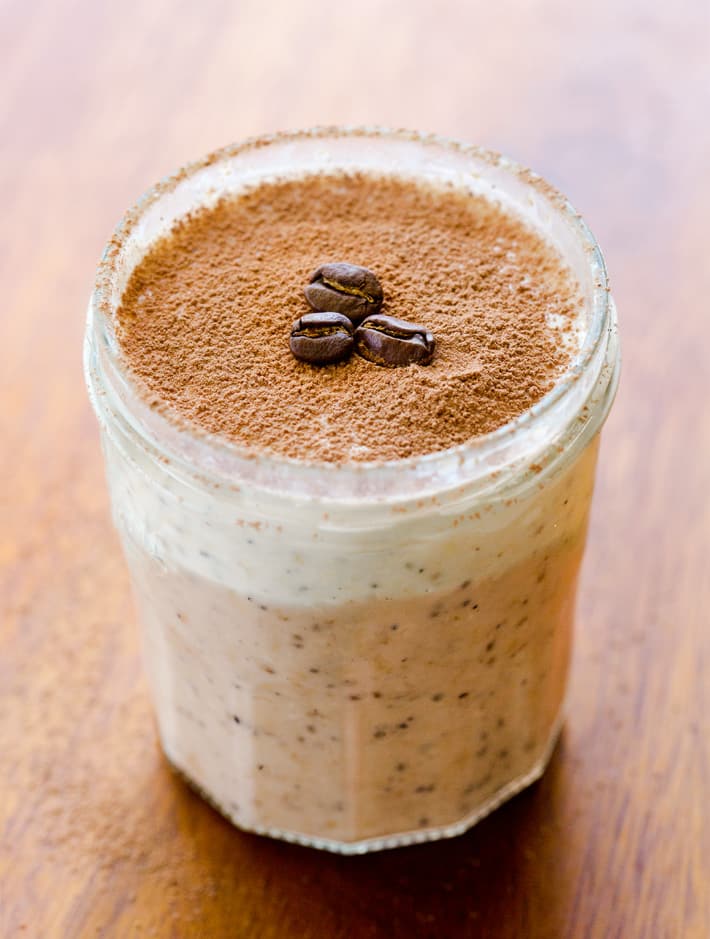 Tiramisu overnight oats for breakfast
Growing up with an Italian family, tiramisu has always been one of my favorite desserts.
So if I can eat tiramisu every morning for breakfast and still be healthy???
Count me in. Fluffy coffee flavored oats, a smooth and creamy yogurt topping, and a dusting of cocoa powder make this the breakfast version of the popular Italian dessert.
Readers also love these Peanut Butter Brownies
How to make the oatmeal recipe
Start by combining the oats, coffee, milk of choice, sweetener, pinch of salt, and vanilla extract in a lidded container or mason jar.
Screw the lid on tightly, shake well, and refrigerate overnight.
When ready to eat, smooth a layer of yogurt on top of the coffee oatmeal. Dust with cocoa powder, and enjoy.
If you prefer hot oats to cold oats, they can be heated in the microwave or in a small saucepan on the stove top before adding the yogurt.
Garnish your oats in a jar with cacao nibs or mini chocolate chips, crushed coffee beans, sliced fruit, shredded coconut, or Coconut Whipped Cream.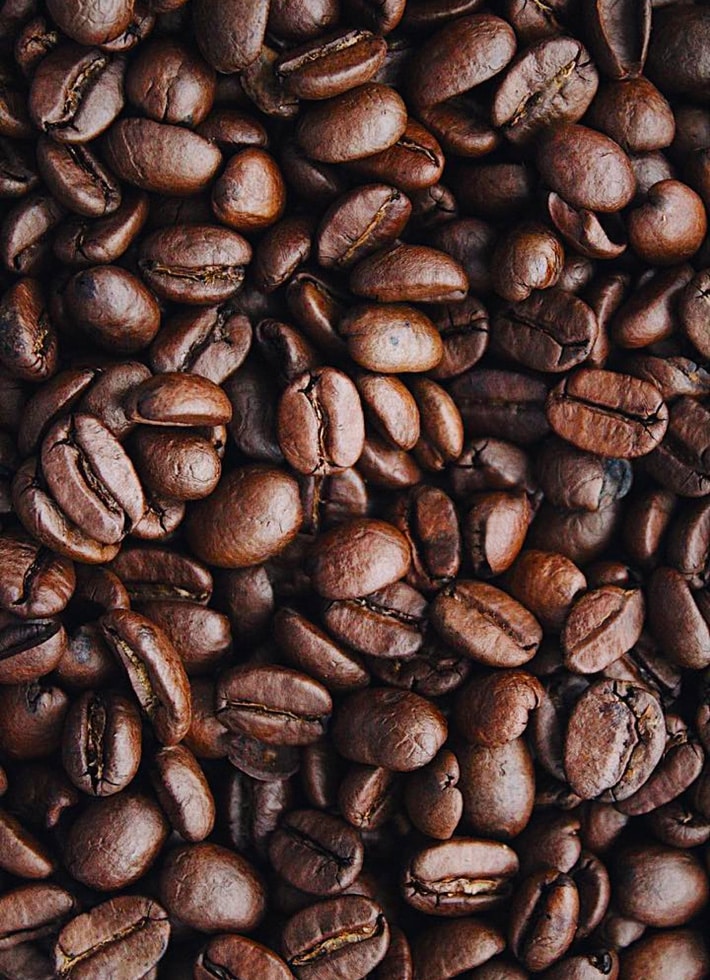 Tiramisu overnight oat ingredients
The recipe calls for rolled oats or quick oats, instant coffee powder, milk of choice, sweetener of choice, a pinch of salt, pure vanilla extract, plain or vanilla yogurt (plant based yogurt works too), and cocoa powder.
I have not tried substituting instant oats, quinoa flakes, or steel cut oats, so be sure to report back if you experiment.
The yogurt can be Greek yogurt, cocontmilk yogurt, plain yogurt, or even strawberry yogurt. If you wish to use unsweetened yogurt or sub cream cheese or coconut cream instead, I recommend stirring in about a tablespoon of sweetener.
As a fun flavor alternative, you can also replace the yogurt with mashed banana!
Any all purpose granulated or liquid sweetener works, including regular sugar or coconut sugar, pure maple syrup, honey, or agave, or erythritol for a sugar free recipe.
Still craving coffee? Make this Frappuccino Recipe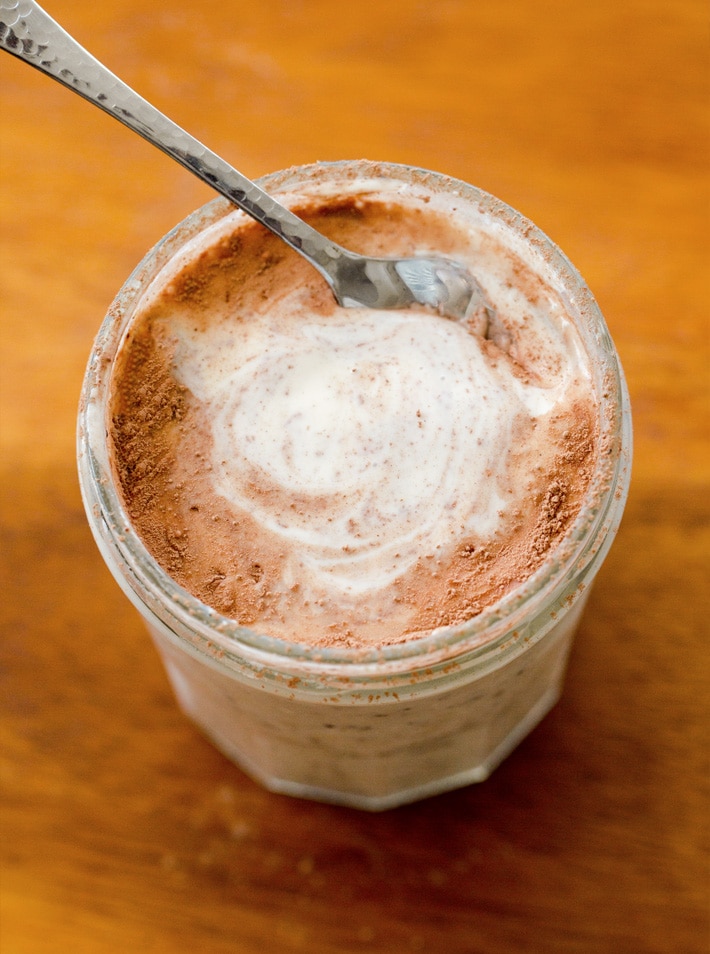 High protein healthy breakfast
The amount of protein in the overnight oats will depend on what type of milk and yogurt you choose. For example, Greek yogurt will yield a higher protein breakfast.
To add an extra protein boost and turn them into tiramisu protein overnight oats, you can include a scoop of your favorite protein powder. Mix the powder with the base ingredients the night before, or stir it into the yogurt right before eating.
I also love adding chia seeds. Just one tablespoon of chia seeds contains three grams of protein. Chia seeds are also high in calcium, iron, B vitamins, and fiber.
Also try these Protein Cookies and Protein Pudding
Watch the tiramisu overnight oatmeal video above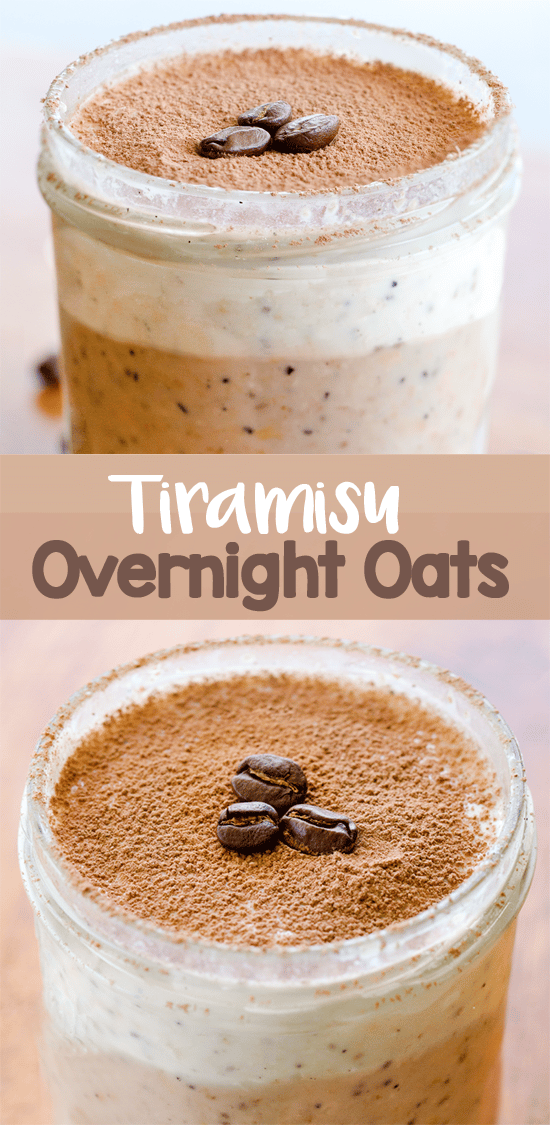 The recipe was adapted from my Overnight Oats and Chocolate Overnight Oats.
Tiramisu Overnight Oats
Make these creamy tiramisu overnight oats for a healthy breakfast recipe that tastes like dessert.
Ingredients
1/2

cup

rolled oats or quick oats

2/3

cup

milk of choice

1

tsp

instant coffee or espresso powder

1

tbsp

sweetener of choice,

or more as desired

1/4

tsp

pure vanilla extract

1/8

tsp

salt

optional 1 tbsp protein powder

1/4

cup

yogurt

(or vegan cream cheese)

cocoa powder for the top

optional chia seeds, cinnamon,

or add-ins of choice
Instructions
Combine all ingredients except cocoa and yogurt in a lidded container or mason jar. Shake well. Refrigerate overnight. Smooth the yogurt on top, then dust with cocoa powder. Add mini chocolate chips or cacao nibs if you wish. Enjoy!

View Nutrition Facts
More Healthy Breakfast Options: