They are almost too cute to eat.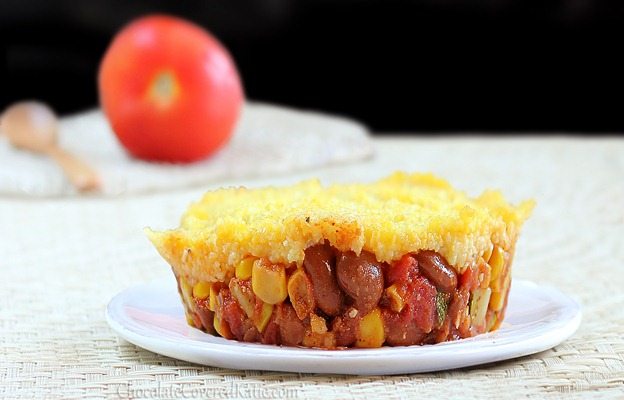 Almost, but not quite.
And when you see how easy these little pies are to prepare, you might give up buying frozen meals for good.
They take just THREE simple steps, the first of which is to simply throw a bunch of cans into a pot and wait. Not much harder than microwaving a frozen meal, is it?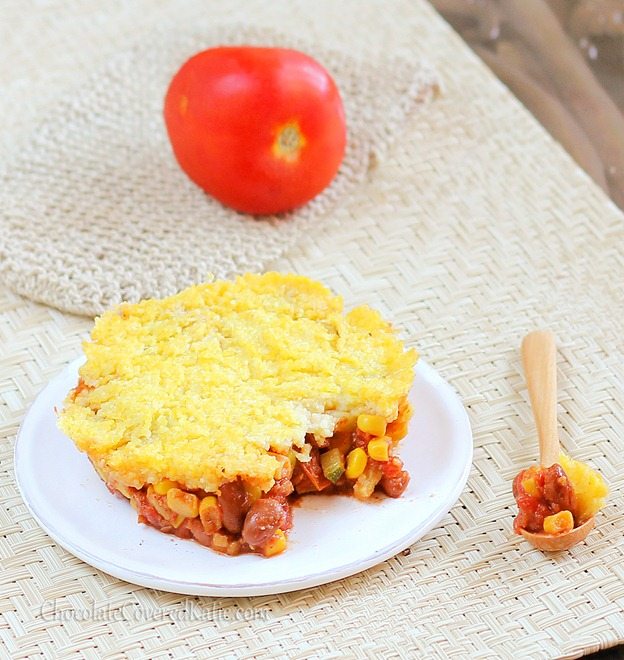 The perfect comfort food for a chilly Fall night.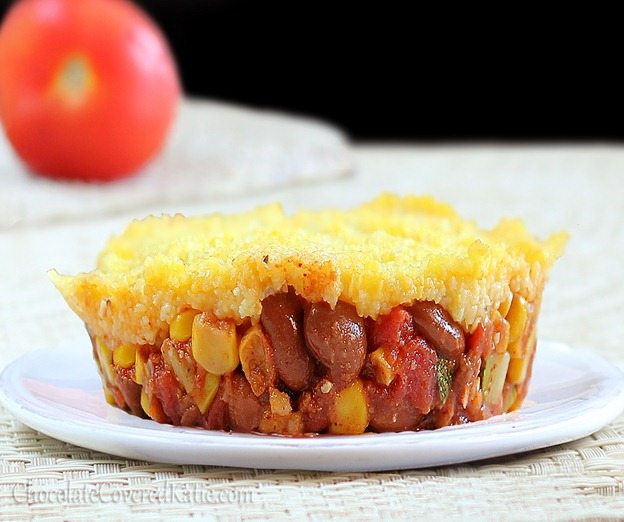 Katie's Mexican Tamale Pies
(makes 4-5 pies)
1 can (15oz) pinto beans, rinsed and drained
1 can (15oz) diced tomatoes
1 small zucchini, cut into tiny pieces (optional)
1 can (15oz) corn, drained (or 1 3/4 cup fresh or frozen)
1 1/2 tsp chili powder
1/2 tsp cumin
1 tsp each: onion and garlic powder
1/2 tsp salt
optional: hot sauce or red pepper flakes (for a spicier version)
for the topping: 1 cup cornmeal, 1/2 tsp salt, 2 cups water, and optional 2 tsp oil. Or you could probably just use instant polenta and slice it on top.
Combine first 8 ingredients in a small pot and cook on low-medium for 40 minutes, stirring very occasionally as it bubbles. (If you prefer, you can even make this in a crockpot!) Meanwhile, if using the homemade polenta topping, combine all other ingredients and bring to a boil, stirring occasionally. As soon as it starts to boil, lower the heat to a simmer and stir constantly until it thickens. Preheat the oven to 350 F and portion the bean mixture into oven-proof dishes or aluminum pans (as shown in the picture directly below these instructions). Top with polenta, smooth the tops, and bake 45 minutes. I also set the oven to "broil" for a few minutes at the end, to achieve more of a crust on top. You can either eat in the dish, or go around the sides and pop the pies out. (Note: if you sub fresh corn and/or unsalted tomatoes, you'll probably want to add a little extra salt.)
View Tamale Pie Nutrition Facts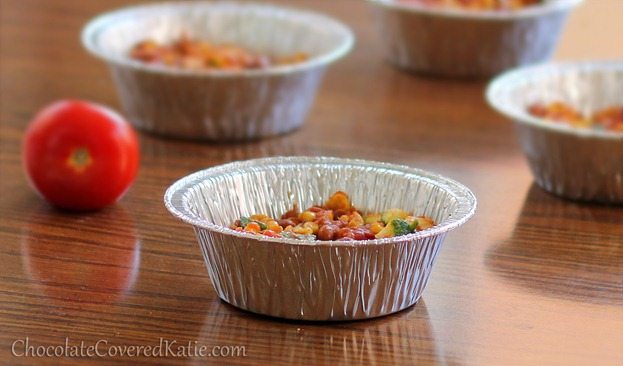 Above, before being covered with the cornmeal topping.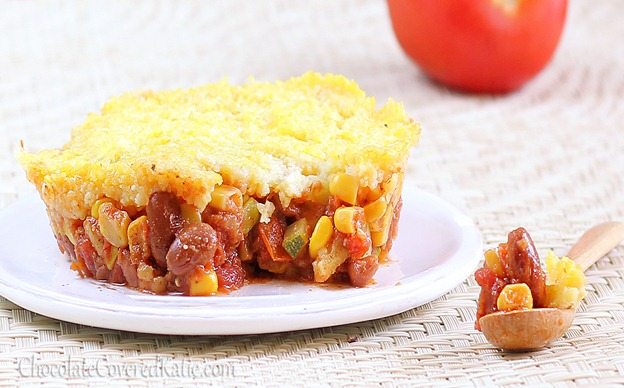 Link of the Day: