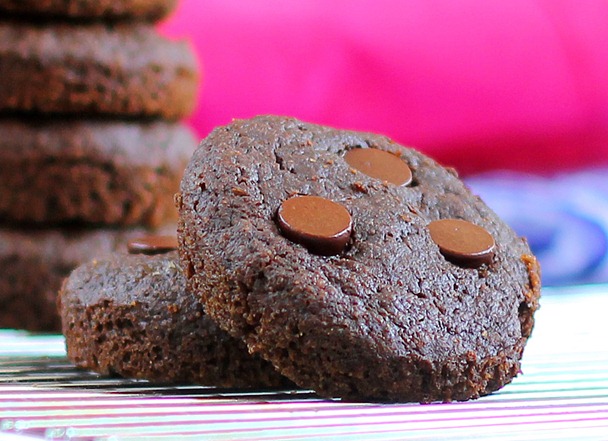 There's a giant box of VitaMuffins in my kitchen.
And it is not my fault.
In fact, I've never tried a VitaMuffin in my life. The giant box belongs to my roommate, who would eat deep chocolate vitatops every single day if they weren't so expensive ($17 for twelve muffin tops?!). She's always asking me to "please come up with a copycat recipe so I can stop giving Costco all my money." And therefore, I dedicate the following recipe to her:
Copycat chocolate vitamuffin tops: healthy enough for breakfast.
And decadent enough for dessert.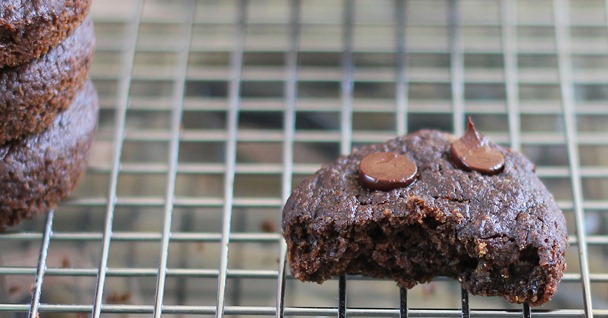 Muffin Monster.
Spawn of Cookie Monster.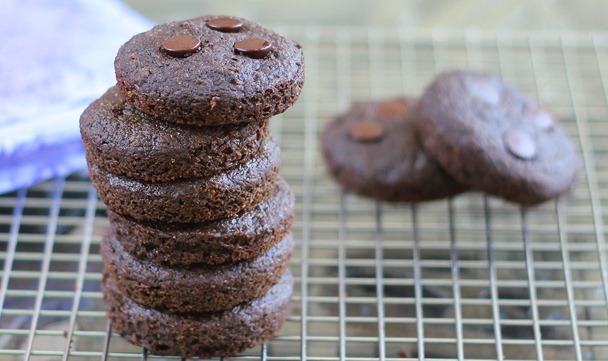 Copycat Chocolate VitaTops
(makes 12)
2 tbsp milk of choice (30g)
2 tbsp oil, or 2 more tbsp milk of choice (30g)
1/2 tbsp pure vanilla extract (6g)
1 tbsp ground flax (6g) or 1 tsp energ powder (Can omit; they will just be a little denser.)
1/2 cup pureed prunes or pumpkin (120g)
1/2 cup spelt flour (all-purpose flour works too, and a reader says you can use Bob's gf mix.) (65g)
1/4 tsp baking soda
1/4 tsp salt
1/2 tsp baking powder
2 tbsp cocoa powder (10g)
2 tbsp xylitol or sugar (25g)
1 to 2 more tbsp sugar or 1 to 2 nunaturals stevia packets (scant 1/16 tsp uncut) (Add 1 tbsp if using prunes, 2 if using the pumpkin.)
highly recommended: 1/4 cup chocolate chips or mini chips (mixed into the batter)
optional: 2-4 chocolate chips per muffin, for decoration
Preheat oven to 350 F, and grease a standard-sized muffin pan. In a mixing bowl, combine first 5 ingredients and whisk. In a separate bowl, combine all remaining ingredients except the decoration ingredient, and stir well. Now mix wet into dry and stir until just combined. Don't over-mix. Distribute batter evenly among 12 muffin cups, and—if desired—place two or three chocolate chips on the top of each muffin. Bake 12 minutes, then allow to cool 5-10 minutes before removing from the muffin tins.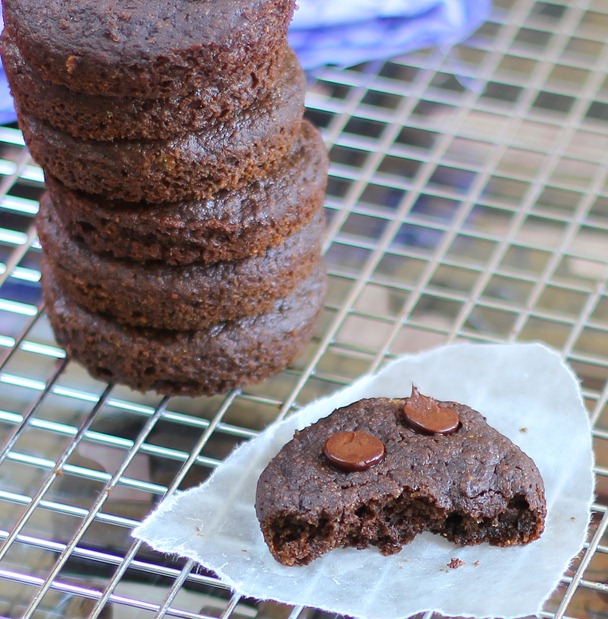 Is it just me, or does my chocolate VitaTop look like a Pacman ghost?
Question of the Day:
Have you ever tried a VitaMuffin?
Do you think they're good enough to be worth the expensive price tag?
Link of the Day: