Behold, the great wall of healthy whipped cream…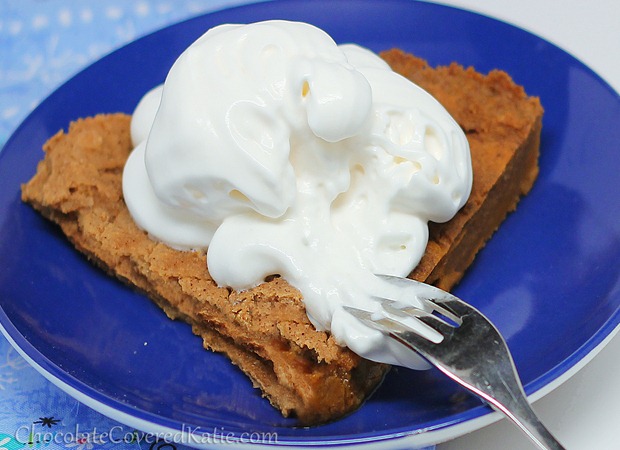 Shown above, on top of my Crustless Pumpkin Pie.
Don't laugh… but as a kid, squirt whipped cream was one of my favorite foods. Every time we held a slumber party, soccer-team party, or girl scout party, we'd be sure to buy extra cans of Reddi-Wip, and my ice cream sundaes looked like this:
Small scoop of ice cream, ocean of chocolate syrup, mountain of whipped cream.

Homemade Reddi-Wip whipped cream is light and airy and swirly, just like the real thing! However, this one has no preservatives, stabilizers, emulsifiers, or cholesterol. It is straight-up awesomeness: great on ice cream, hot chocolate, pancakes, squirted straight from the can (my personal favorite), or used anywhere else you'd use squirt whipped cream.
When I first saw the Isi "Easy Whip" mini whipped cream maker at Crate & Barrel, I was so curious as to whether or not it would work with my Homemade Coconut Cool Whip that the machine immediately went onto my Christmas list. Some people ask for jewelry for Christmas; some ask for fancy cars.

But you can't eat a fancy car.
And I really hope you don't eat your jewelry.
You can, however, eat this: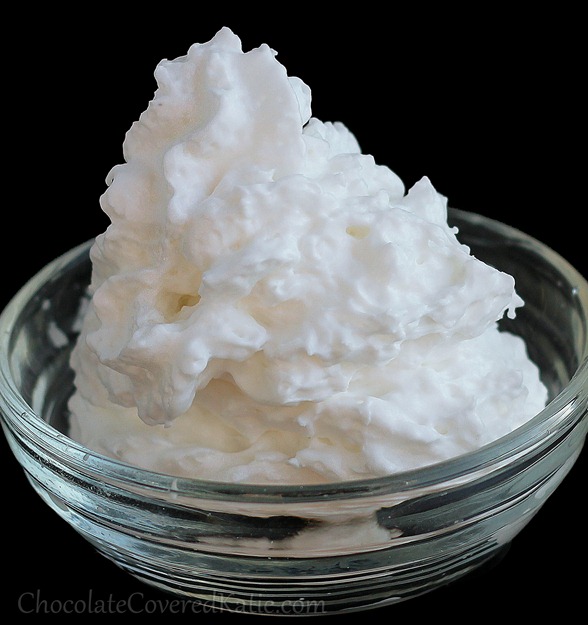 Healthy Whipped Cream – Homemade Reddi-Wip 
(can be sugar-free)
1 can "heavy cream" such as coconut cream or Mimicreme (If you can't find coconut cream, which can be purchased at Trader Joe's or at an Asian market, you may use the thick cream that forms at the top of most full-fat cans of coconut milk when it's chilled. If you go that route, I'd recommend using the cream from the tops of 2 cans.)
powdered sugar or powdered stevia to taste
optional: add a few drops of vanilla extract or almond or peppermint extract for a flavored whipped cream. And yes, this does work with my Chocolate Whipped Cream Recipe.
Healthy Whipped Cream Instructions: (If you don't have a whipped cream machine, whip up your cream and sweetener with beaters instead, until stiff peaks form.) Prepare the whipped cream container and charger according to manufacturer's directions for your specific brand/model. Pour in the cream– if using coconut cream, it's best to not chill first. In seconds, the 1/2 pint you put in will yield 5 times that amount! (So 2.5 pints total for this recipe.) Use anywhere you'd use squirt whipped cream, and it stays fresh for up to ten days in the refrigerator.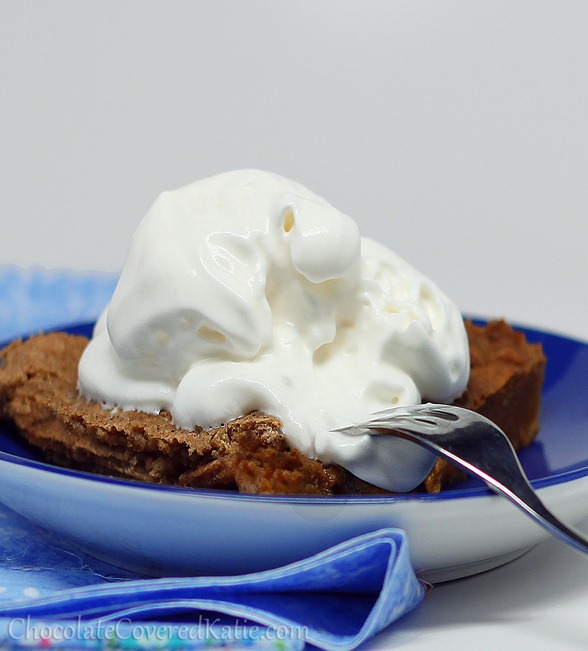 And another shot with the Crustless Pumpkin Pie.
Just because.