Light & fluffy cornbread pancakes that can be made sweet or savory – perfect for breakfast or dinner!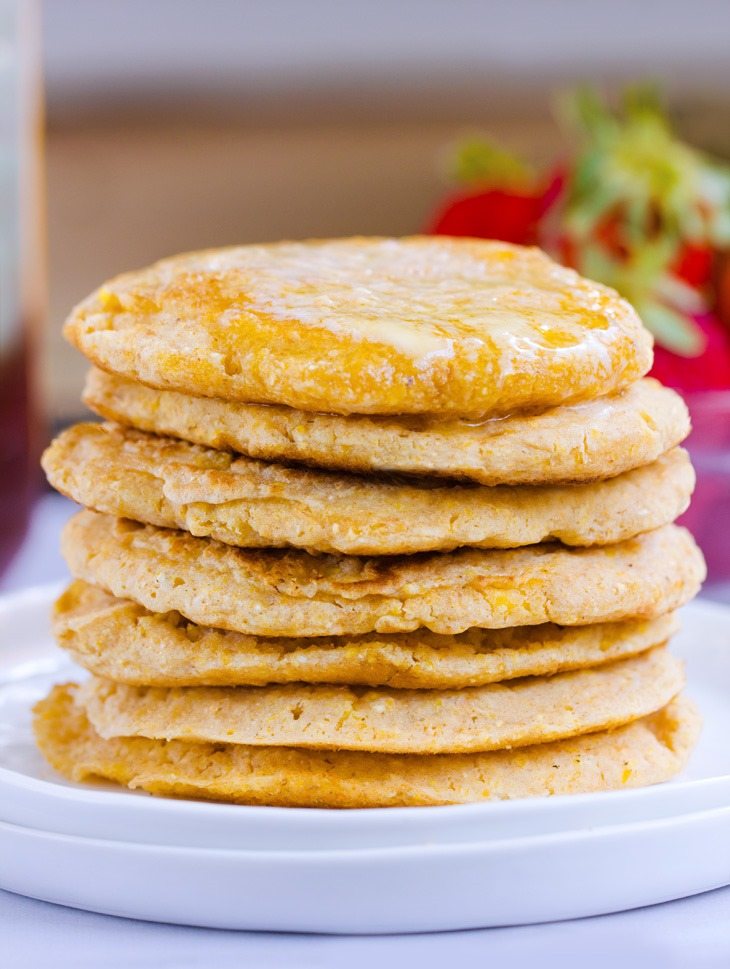 The secret addition of vinegar in these pancakes makes them irresistibly light and fluffy – without needing any oil whatsoever!
If you want to get all scientific: basically what happens when you add vinegar to the pancake batter is that it will react with the baking soda to create carbon dioxide. In other words, the baking soda is alkaline and the vinegar is an acid, so when they combine in a mixture, it will bubble up. (Remember making volcanoes in elementary school???)
The bubbles expand the batter, causing it to rise – Voilà! Fluffy pancakes!
Or exploding volcanoes…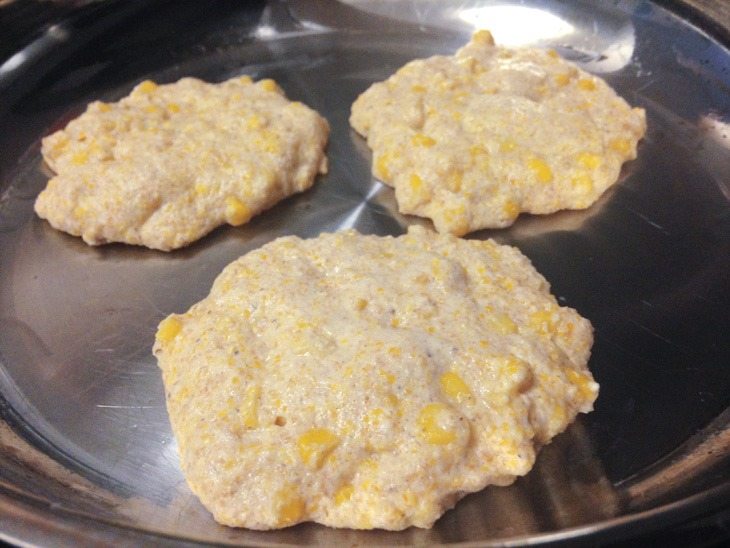 Science that pertains to everyday life—especially the science of baking—is completely fascinating to me. Not so much, moles and electrons. I still don't really know how I got through AP chemistry in high school.
If you want the not-so-scientific explanation for including the vinegar in these pancakes: it just means you're making homemade buttermilk. So think of these pancakes as buttermilk cornbread pancakes. Which sounds quite a bit better than vinegar cornbread pancakes.
And don't worry – you don't taste the vinegar in the pancakes once they're cooked.

For many more healthy pancake recipes, including Apple Pie Pancakes, Blueberry Cheesecake Pancakes, and Brownie Batter Pancakes, have fun checking out the link above. All of my favorite pancake recipes are included on this page.
I kind of really love pancakes.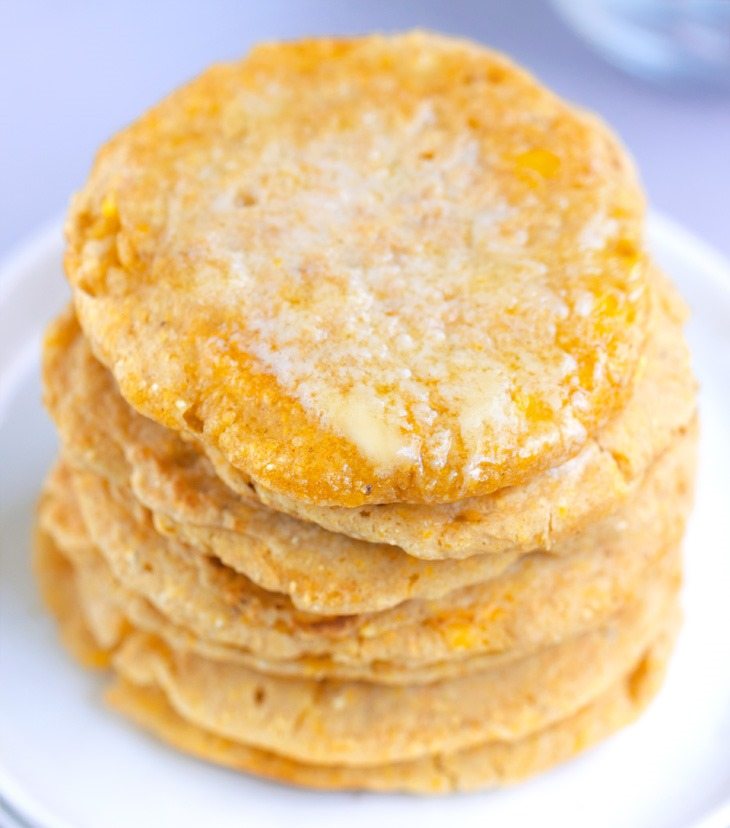 This question seems to come up a lot: Yes, you can make the batter up the night before, leave it covered in the fridge, and cook the pancakes in the morning.
You can also cook up the pancakes, put them in a container with a piece of parchment paper separating each pancake, and freeze them for another day. Just reheat them in the oven before serving.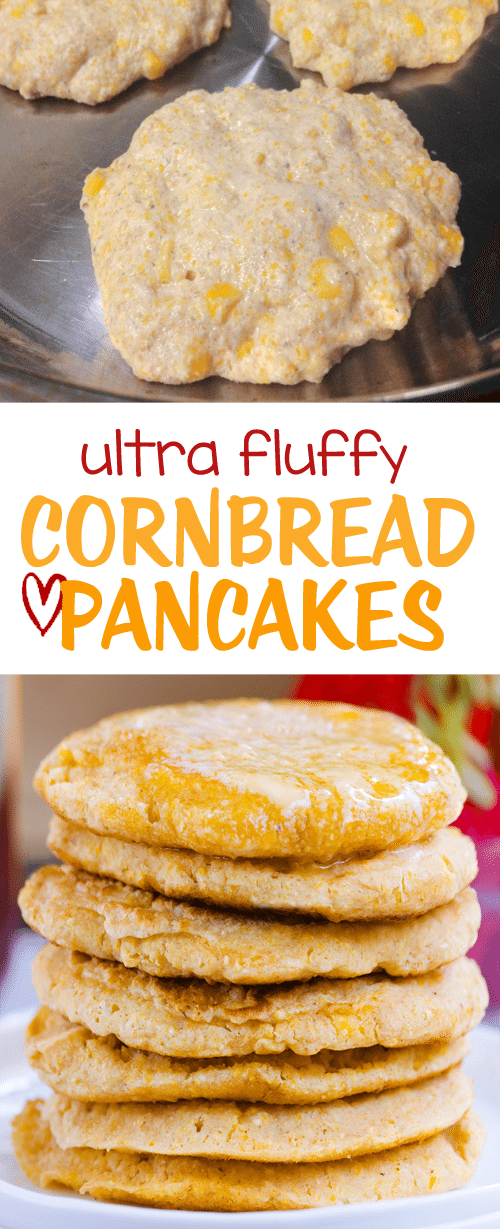 Cornbread Pancakes
Adapted from Healthy Corn Muffins
Fluffy Cornbread Pancakes – Oil-Free, Gluten-Free, Vegan!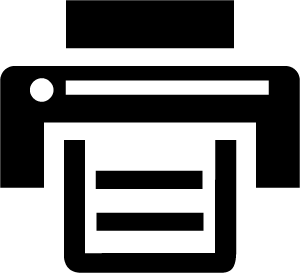 Print This Recipe
[mrp_rating_result show_count="false" show_rich_snippets="false"]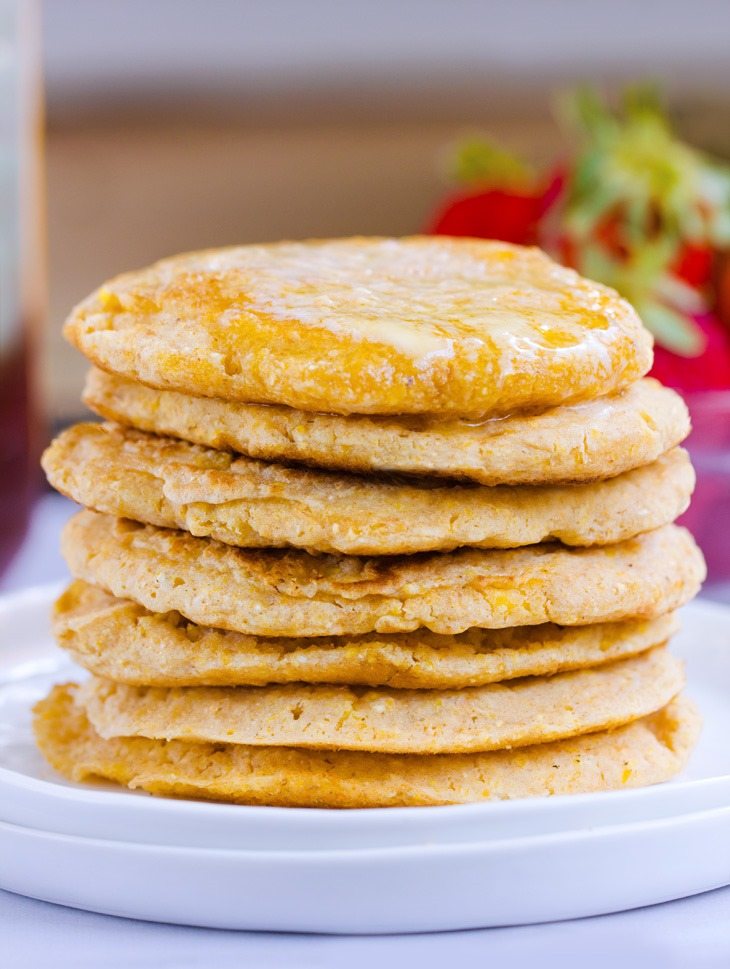 Ingredients
1/3 cup + 1 tbsp milk of choice
1 tbsp oil or additional milk of choice
1 tsp white or apple cider vinegar
pinch uncut stevia OR 1 tbsp maple syrup (If using maple syrup, omit 1 tbsp of milk)
1/2 cup corn kernels, fresh or canned or frozen (50g)
1/4 cup fine cornmeal, whole-grain if desired (40g)
1/4 cup oat flour (To make oat flour, grind oats in a food processor until a fine flour forms) (30g)
1/2 tsp baking powder
1/4 tsp salt
1/8 tsp baking soda
Instructions
*If you want savory pancakes, feel free to omit the sweetener and add some garlic, chives, nutritional yeast, cheese-style shreds, onion powder, or any other spices you wish.
Whisk together the first 4 ingredients, then let sit for at least 5 minutes. In a separate bowl, stir together all remaining ingredients. Pour dry into wet, stir to form a batter, then let thicken in the fridge 10-12 minutes (important). Grease a non-stick skillet very well, then turn heat to low. Cook pancakes on low about 2 1/2 minutes, then flip for another minute. It's a good idea to re-grease the pan after each batch.
Link Of The Day: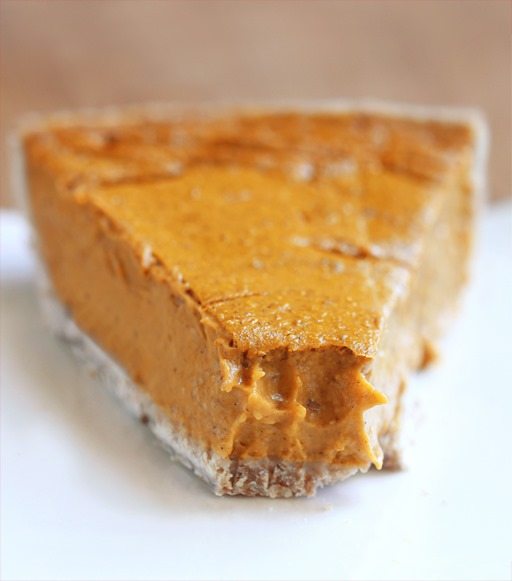 Healthy Pumpkin Pie    (the extra-creamy recipe)