A chewy oatmeal crumble engulfs smooth dark chocolate banana fudge in these deliciously good-for-you snack bars.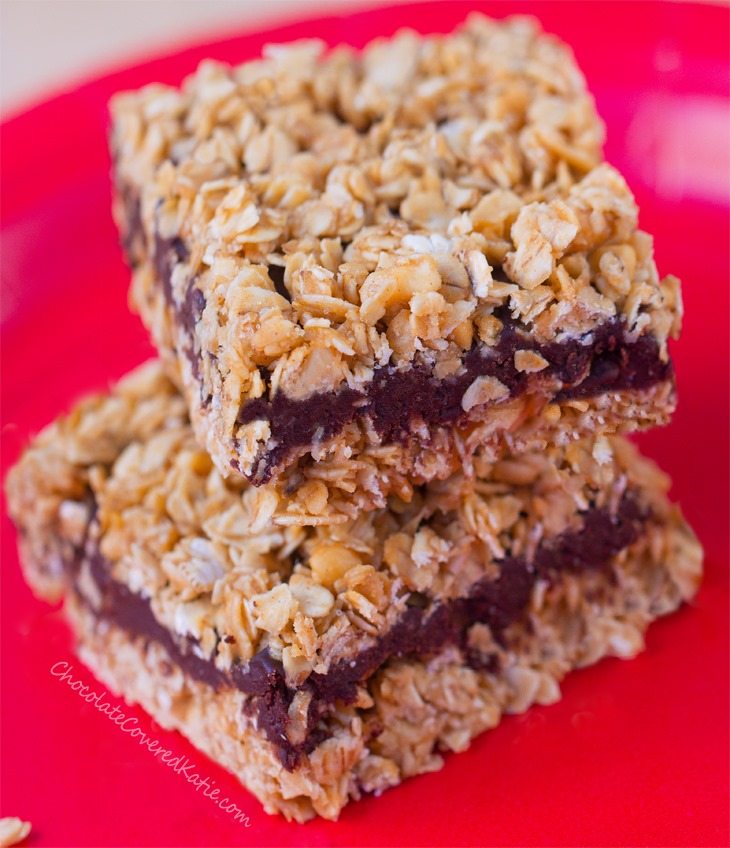 No-Bake
6 Ingredients
Vegan & Gluten-Free
These homemade banana fudge bars are based on the popular Oatmeal Chocolate Fudge Bars and are actually lightened up even more than the originals! Any banana lover will go crazy for the sweet chocolate-banana fudge centers.
The bars don't need to be refrigerated, making them perfect to pack in a lunchbox or take as a nutritious on-the-go snack.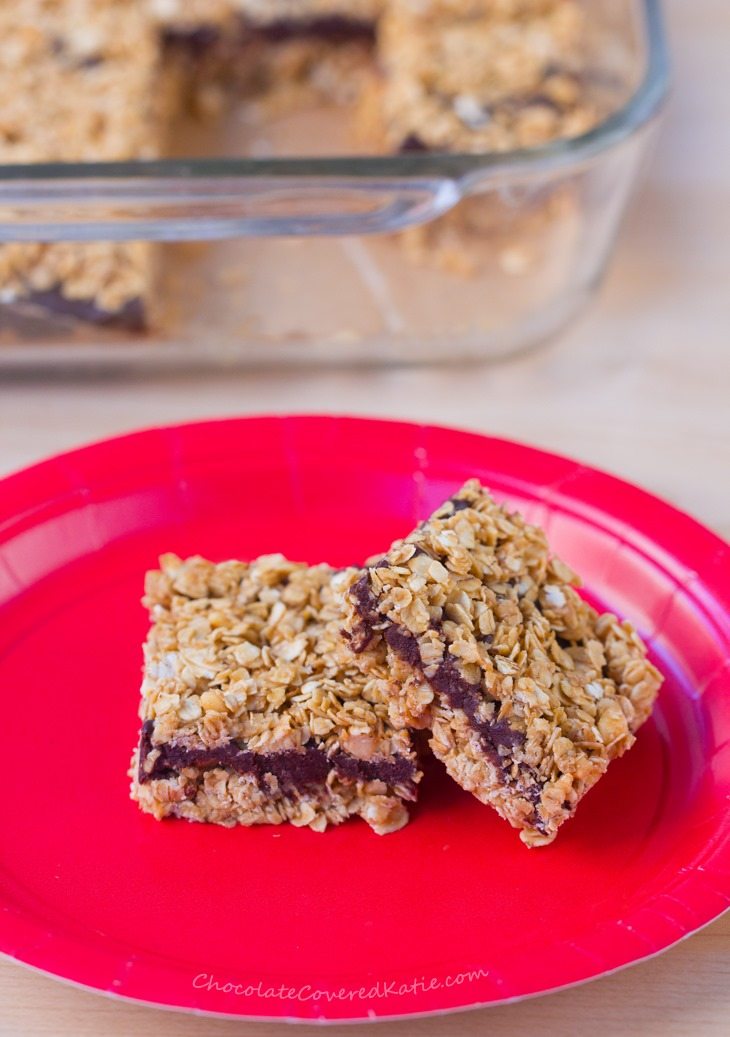 If you want to make these bars completely nut-free, feel free to sub out the peanut butter for sunbutter or coconut butter. Or you can try using a regular butter spread (such as vegan Earth Balance), but I haven't tried that variation yet.

These little fudge bars always go quickly at parties, so it's a good idea to make a double batch if you want leftovers.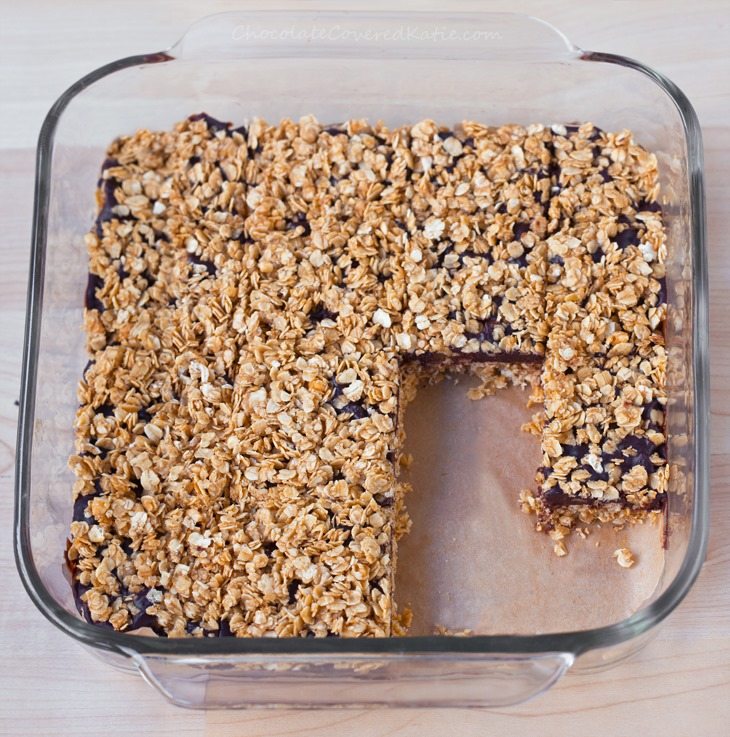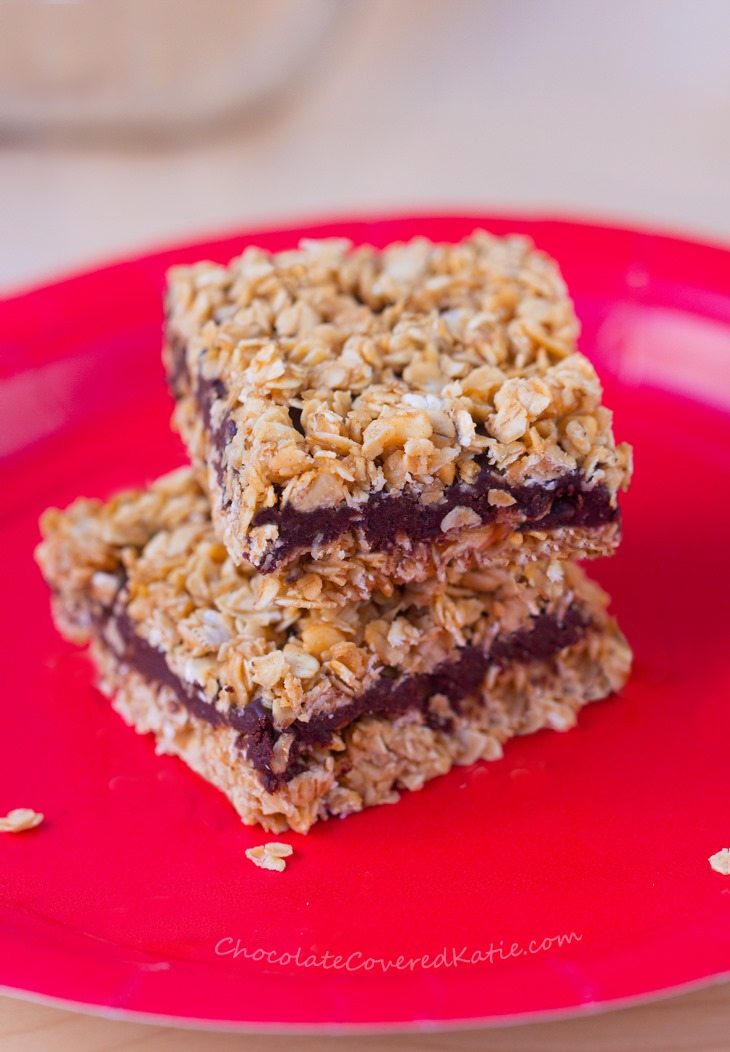 ♥
If you make a batch of these bars, be sure to tag me @ChocolateCoveredKatie on Instagram so I can see your creations, and I'll share some of your pictures on my Instagram feed.


Banana Oatmeal Fudge Bars
No-Bake Chocolate Banana Oatmeal Fudge Bars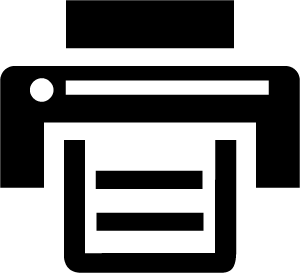 Print This Recipe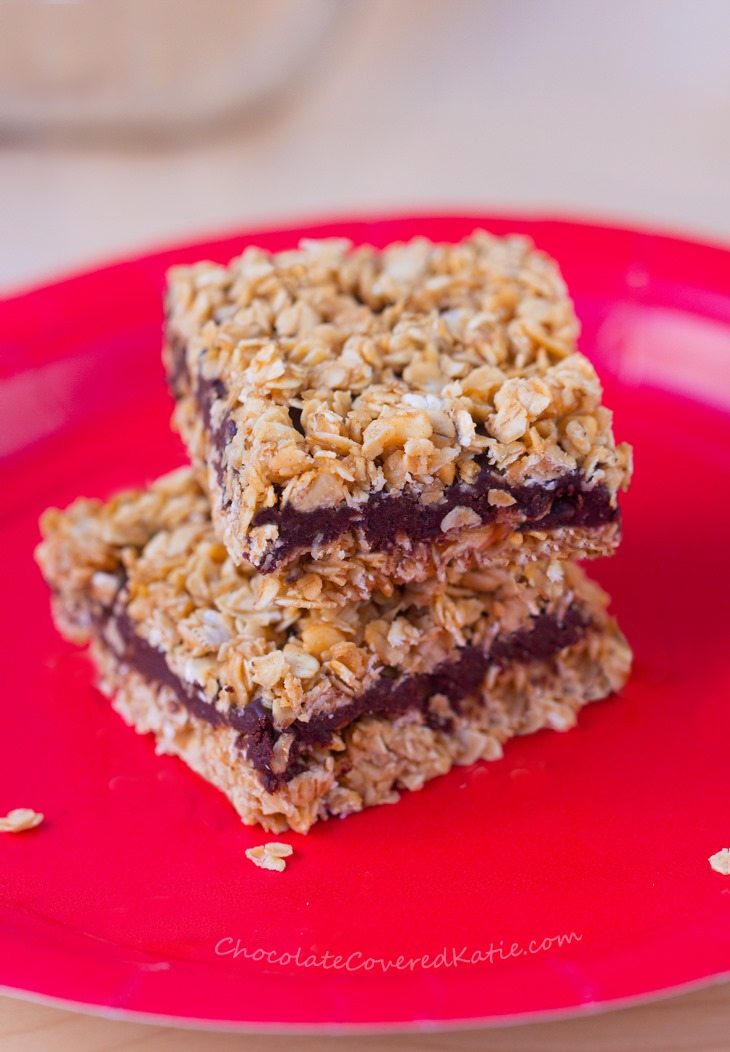 Ingredients
2 3/4 cup quick oats
1/2 tsp salt
1/2 cup pure maple syrup or honey
1/4 cup peanut butter or allergy-friendly sub
1 tbsp water
4 oz chocolate chips
1/2 cup mashed overripe banana (Click for a Banana-Free Version)
Instructions
*If you want a thicker chocolate layer than what's shown in the photos, feel free to double the amount of chocolate chips and banana.
Line an 8-inch pan with parchment or wax paper. Set aside. If nut butter isn't easily stir-able, gently heat it. Stir the oats, salt, maple syrup, nut butter, and water together until evenly combined. Transfer 2/3 of this mixture to the prepared pan. Press down hard, using a second sheet of parchment to press it evenly into the bottom of the pan. Carefully melt the chocolate chips in a new bowl, then stir in the banana until smooth. Spread this mixture on top of the crust. Sprinkle remaining oat crumbles on top of the chocolate, and press down. Refrigerate or freeze until firm enough to cut into bars.
Link Of The Day:
Banana Ice Cream – 10 NEW Recipes