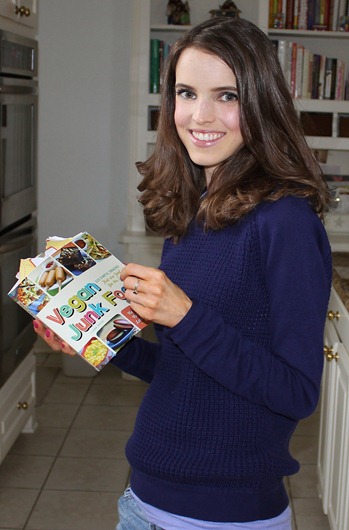 It might seem strange to see the author of "the healthy dessert blog" holding a book all about junk food. Contrary to what one might assume from reading the title of my blog, however, I don't only eat healthy food 100% of the time.
And I don't think I am any less healthy for it.
Maybe in a perfect world, all of the desserts sold in stores and at restaurants would be a heck of a lot healthier – with more whole grains, fewer processed ingredients, and much less sugar. Since this is not the case (yet!), we as consumers have two choices: never dine out, decline invites from friends, and only eat foods prepared from scratch; or eat as healthfully as we can for the majority of the time and don't sweat the small stuff. If you live in a super-health-conscious community, you might not need to choose. And if you have allergies, you might not be able to choose. But for someone like me, who enjoys being social (and also who doesn't always have time to make everything from scratch), it might be a good idea to follow the 80-20 rule: eat as well as you can 80% of the time and don't worry so much about the other 20%.
I wrote more about all of this here: Orthorexia: The New Eating Disorder
There's a difference between eating a healthy diet and eating a "perfect" diet, and if you are spending your entire life stressing over what, when, or where to eat for optimal health, it could be doing more harm than good.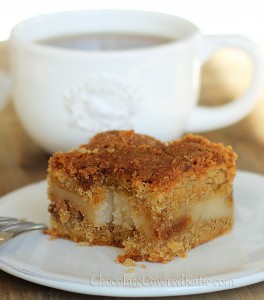 Enough babbling. Time for food.
With a streusel top and cream cheese filling, this delicate cake is reminiscent of a beloved New-York-style coffee cake. It's a wonderful addition to any brunch or tea party.
However, as is clear by the title of the book from where the recipe comes, this is not health food. If calories, fat, and sugar are an issue, I'd recommend a different recipe, such as my Coconut Breakfast Cake.
Although the majority of people who read this blog might not be a good fit for the Vegan Junk Food cookbook by Lane Gold, I wanted to review it for anyone interested in quick and not-so-complicated recipes, many of which can easily be tweaked to fit one's specific dietary requirements. (Note: I am not getting paid to review this book. Opinions are my own.) The book author's definition of junk food is not "food devoid of nutrition" but rather "sinfully delicious" food. So really, the cookbook is more comfort food than junk food. If you are the type of person who doesn't ever follow a recipe anyway, you might have fun adapting some of the creative ideas to suit your needs. Recipes include: Deep Dish Hawaiian Pizza, Taquitos with Avocado Sauce, Eggplant BLTs, Peanut Butter Cup Cookie Bars, and Sticky Caramel Baked French Toast.
As with many "normal" recipes (i.e. recipes that haven't been given a healthier makeover), you can probably cut back on the sugar and fat in Gold's recipes and still end up with a tasty result. However, since I was doing a cookbook review and wanted to stay true to the book, I made the following coffee cake recipe almost exactly as written. The only change I did make was to use ww pastry flour for the all-purpose, knowing it would be my own fault if the recipe didn't turn out well. Gold calls for sugar in her recipe; I used evaporated cane juice, which is essentially the same thing. But if you'd prefer to use xylitol for a lower-sugar option, that will be fine. (As a reference: xylitol can be subbed for sugar in non-yeasted baked foods in a 1-to-1 ratio.)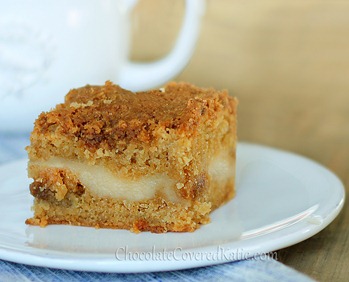 Cheesecake Filled Crumb Cake
(reprinted with permission)
Cake layer:
3/4 cup milk of choice (180g)
1 tbsp apple cider vinegar (15g)
2 cups ww pastry, spelt, or all-purpose flour (280g)
1/2 tsp baking soda
2 tsp baking powder
1/2 tsp salt
1/2 tsp cinnamon
1/2 cup coconut or vegetable oil (80g)
1 cup xylitol or sugar (195g)
Filling:
1 8-oz container cream cheese-style spread (I used Tofutti non-hydrogenated)
1/3 cup xylitol or sugar (65g)
2 tbsp ww pastry, spelt, or all-purpose flour (16g)
2 tsp lemon zest
1/2 tsp salt
1/2 tsp pure vanilla extract
Topping:
2/3 cup brown sugar or coconut brown sugar (120g)
1/2 cup ww pastry, spelt, or all-purpose flour (70g)
1 tsp cinnamon
1/4 tsp nutmeg
1/2 tsp salt
2/3 cup butter-type spread, softened (I used Earth Balance) (150g)
Preheat oven to 350 F. Lightly grease a 9×9 baking dish. Combine milk and vinegar in a medium bowl; set aside. In a large mixing bowl, combine flour, baking soda, baking powder, salt, and cinnamon. Add the the oil and sweetener to the vinegar mixture, stirring. Now add wet to dry and stir until completely smooth. Pour half the batter into the prepared baking dish.
In a medium bowl, mix filling ingredients and pour over the batter layer. Cover with remaining batter. Then, in a small bowl, mix together the topping and crumble over the cake. Bake 40-45 minutes, or until topping is golden brown. Let cool completely before cutting. Serves 8-12.
View Coffee Cake Nutrition Facts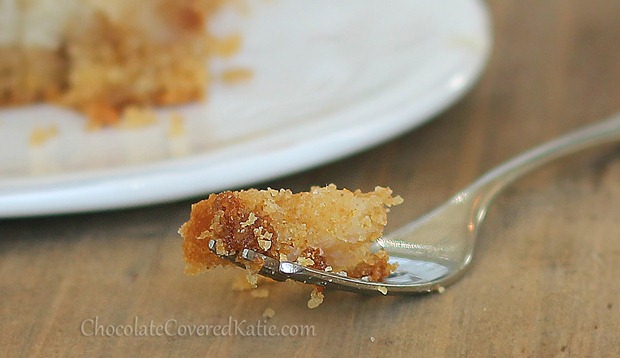 (Giveaway is closed. Congratulations to Nicole@fruitnfitness.)
Link of the day: