Today I give you…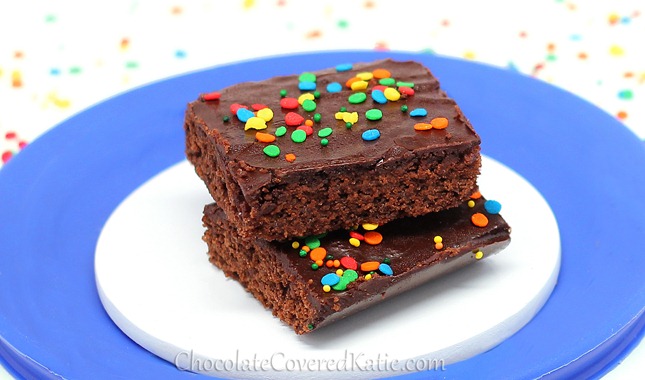 Fudgey chocolate brownies.
Covered in fudgey chocolate frosting…
If you couldn't tell, the theme of today's post is chocolate fudge.
When I think of these brownies, I think of author Judy Blume, who wrote an entire series of books about Fudge: Double Fudge, Super Fudge, and Fudge-a-Mania. I'll never forget my excitement when my third-grade teacher announced to the class that the next book we'd be reading was called Super Fudge.
A book all about chocolate??
Alas, it was really a book about an eleven-year-old boy. Each day I read intently, waiting to get to the part about the chocolate fudge. It never came… but at some point in the series, the little boy did eat a turtle.
Yeah, not the same thing. 😕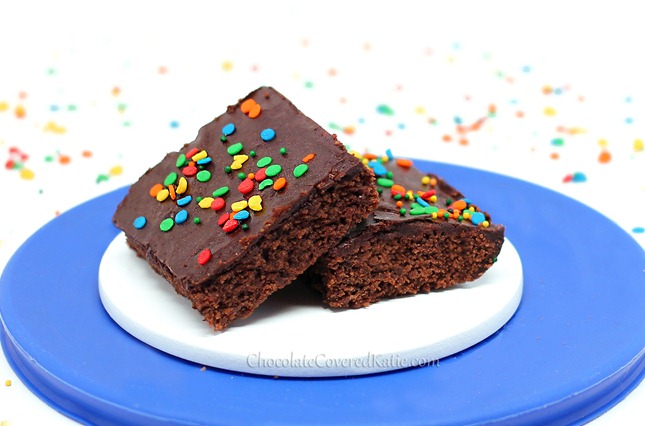 Unlike with the books, these brownies really are all about the fudge. What you see is what you get.
Fudge!
And no turtles.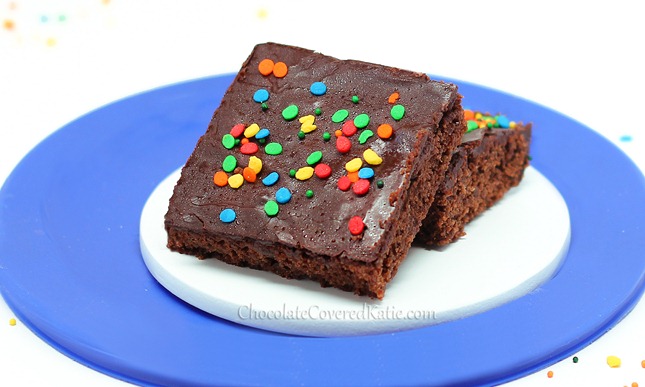 Cosmic Fudge Brownies
Brownies:
1/2 cup cocoa powder (40g)
1 cup spelt or all-purpose flour (140g) (Arrowhead Mills gf does also work.)
1/2 tsp baking powder
1/2 tsp salt
2 tsp instant coffee granules (optional)
1 cup xylitol or sugar (or coconut sugar) (190g)
optional: 1 cup mini chocolate chips
6 tbsp silken tofu (For soy-free, you can use my black bean brownies recipe instead.)
2/3 cup applesauce (160g)
2 1/2 tsp pure vanilla extract (10g)
1/2 cup coconut or vegetable oil (80g)
2 tbsp milk of choice (30g)
Frosting:
1/2 cup cocoa powder (40g)
2 tbsp pure maple syrup or agave (30g) (you can sub liquid stevia to taste)
1/2 cup liquid virgin coconut oil (75g)
Preheat oven to 325 and grease a 9×13 baking pan. In a large bowl, combine all brownie dry ingredients and stir well. In a separate bowl, combine all brownie liquid ingredients and stir well. Pour wet into dry and stir until evenly combined (but do not overmix), then transfer to prepared baking pan and cook 32-34 minutes. Allow to cool, and mix frosting ingredients together to form a sauce. Spread sauce over the brownies, then fridge or freeze 10-20 minutes and the sauce magically transforms into fudgey chocolate frosting! These brownies taste much richer the next day, after the flavors have had a chance to intensify.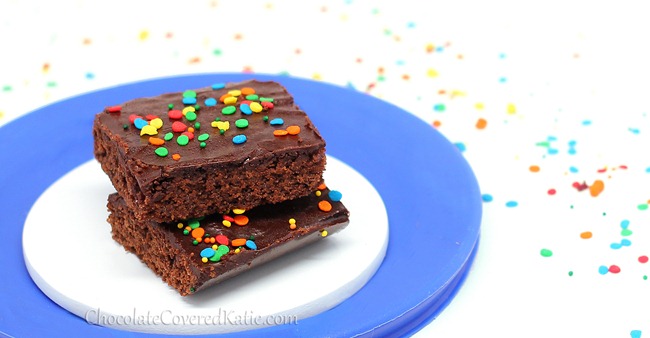 Question of the Day:
Do you remember any of the books you read as a child?
I read all of Ann M. Martin's Babysitter's Club books, R.L. Stein's Goosebumps books, and Beverly Cleary's Ramona books, and was partial to series books. I hate when you start to develop a real relationship with a character only to have the book end.
P.S. Thanks to your feedback, the recipe page is now updated so that all recipes in a category appear on the same page.