Homemade Healthy Girl Scout Cookie Tagalongs – they can be vegan, gluten-free, sugar-free, soy-free and even grain-free!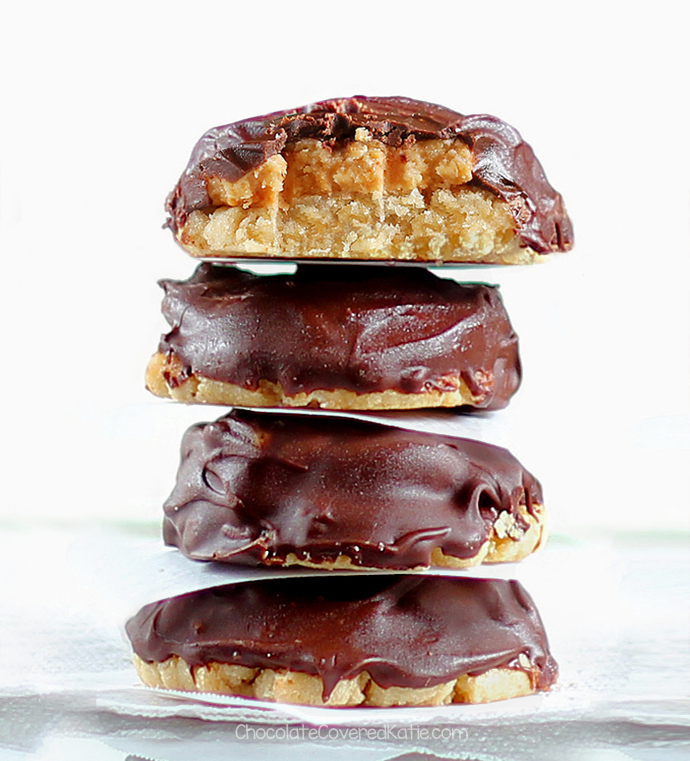 It's Girl Scout Cookie Season.
And you know what that means…
Tagalongs! Thin Mints! Do Si Dos!
Or whatever cookies they're selling nowadays.
(Mango Cremes? What??)
Also try these Vegan Chocolate Chip Cookies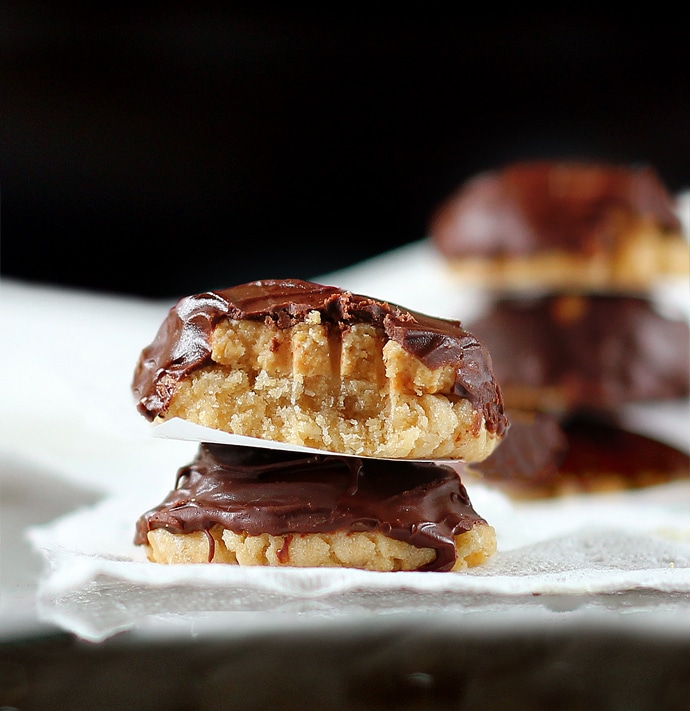 I will stick with the classic.
Today's recipe is for homemade copycat Tagalongs – those fat peanut butter patties with a shortbread crust and thick chocolate coating.
Until they come out with healthy girl scout cookies (or at least vegan girl scout cookies) I'm not letting the girl scouts have all the fun: I just make my own!
Last week I set up a "girl scout cookie factory" in the kitchen. By the end of the night, my little factory had successfully churned out batches of Vegan Thin Mints, Samoas, and Tagalongs – all whole-grain, gluten-free, vegan, and without the trans fats unfortunately still found in regular girl scout cookies.
(At least one of the girl scout cookie suppliers, ABC Smart Cookies, does now offer some vegan options: Thin Mints, PB Patties, Mango Cremes, Thanks-a-Lots, and Lemonades. But the cookies are manufactured by two different companies; if the ones offered in your area are made by Little Brownie Bakers—as are the ones where I live—none of the options are vegan.)
It makes no sense to me why an institution concerned with bringing up healthy young girls continues to produce and promote cookies containing artery-clogging trans fats when alternative baking methods exist. I get that cookies aren't supposed to be healthy… but why keep the trans fats? Even Oreos got rid of trans fats in their cookies.
Seriously, you won't miss the trans fats in these healthy girl scout cookies.
They are just really good.
Trending right now: Vegan Brownies – No crazy ingredients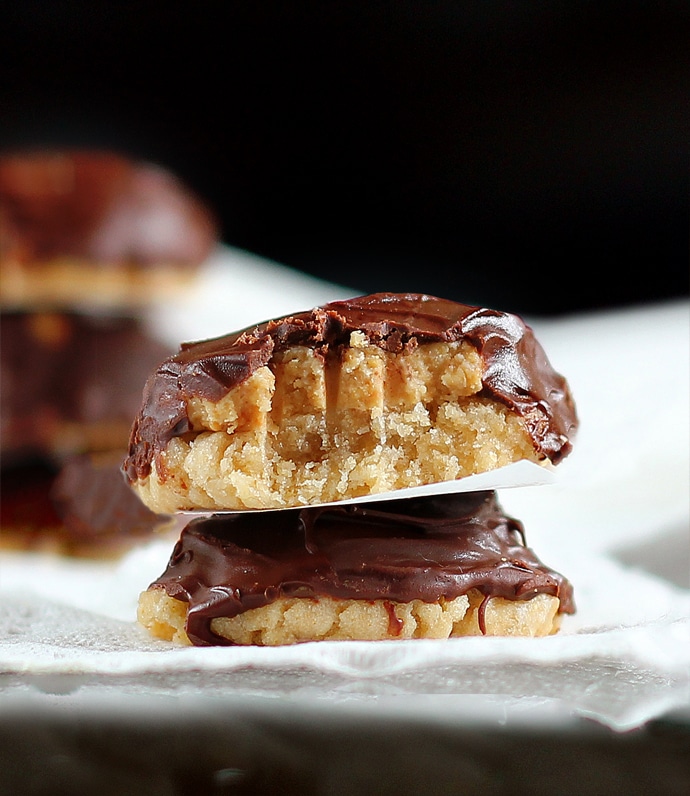 If only you could clone cookies in real life.
Imagine… an endless supply of cookies!
(For bars instead of cookies, make Girl Scout Cookie Peanut Butter Tagalong Bars.)


The recipe was adapted from my Vegan Peanut Butter Cookies and these Keto Cookies.
Healthy Girl Scout Cookies: Tagalongs
These homemade healthy Girl Scout Cookie Tagalongs can be vegan, gluten free, sugar free, soy free and keto friendly.
Ingredients
1

cup

almond flour

1/8

tsp

salt, just over level

1/8

tsp

baking soda

2

tbsp

pure maple syrup or honey OR stevia to taste

1

1/2 tbsp

veg or melted coconut oil

1

tsp

pure vanilla extract

20

tsp

peanut butter or allergy-friendly sub

1/2

cup

chocolate chips or Sugar Free Chocolate Chips
Instructions
*For the stevia version, add 1 tbsp milk of choice. For the maple syrup version, only add up to 2 tsp if needed.

Combine all liquid ingredients (except milk of choice if using maple syrup version, and not including peanut butter). In a separate bowl, combine dry ingredients (except pb and chocolate chips) and stir very well. Now mix wet into dry and keep stirring, breaking up clumps as you mix—it may seem dry at first, and you can add the extra 2 tsp milk (I did add this when I made the maple syrup version), but do not add any more liquid than the recipe calls for. It will eventually form something that can either be squished into a ball with your hands or put into a plastic bag and smushed from inside the bag (the less-messy option). Roll out dough to cut-out-cookie width, either between sheets of parchment paper or from inside the bag, then cut with a circle cutter or the rim of a small glass. Freeze dough at least 20 minutes before cooking 10-13 minutes (depending on desired crispiness) at 325 F on a greased cookie sheet. Let cool completely before even attempting to remove cookies from the sheet. They should firm up nicely. For troubleshooting, see nutrition link below.

Spread a little under 1 tsp of the nut butter on each cookie and place them on a wire rack over a sheet of parchment or wax paper. Melt the chocolate (very carefully and slowly, as chocolate burns fast), then spread chocolate over the cookie tops (or use two spoons to dip the cookies). Chill cookies for a few minutes so chocolate hardens. (If using the coconut coating, as opposed to chocolate chips, cookies should be stored in the fridge due to the low melting point of coconut oil.) 

View Nutrition Facts
More Popular Healthy Desserts: