First, position yourself so that you're under the oat. Next, pull really hard. Really hard.
Ok, backtrack. Milking an oat is nothing like milking a cow!
.
So many of you were interested in the Raw Cashew Milk the other day that I figured it's high time to post another "milk" recipe onto which I've been holding: Liquid Oatmeal, also known as oatmeal milk.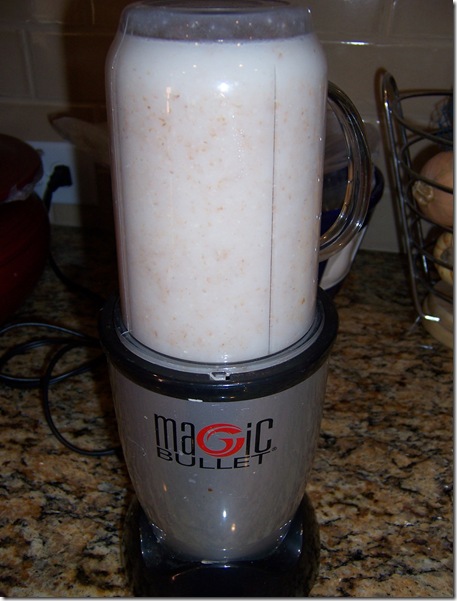 Oh look, it's yet another oatmeal recipe to add to my "oatmeal recipes" tab.
Goodness knows it's getting crowded over there.
.
Liquid Oatmeal (i.e. "Oatmeal Milk")
Makes a little over 2 cups
1 serving oats, or spelt flakes,

kamut flakes

, oat bran, etc. (40g uncooked)
1 and 3/4 cup water
1 cup more water (or a non-dairy milk)
salt
optional: fruit, sweetener, extracts
Cook the oats, with 1 and 3/4 cup liquid and a little salt (I use just under 1/4 tsp) for 4 minutes, watching so it doesn't boil over. Fridge, uncovered (It looks soupy, but that'll evaporate). The next day, transfer to your blending gadget (such as a Magic Bullet short cup) with more liquid, depending on how thick you want the final result. (I use 1 and 1/8 cup water.) Also, add any optional ingredients and a tiny sprinkle of salt. Blend.
.
This milk is great as a smoothie base. Imagine: drinking an oatmeal smoothie!! It's also a terrific dairy-milk substitute for recipes, or you can drink it plain. And, thanks to the oats, the recipe offers fiber, protein, and numerous vitamins. But I eat so much oatmeal as it is, that when I make this particular recipe, I often stick to spelt flakes or kamut for variety. I've even tried it with oat bran, which is really yummy. (When I make it with oat bran, I add fruit and eat it in a bowl; it's kinda like a whipped Cream of Wheat pudding.)
Try it with cookies…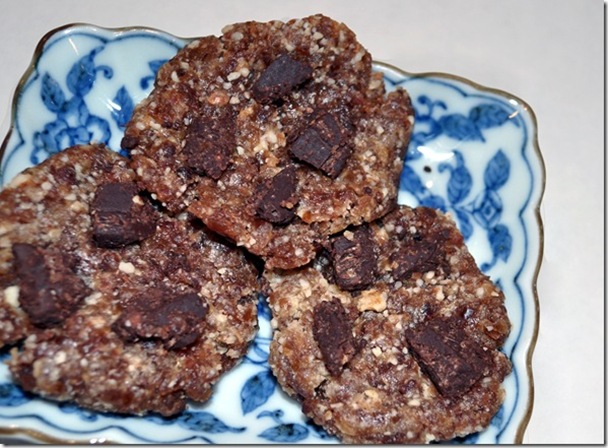 Above, three little Raw Chocolate Chip cookies.
They're awaiting an oatmeal-milk bath!
Have you ever tried oatmilk? And what's your favorite milk substitute?

I tried commercial oatmilk once, a long time ago. But it was way too sweet for me. Why on earth do they feel a need to stick 20 grams of sugar into a serving of non-dairy milk to make it taste good? Is that really necessary?  (Yes, I'm aware that the above recipe isn't raw. Here's my Raw Oatmilk recipe.)
.
.