Don't wear white after Labor Day.
Apparently my naughty berries don't care one iota about fashion rules: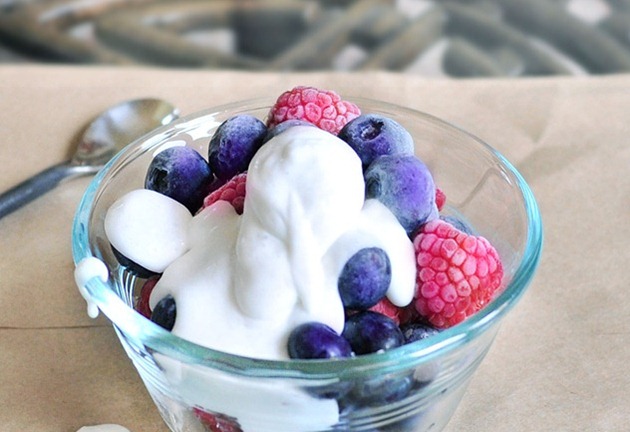 Fresh raspberries, blueberries, and healthy whipped cream.
See the photo? Times that by about a hundred to get how much of the cream I ate yesterday. Thankfully, the cream recipe is so healthy that eating an entire bowl is not a problem.
 (To clarify: I don't mean to suggest that I—or anyone else—should feel guilty about occasionally indulging in a large serving of an unhealthy food. Everything in moderation. But this whipped cream recipe is so good that I don't want to eat in moderation! Therefore, I'm glad it's healthy.)
I'm reposting the recipe below, to save you extra clicking.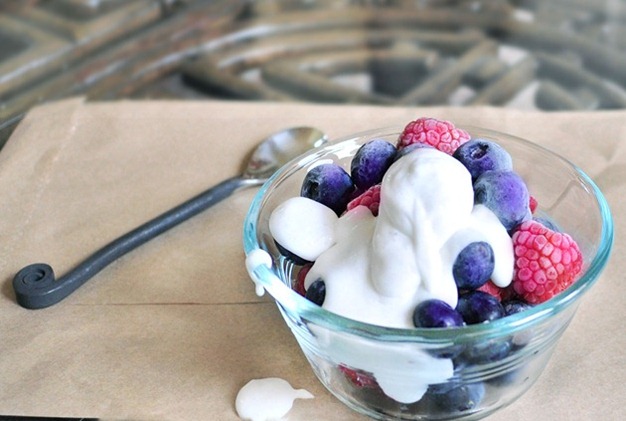 Soy-Free Vegan Cream
(Makes 1 1/2 cups: one Katie-sized serving!)
sweetener of choice
1/16th tsp salt
1 1/2 tbsp water (20g)
1/2 serving agar base (the linked recipe below)
3 drops coconut extract (Optional, but recommended)
optional: cocoa or fruit (for flavored cream)
Instructions: First, make up the agar base. When it's cooled, put half of it in a blender (or Magic Bullet) with all the other ingredients and blend away. Whip very well. I like to put it in the freezer for a few minutes prior to eating, so it's super-cold. Optional: add fruit, cacao nibs, cocoa powder, or other add-ins.
Nutritional Info:
(for the entire bowl!)
Calories: 60
Fat: 3g
Protein: 2g
Carbohydrates: 3g
Want a version without agar? Try the following instead: Coconut Cool Whip.