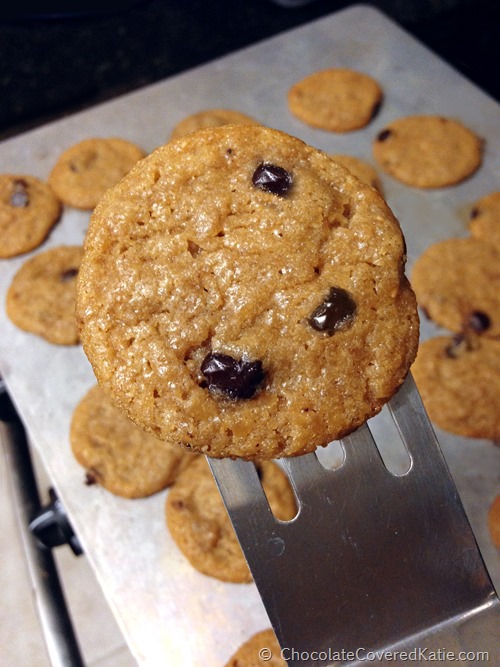 Of the thousands upon thousands of cookie flavors that currently exist in this world, my absolute favorite cookie flavor has always been—and will most likely always be—chocolate chip.
A classic never goes out of style.
If you look through my blog's 100+ Healthy Cookie Recipes, you'll find recipes for peanut butter chocolate chip cookies, flourless chocolate chip cookies, raw chocolate chip cookies, oatmeal chocolate chip cookies, quinoa chocolate chip cookies, chocolate chip cookies in a jar, pumpkin chocolate chip cookies, mocha chocolate chip cookies, cowboy chocolate chip cookies, and more…
Clearly I have a chocolate-chip-cookie obsession.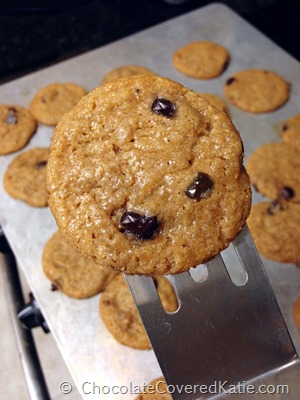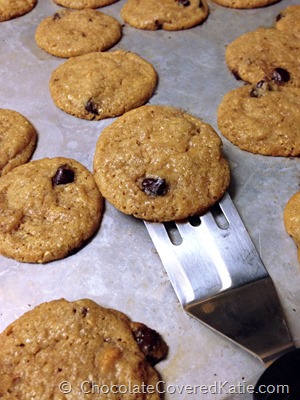 (P.S. All of the photos in this post were taken with an iphone. As mentioned in the Blueberry Mini Muffins post, I hope to show that you definitely can still start a food blog even if you don't wish to shell out a fortune on a fancy digital camera. Plus… chocolate chip cookies are pretty much gorgeous no matter how you photograph them!)
Even with so many chocolate chip cookie recipes of my own, this weekend I was very excited for the chance to try a new chocolate chip cookie guest recipe with:
-No refined sugar
-Whole-grain or gluten-free
-Vegan/dairy-free option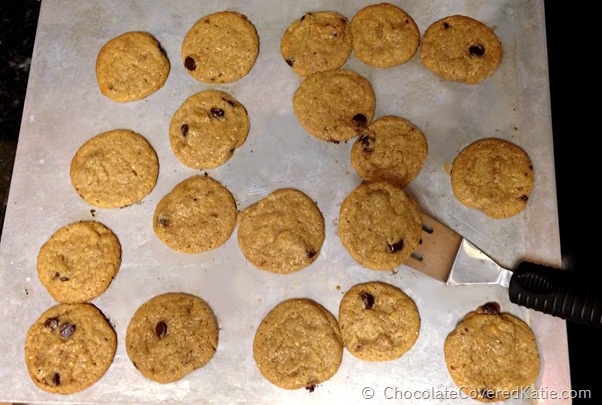 Today's recipe belongs to Gina Harney, a wonderful friend since way back in 2008 when she began her blog. You might know her better as Fitnessista.
Gina also has a new book coming out, called HIIT IT! (Fitnessista's Get More From Less Workout and Diet Plan to Lose Weight and Feel Great Fast). The book is filled with workouts you can complete without machines or a gym, and every single workout in her book is under 30 minutes. But, more importantly to a foodie like me, there are recipes! As Gina says, "Snacking on satisfying whole foods throughout the day helps transform your body… Feeling great is about eating right, too." So here is a sneak peek into Gina's book from a foodie perspective: her popular almond butter chocolate chip cookies. If you enjoy this recipe or are looking for easy and quick workout ideas, be sure to check out her blog!
Fitnessista Chocolate Chip Cookies
Yield:
Makes 13 large or 26 smaller cookies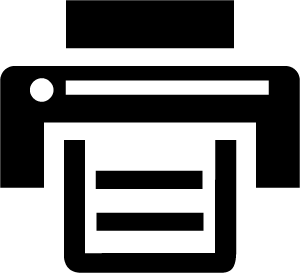 Print This Recipe
[mrp_rating_result show_count="false" show_rich_snippets="false"]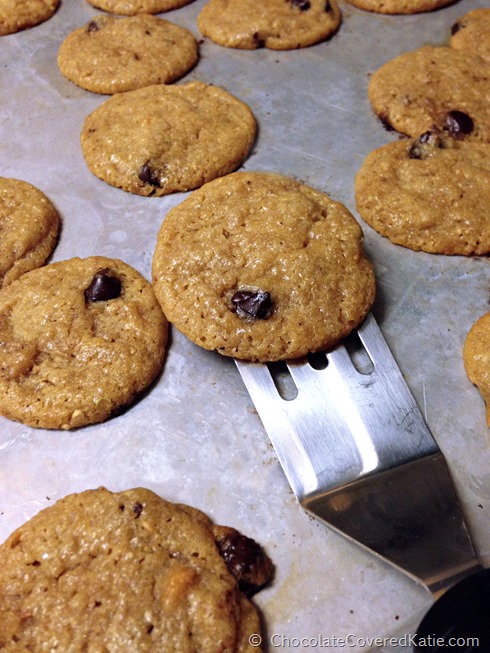 Ingredients
2 cups spelt, white, or Bob's gf flour (If a flourless cookie is preferred, try my Oatmeal Almond Butter Cookies)
2 tsp baking powder
1 1/2 tsp cinnamon
1/2 tsp baking soda
1/2 tsp sea salt
1/2 cup chocolate chips
3/4 cup pure maple syrup
1/2 cup raw almond butter (K note: or allergy-friendly alternative)
1/4 cup vegetable oil
1 tbsp pure vanilla extract
1 tsp molasses (Gina says you can omit)
Instructions
Preheat your the oven to 350 F and line a standard cookie sheet with parchment paper. Combine the first five ingredients until thoroughly mixed, then add the chocolate chips and stir. In a separate bowl, whisk together the remaining ingredients. Then add the dry ingredients. Form ball-shaped dough balls, then slightly flatten and place on the baking sheet. The mix will be sticky, so they don't need to look perfect. Bake 11 minutes, allow the cookies to remain on the baking sheet for 1 minute longer and then transfer to wire racks to cool. For troubleshooting or substitution advice, please ask Gina, as this is her recipe.
Link Of The Day: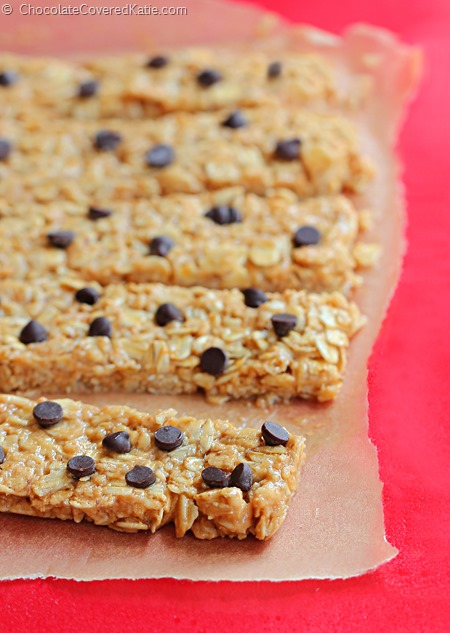 No-Bake Chocolate Chip Granola Bars – {high in protein}