French Toast is now portable!

Take your French Toast to work.
Take it to class, take it in the car, sneak it into your little sister's piano recital… Just don't blame me if people give you weird looks :-?.
Fast Food?
When I was little, Burger King French toast sticks were a rare treat. On long car trips, or if I had an early-morning soccer game, we'd sometimes pick up BK French toast sticks for breakfast. Yesterday I decided to use Ezekiel cinnamon-raisin bread and make my own French toast sticks: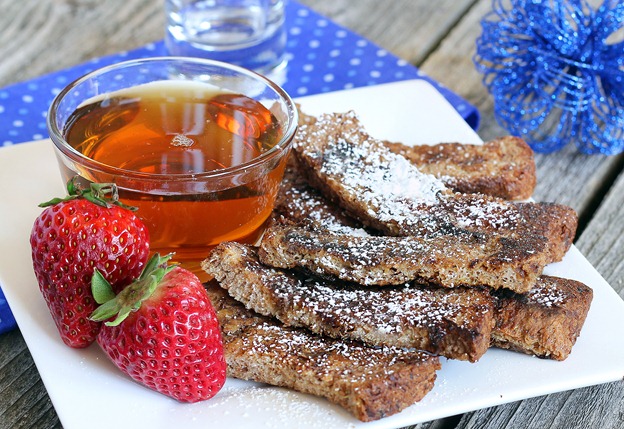 French Toast to-go!
(serves 2)
Categorized here: Non-Dessert Recipes.
1/3 cup plus 2 tablespoons milk of choice
1 medium, overripe banana (see nutrition link below, for substitution ideas)
1/2 tsp cinnamon
1 tsp pure vanilla extract
1/16 tsp salt
optional: oil or margarine for cooking
4-5 slices bread (or cinnamon-raisin bread)
Either blend first five ingredients, or thoroughly mash your banana with a fork and then add other ingredients (excluding bread). In a wide, shallow dish, put a slice of bread into the batter and let it sit for 30 seconds on each side. (Don't rush this step!) Fry in a little bit of vegan butter or oil (or you can coat the pan with oil spray if you prefer), and cook on medium-low heat. You'll probably want to do one slice at a time, so there's room to flip when it browns. Obviously, you can just eat this as regular french toast… but it's way more fun to cut into strips and eat with your hands!
Got any remaining batter? Pour it on top of your French toast sticks!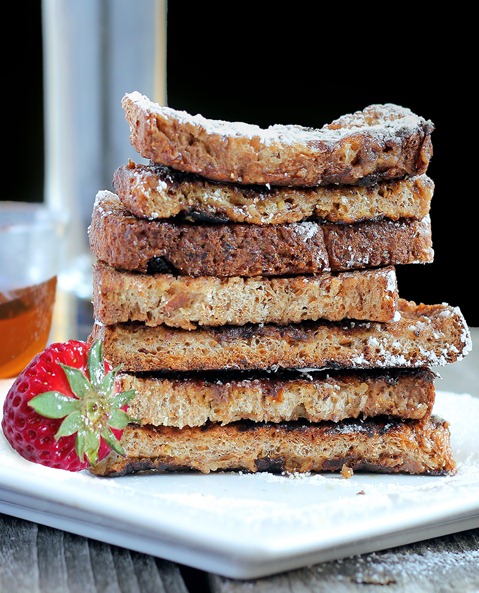 Top with powdered sugar or Sugar-Free Powdered Sugar.
Or dip in syrup, or spread with peanut butter!!
Question of the Day:
How often do you eat fast food?
I think I was destined to be a vegetarian… Even when I was little, I never liked fast-food burgers. My favorite things to order were the Frostys, Taco Bell cinnamon twists, and McDonalds apple pies.
Yesterday I ate my French toast with this milkshake.
Completing the fast-food makeover ;).