This is how we make s'mores in Texas, where it's much too hot for campfires: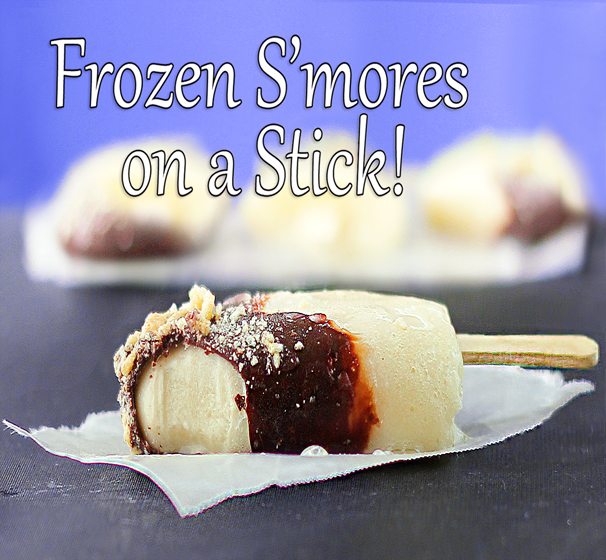 No, not really.
Really, I made these frozen s'mores pops for a friend's Labor Day party, for all the kids in attendance. Someone else had brought a package of those red, white, and blue rocket pops (or bomb pops) often found on ice cream trucks. But guess which pops all the kids chose.
To be fair, one kid did choose a rocket pop over the s'mores. And one sneaky kid chose both! I wonder where his mother was… 😉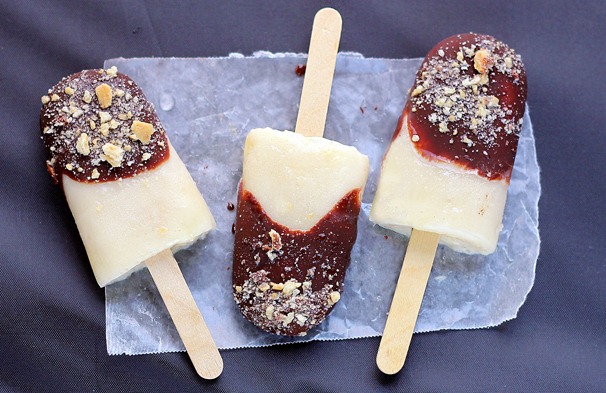 Inspired by Marshmallow Ice Cream recipe.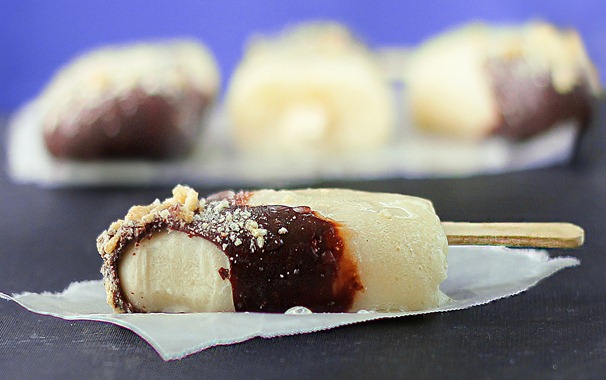 S'mores Popsicles
(gluten-free)
1 cup milk of choice (such as almond milk)
1/2 a container Ricemellow Crème (You could probably use 5 oz Smuckers marshmallow fluff, which—albeit high in artificial ingredients—is vegan.)
1 tsp pure vanilla extract
tiny pinch salt
optional: melted chocolate or Hot Chocolate Butter
optional: crumbled graham crackers
Combine first four ingredients in a microwave-safe dish (or small saucepan if you prefer the stove), and microwave 1 minute. Stir so there are no lumps, then pour into paper cups or popsicle molds. If desired, dip in chocolate and sprinkle on graham cracker crumbs once pops are frozen. (If using the hot chocolate butter option, sprinkle the graham cracker crumbs quickly- the chocolate shell hardens fast!)
Did you ever buy anything from the ice cream truck?
When I was little, that annoying ice cream truck song was the best sound in the world! To my sister, it meant Good Humor strawberry shortcake popsicles. To my friends, it meant rocket pops, snow cones, and sherbet pops in the shape of Scooby Doo. To me, it meant one thing and one thing only: chocolate.
Be it a Chipwich, a chocolate éclair, or a neopolitan ice cream sandwich, you can be sure my order was always chocolate. In fact, I don't think I've ever tried a rocket pop in my life!
Link of the Day: