Unhappy feet.
As a runner, I think I'm in good shape. But every time I go to NYC I'm reminded there's a whole new meaning to the idea of being in shape!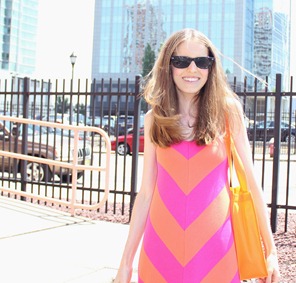 (Fuschia dress courtesy of Gap… on sale! Orange bag courtesy of Organic Avenue. Who needs a $150 Coach bag when you can use a free shopping bag instead?)
Why anyone in the city would set foot inside a gym, I'll never know. Just walking from place to place is a workout in itself. One such day of walking landed us at Yorganic, which is Jess's favorite healthy spot to eat. The café, located in the Financial District, serves sandwiches, soups, breakfasts, snacks, and bowl meals. It's takeout only, so we walked our lunches over to Whole Foods, conveniently right across the street.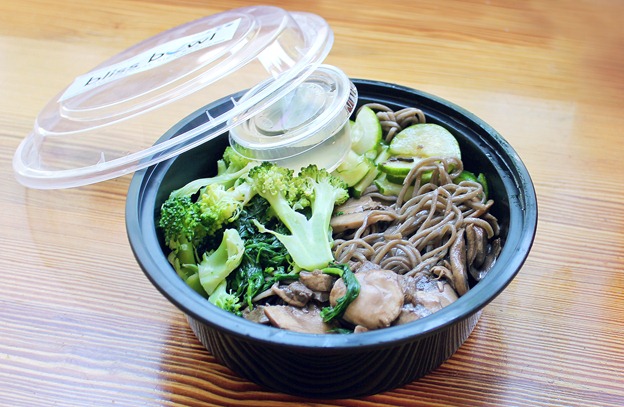 I ordered a customized "Bliss Bowl" with broccoli, spinach, mushrooms, and zucchini (all sautéed in sesame oil) over soba noodles. It came with a choice of dressings, and I chose lemongrass ginger.
After lunch, we walked to the South Street Seaport. But we soon came right back, because…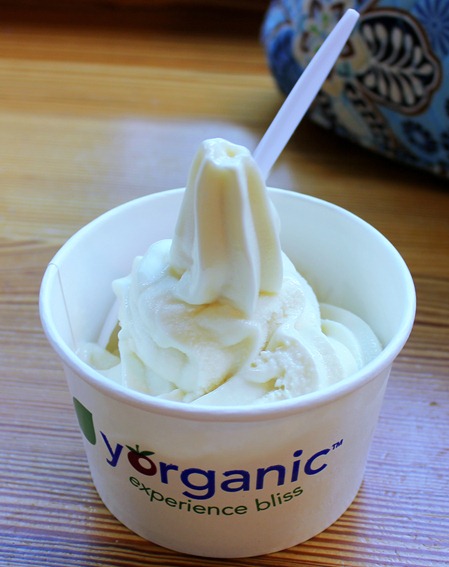 Frozen yogurt!
The first spoonful startled me; it was tart instead of sweet. But after the initial surprise, I really enjoyed the flavor, which reminded me of those drinkable yogurt smoothies I used to like as a kid.
Jess (who got the non-vegan frozen yogurt) tried mine and said it tasted exactly like Pinkberry!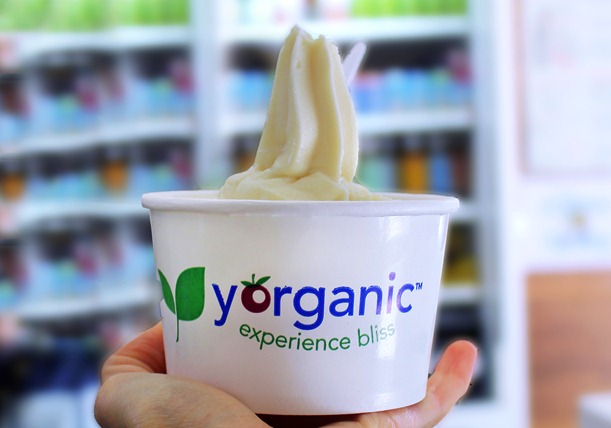 Upon arriving home, I tried to re-create that delightfully-tart frozen yogurt. In the end I did come up with a recipe, which I'll post next week (as soon as I can take photos).
Question of the Day:
In your everyday life, do you walk a lot?
I definitely walked much more when I was in college. My city isn't really a walking city, so the amount of walking I do now mainly consists of shopping (does that even count?) and taking my dogs out every day.
Link of the Day: