As visions of Cookie Dough Balls danced in her head…

Do you ever dream about a food? And then wake up and have to make it? That's what I did this morning: I woke up and got straight to work making Gingerbread Cookie Dough Balls. They tasted just as good as I dreamed they would.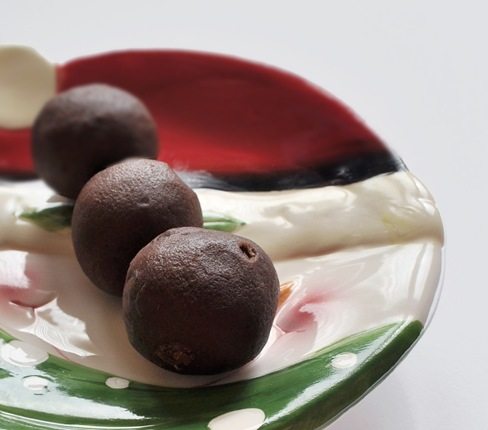 They're simply made of Gingerbread Butter formed into balls. Oh my gosh, how can something so simple taste so good? Also, why do I have such an infatuation with ball-shaped foods? Fudge Babies, 3-ingredient pb balls, and now more balls? I dunno… balls are just super-cute. (Please keep your minds out of the gutter.)
Gingerbread Butter
6 tbsp Peanut Butter (I use salted)
around 1 1/2 tbsp Molasses (20g) (I used blackstrap)
heaping 1/2 tsp cinnamon
scant 1/8 tsp ginger and nutmeg
Optional: cloves, sugar (I didn't use either)
Mix peanut butter and molasses, either using a blender or fork. (I just used a fork to mix.) Add the spices and mix again. I discovered that, if you add enough of the spices to the Gingerbread Butter, the dough is dry enough to roll into cookie balls. (However, gingerbread butter is also delicious on a spoon, mixed in oatmeal, or as a sandwich with grilled strawberries or banana… or even apple slices. Or thin it out with a little almond milk, and make a pancake topping!)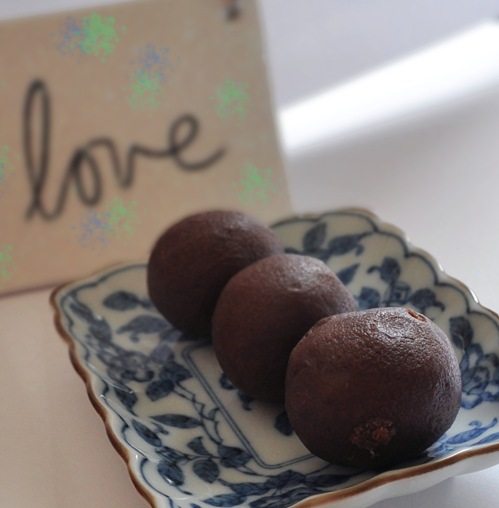 Nutrition Facts:
(Serving size: 2 tablespoons, or 30 g)
Calories: 180
Fat: 14 g
Protein: 8 g
Carbohydrates: 6 g
Later, more "foodie-ness" ensued. I bought myself an early Christmas present at Whole Foods: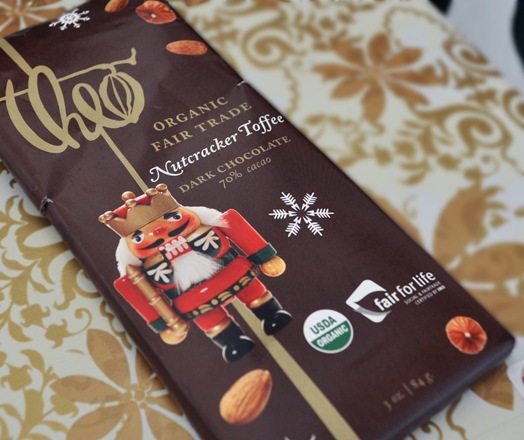 Discerning eyes might notice the package is torn. That may or may not have something to do with the fact that my piggy little hands couldn't even wait for a photoshoot before tearing into the chocolate.
This was just ok; I think I enjoyed the idea of the bar more than the actual flavor, which just wasn't rich enough for me. But don't hold it against the chocolate bar: I'm used to the richness of 100% chocolate. Plus, the toffee pieces were a tad annoying; they got stuck in my teeth and stood between me and my beloved chocolate. I'm a chocolate purist. Still, I wasn't too unhappy with my purchase. It is chocolate, after all.
All that's missing is the Raw Coconut Christmas Pie.
I wonder what the other guests would think if I brought a raw coconut cream pie to our Christmas Eve party… On second thought, maybe I'd better stick to the fudge babies!
Do you have any Christmas Eve traditions?
We always open one present each, watch The Grinch (the cartoon version), and read Twas the Night Before Christmas.