I chickened out!
I had a post all ready to go for today. It was pre-scheduled last night, which I often do with posts. But while I slept, it bugged me. I realized that the post made me sound preachy and the whole tone was just so negative.
Plus, I decided that the week before Christmas isn't exactly a good time for such a controversial post. Talk about squelching Christmas cheer :(. So I'll publish the controversial post sometime in January. For now, you're stuck reading about my most-recent restaurant outing: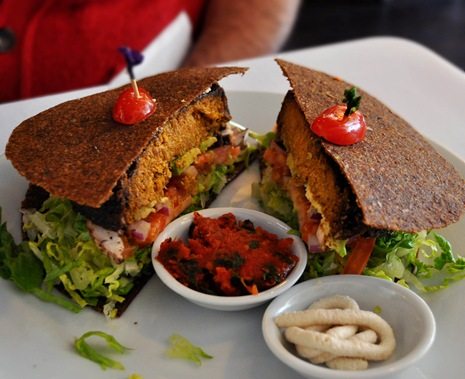 The other day, I returned for lunch at Bliss Raw Cafe.
I was back for seconds, only a week after my first trip to the raw restaurant. This time, I dragged along a new brave soul—my daddy! Above is a photo of his "Bliss Burger." I wasn't wild about this. But to be fair, I dislike sunflower seeds (which made up the base of the burger) so I was biased against it from the start. Poor burger! However, Daddy Dearest loved it.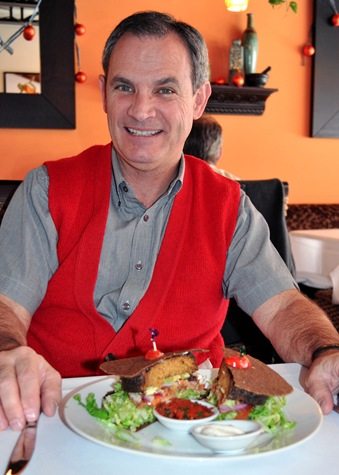 Then again, he has no tastebuds ;).
For my own meal, I was so psyched to go for the Coconut-Kale Enchiladas… until the waiter brought a Primavera Bowl to a fellow patron. It looked so good that I changed my order on the spot! (I'm impulsive like that.) Primavera Bowl, it was.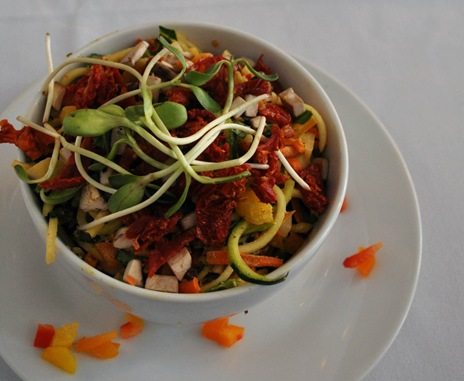 Sadly, this was nowhere near as good as their Raw Lasagna.
It was just… bland, seriously lacking in the sauce department. Not bad, but not outstanding. I ate the dish anyway, since it did have a whole lot of yummy veggie action going on: zucchini, bell peppers, tomatoes, carrot, mushrooms, garlic, etc. (I asked for a plate, as it was difficult to eat the overflowing abundance of vegetables out of such a small bowl.)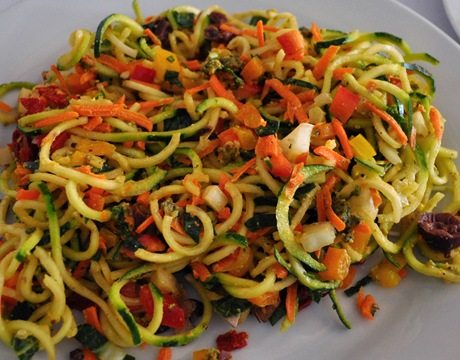 I should've stuck with my first choice of the enchiladas. No matter: I'll have to go back to Bliss Raw Cafe again. And next time, I am definitely getting those enchiladas!
Have you had any negative restaurant experiences?
And if you find a certain restaurant dish you like, do you order it every time?

If I have a bad experience at a new restaurant, I probably won't go back. But if I enjoyed the restaurant on a previous visit, I'll usually give it another chance. Bliss will get another chance; their Raw Lasagna was so good!