Engulfed in a chocolate shell.
Making bon bons may seem intimidating, but this recipe is really so simple. There are only three ingredients! And did I mention the filling is engulfed in chocolate?
Engulf: to swallow up or immerse.
I like that word when associated with chocolate. Being engulfed in chocolate is never a bad thing!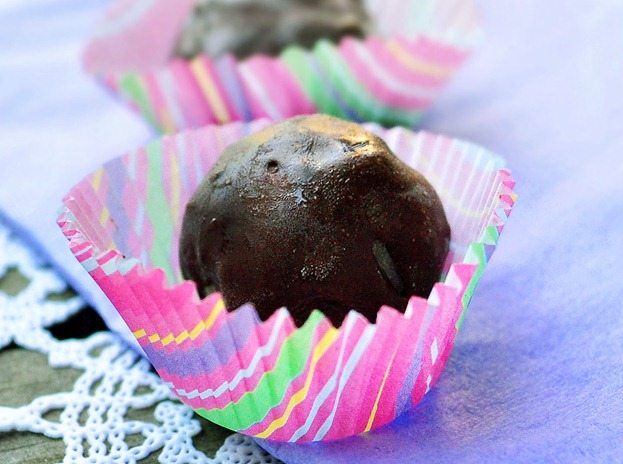 Everything's cuter in a ball.
Take, for example, the fudge babies.
Or my no-bake Three-Ingredient Peanut Butter Balls.
(Those things are awesome. I need to make them again!)
And then there's Henry. He's such a cutie when he's squished up and sleeping in a ball. Making him even more adorable? He doesn't snore, but sometimes he makes a beeping sound while he sleeps. Perhaps he is dreaming of milk bones. Or chasing squirrels. Or peanut butter balls?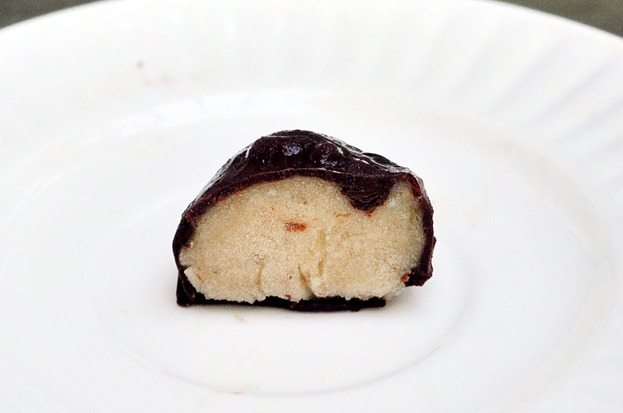 And everything's cuter engulfed in chocolate.
These fancy-schmancy bon bons are perfect for impressing people at a party. But they're just as perfect for lounging around at the pool with your friends…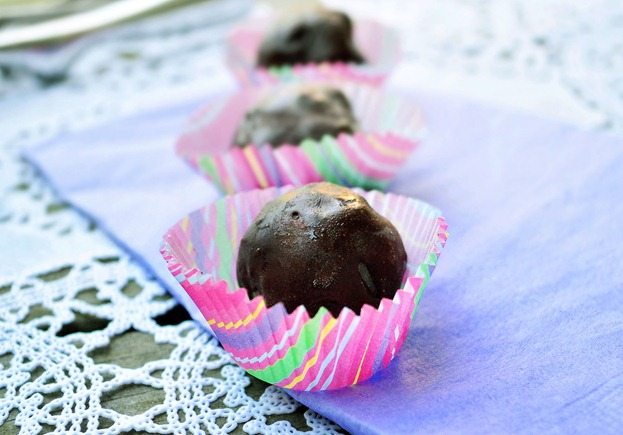 Or, um, hiding alone in your house like a hermit and gobbling them all up before anyone else gets the chance to snag one. 🙂
Chocolate-Banana Bon Bons
3-6 very-ripe frozen bananas, cut into pieces (or nondairy ice cream)
1 package choc. chips, or this: sugar-free version
Optional: 1 or 2 tbsp unrefined coconut oil
1. First, make the banana filling by blending your frozen banana pieces in the food processor until very smooth. (Alternatively, you can use nondairy ice cream. And if you don't have a food processor or blender, you can always just dip regular banana chunks in chocolate.)
2. Transfer to a bowl, and freeze until the mixture is hard enough to form balls with a melon baller or mini ice cream scoop. Scoop balls onto a cookie tray (or any plate), then immediately put back in the freezer to chill for at least a few hours.
3. When the balls are hard (Get your minds out of the gutter!), it's time to prepare the chocolate: Either use the sugar-free chocolate sauce or melt chocolate chips in a double broiler (or microwave 1 minute, stir, microwave 30 seconds, stir, repeat until melted, making sure it doesn't burn). I recommend stirring in 1-2 T coconut oil, especially if you're having trouble getting the chocolate to adhere to the balls. Coconut oil will act like Magic Shell!
4. Bring the balls out and either dip into the chocolate or spoon chocolate over them. (I actually took the balls out one at a time, then put each chocolate-covered one back in the freezer before taking out the next. They're fat-free, so they melt very quickly.)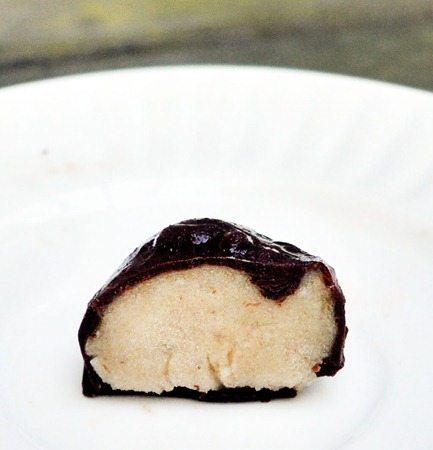 5. Freeze the balls again, until the chocolate shell hardens.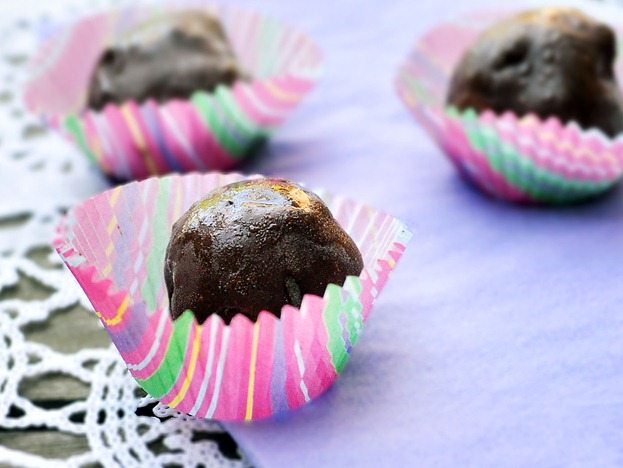 Got extra chocolate sauce left over?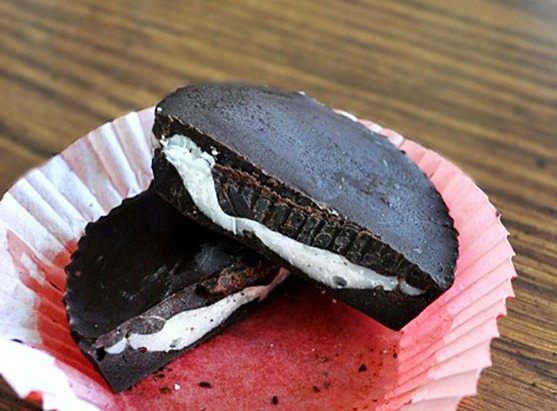 Make a single-serving Chocolate-Banana Reeses Cup.
Question of the Day:
Engulfed in chocolate: good thing or bad thing?
I'll concede that maybe some items are better off not covered in chocolate. Like my dog. Or a wedding dress. Wait, I take that back. I would love to get married in a dress made of chocolate!