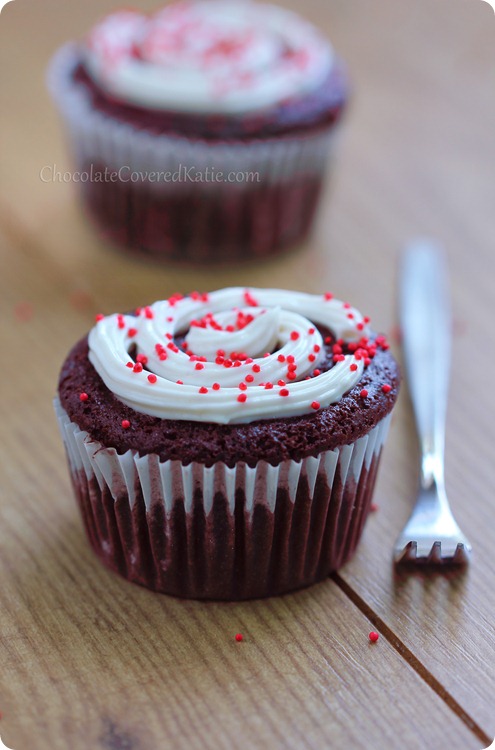 I will admit to dragging my birthday out each year for so much longer than the one day that it pretty much turns into a birthday week. This year's birthday week began with the Healthy Oatmeal Pancakes I posted a few days ago, and it continued to include a family dinner, Thai food and after-dinner drinks with friends, and a trip to the famed Sprinkles Bakery for birthday cupcakes.
A few days ago, my friend Sarah treated me to birthday cupcakes to-go from Sprinkles. It was my first time at the bakery, and I was super excited to try their vegan red velvet cupcakes. (Sarah ordered chocolate marshmallow.) The cupcake was pretty good… I thought the frosting was extremely over-the-top sweet, but I liked the actual cake. And thus the Sprinkles cupcakes inspired today's creation: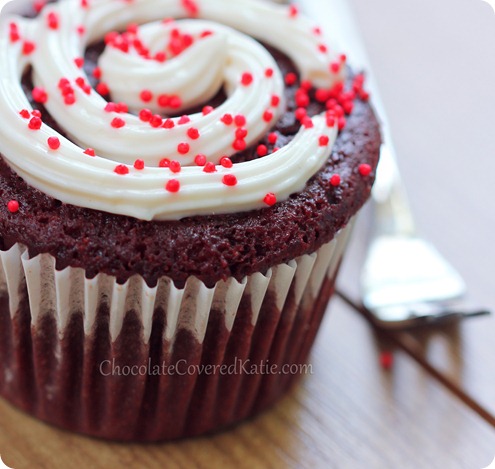 Healthy red velvet cupcakes!
Note: the red velvet cupcakes in the photos are frosted with my Healthy Cream Cheese Frosting, which I swirled onto each cupcake with a piping bag. If you don't have a piping bag, you can use a plastic bag with a small piece of one corner cut off. Or just spread the frosting onto the cupcakes.  I am partial to cream cheese frosting on red velvet cupcakes, but feel free to use any other frosting recipe if you wish.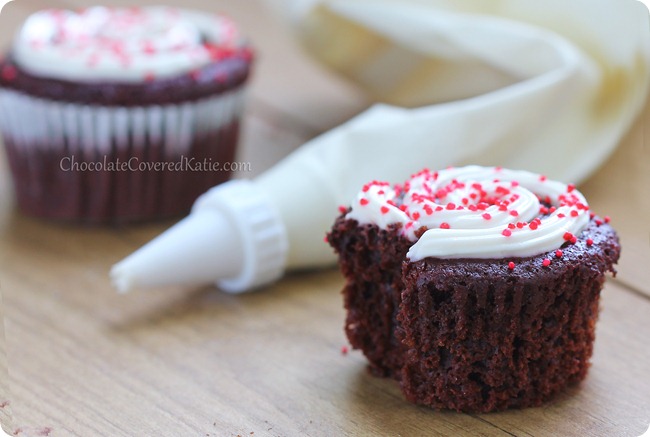 Healthy Red Velvet Cupcakes
1/2 cup spelt or all-purpose flour (or Bob's gf plus 1/4 tsp xanthan gum)(65g)
3 tbsp unsweetened cocoa powder (15g) (not Dutch)
1/4 tsp salt
1/4 tsp baking soda
1/2 cup xylitol or sugar of choice (90g)
handful mini chocolate chips, optional
1/4 cup mayo-style spread, such as Vegenaise (58g)
1 1/2 tsp pure vanilla extract
1/4 cup beet juice (60g)
2 tbsp water (30g)
1 tsp natural red food coloring, optional if you want them redder than the ones in the photos
Preheat the oven to 350 F and line a muffin tin with 6 liners (or double the recipe for 12). In a large bowl combine first 5 ingredients (and chips, if using). Sift very well. In a separate bowl combine remaining ingredients and whisk until the mayo spread is completely smooth. Now pour wet into dry and stir until just combined. Immediately pour the batter into the pan (about 2/3 full each) and bake 14 minutes, after which time cupcakes should have risen and domed. Let sit 10 minutes to cool before removing from the mufin tin.
Any of the following mayonnaise spreads will work in this recipe: Earth Balance Mindful Mayo, low-fat or regular Vegenaise, or homemade cashew mayonnaise… Although I can't vouch for every single mayo spread out there, the recipe should be fine as long as your mayo includes lemon juice or vinegar and a fat source such as oil or cashews. If you are using homemade mayo, I recommend omitting any onion powder and mustard that might be called for in the recipe.
View Red Velvet Cupcakes Nutrition Facts
And below, the real Sprinkles vegan red velvet cupcakes that inspired today's recipe: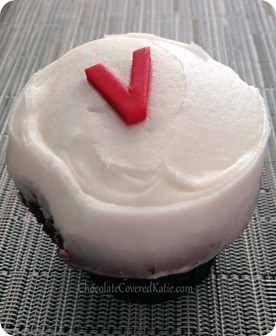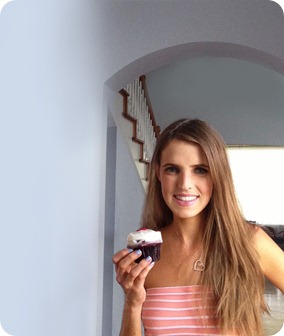 Questions of the Day:
How did you celebrate your most recent birthday? Or how are you planning to celebrate your next one? Anyone else like to drag out their birthdays to last all week?
Link of the Day: Crustless Pumpkin Pie