High-protein mushroom stroganoff…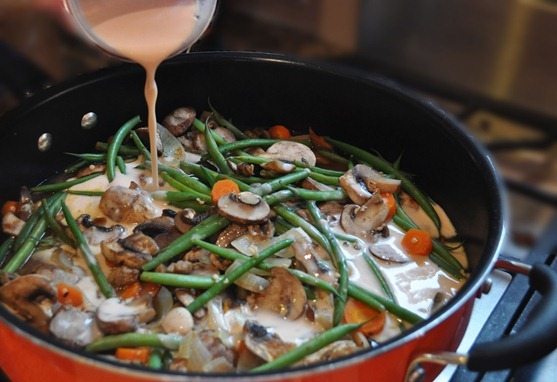 It's gluten-free as well, and there's a soy-free option. One thing of which the dish isn't free, however, is taste!
You'd think it was top-secret recipe, for how long I've waited to post it. This mushroom stroganoff is dedicated to my friend, Sunne. She might never see it, though, since she probably fell off her chair when she saw I actually posted. From the time I first made the stroganoff until now, I've gotten emails from Sünne and many others, reminding me to post the recipe. My problem is: when I'm not making a recipe specifically for the blog, I don't often measure all my ingredients. Cups become handfuls, teaspoons turn into pinches, and the food scale takes a nice, long nap. Well, better late than never, right?
It was an amalgamation of two different cookbook recipes, fused with my own creative flair. (P.S. Isn't it fun to pronounce amalgamation?)
Warm. Comforting. Perfect for a cold day. And since we've certainly not had a shortage of cold days lately, I figured it'd be an opportune time to finally post the recipe: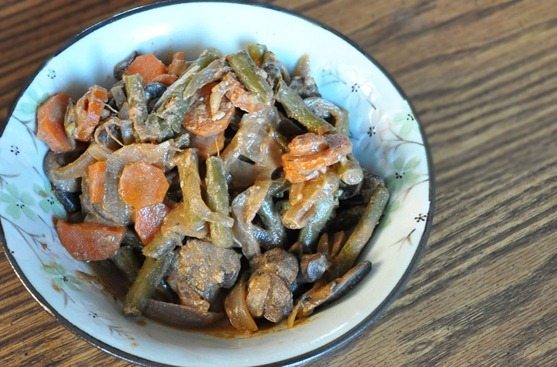 High Protein Mushroom Stroganoff
(3 servings, about 5 1/2 cups… but I always eat it in two!)
480g sliced mushrooms (about 1lb, or 2 boxes)
4-5 carrots, sliced into coins (180g)
1 onion, chopped (160g)
optional: a few handfuls green beans, chopped(I use 200g)
2 tsp sweet paprika (not smoked paprika)
1 tsp onion powder
1/4 cup tomato paste
120g firm-silken tofu or lite (I use mori-nu. See recipe instructions for a soy-free option.)
1/4 cup white wine
salt (and pepper, if desired)
oil spray OR 1 tbsp oil
2 tbsp minced garlic
Heat pan, then add oil and onion. Sauté until translucent, then add the green beans and carrot. Cook 2 minutes, then add mushrooms and garlic. Cook until mushrooms get soft (about 6ish minutes), then add paprika, onion powder, and 1/4 tsp salt. Sauté another 5 minutes, then add ½ cup water, bring to a boil, then cover and cook on low (not simmer) 35 minutes.
Meanwhile combine the tofu, 1/2 tsp salt, tomato paste, 1/2 cup water, and wine in a magic bullet cup or blender.  After the 35 minutes, add this mixture to the stroganoff and bring to a boil (uncovered). Lower to medium, and continue to cook (stirring occasionally) until the liquid reduces (10-20 minutes). Alternatively, this can be made in a slow cooker. *For a soy-free option, try using milk of choice in place of the tofu, but you'll have to add a little cornstarch or flour to thicken.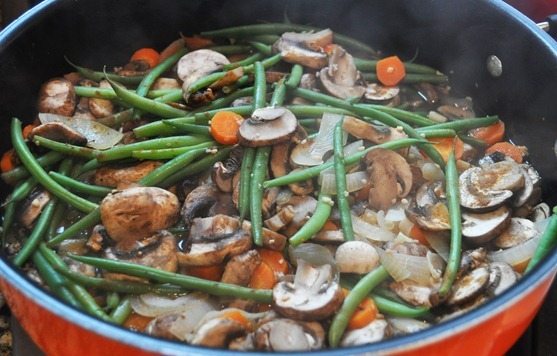 Do you like mushrooms? Also, did you ever play Nintendo?
Remember the mushrooms, and how they'd make Super Mario grow huge?