It's Artisana Coconut Butter time!
Considering my love of Cacao Bliss, and homemade Artisana Cacao Bliss, it's hard to believe I've fallen even more in love with their plain coconut butter.
Seriously, this stuff is like eating shortbread!! But unlike shortbread, Artisana Coconut Butter is 100% raw and organic, with healthy fats and no added sugar. The only ingredient is coconut. Buttery, melty, and oh-so versatile. My numero uno favorite way to indulge is straight up, with nothing standing between me and my coconut-butter goodness. However, if I have to invite other guests to the party, here are some good ones:
First up, we have the easiest-ever Raw Macaroons. I have a friend who said she'd give me her first-born child in exchange for a batch of these every now and then. Sadly for her, I declined. What would I do with a whiney, crying baby anyway? I'd much rather have my raw macaroons.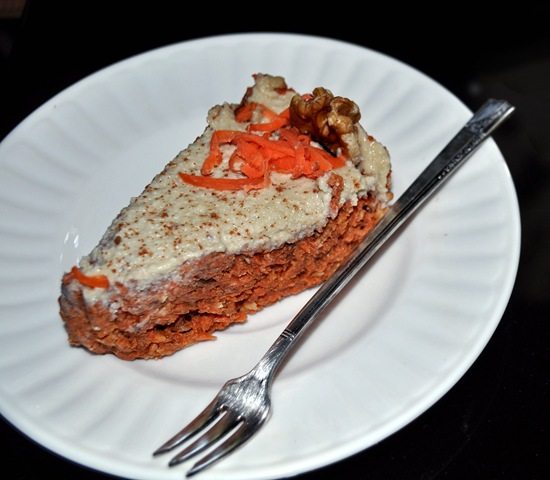 Artisana coconut butter is amazing icing. Use it on Raw Carrot Cake (above).
I adore slathering it on carrot cake pancakes and cupcakes!
And then there are always the Mounds Bar Pancakes.
Chocolate and coconut were meant to be together.
Other uses for Artisana Coconut Butter:
Drizzle on butternut fries or spaghetti squash
Use in place of peanut butter in peanut-sauce recipes! (Thai coconut-sauce pasta, anyone?)
Mix into oatmeal (or blended grains)
Make coconut-butter cookies (recipe coming soon!!)
Blend in a smoothie, or spread on a banana or toast (Can I interest you in a coconut butter sammie?)
Use as a healthy "syrup" for Carrot Cake Pancakes

.
Question of the Day:
Have you tried coconut butter? If so, what's your favorite way to eat it? Are you as obsessed as I am, or do you not understand what the big deal is?
Like I said above, my favorite way to eat it is straight-up… like coconut fudge! But I don't think I've yet found a single way of eating coconut butter that I don't absolutely love.
Edit: Try Coconut Butter Melties! 😉