Since beginning this blog, I've created many flavors of Homemade Larabars.
But when, out of curiosity one day, I googled homemade Luna bars, I was surprised to find zero relevant results. Really? No one had made these yet? It was definitely time to change that.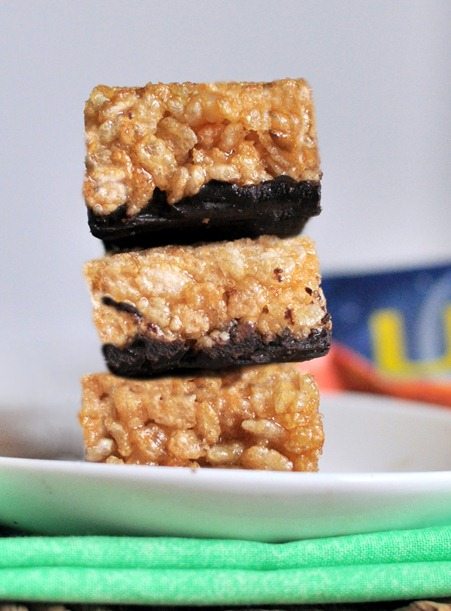 I don't usually buy Luna bars, but every now and then I find myself craving either one of their chocolate-dipped coconut or nutz over chocolate bars. The following recipe more-closely resembles the latter:
Homemade Luna Bars
Inspired by Homemade Rice Crispy Treats.
3 cups rice crispies (I used brown rice crispies. For a less-crispy bar, you can sub 2 cups of the crispies for 1/2 cup oat flour.)
2 tsp pure vanilla extract
1/2 tsp salt (I used salted pb, too)
1/2 cup plus 2 tablespoons nut butter of choice (for lower-cal option, see below link)
1/2 cup sticky sweetener, such as agave or brown rice syrup (I used agave)
2-3 tablespoons protein powder (you can omit)
melted chocolate chips or Sugar-Free Chocolate Sauce
Mix your pb, sweetener, extract, and salt. Melt (either in the microwave or stove), then pour over the cereal and powder, and stir very well, making sure to coat all the crispies. Smush and smash the crispies. (Get mad; it's fun!) Line a pan with wax paper and spread the mixture evenly into the pan. Place a sheet of wax paper on top of the mixture, then press down as firmly as you can. Really press it down! Spread the chocolate on top, and freeze for at least a half hour before slicing.
Click for lower-sugar and Lower-Calorie Options.
I didn't bother to figure out the nutritional info for these, as it will vary depending on what protein powder and chocolate sauce you use. But they are probably pretty comparable, calorie-wise, to packaged Luna bars. (The bars in the photos were made with the no-sugar chocolate sauce.)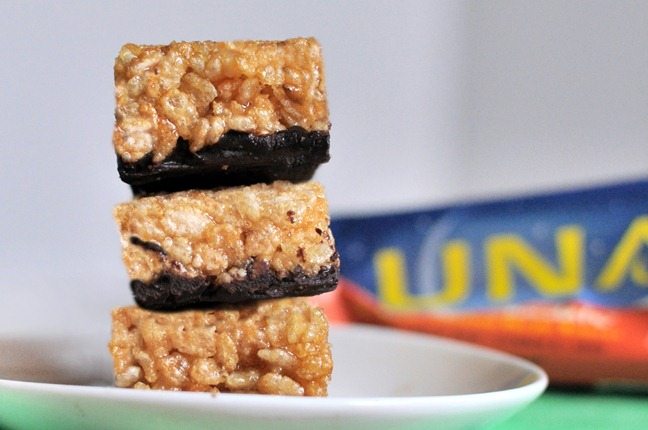 Do you like energy bars?
My favorites are probably my Hot Fudge Brownie Larabars.
But I don't always have time to make homemade bars. So if I'm in a hurry and need a quick and portable snack, I'll often grab a cookie dough Larabar or a chocolate-chip Z bar, or a chocolate Jocalat bar… I'm picky about my energy bars; I only like the ones that have chocolate!