Lately, my favorite breakfast is a giant bowl of creamy crock pot oatmeal, hot from the slow cooker.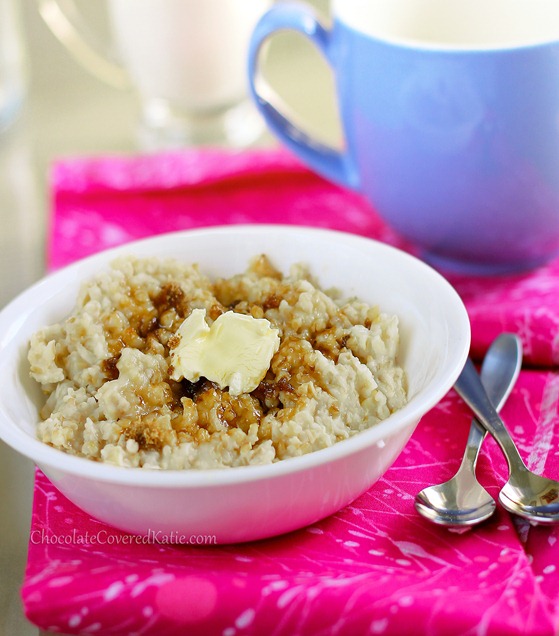 It brings back memories of visiting my grandparents' house as a young girl.
Grandpa believed steel cut oats were the healthiest food you could eat, and he'd get up every morning at 5 AM to make sure that a bowl of piping hot oatmeal with melty butter and brown sugar would be waiting for us when we all awoke.
Sometimes my sister and I tried to beat Grandpa into the kitchen. But no matter how early we snuck out of our beds, he was always two steps ahead of us, bowl of oatmeal in hand.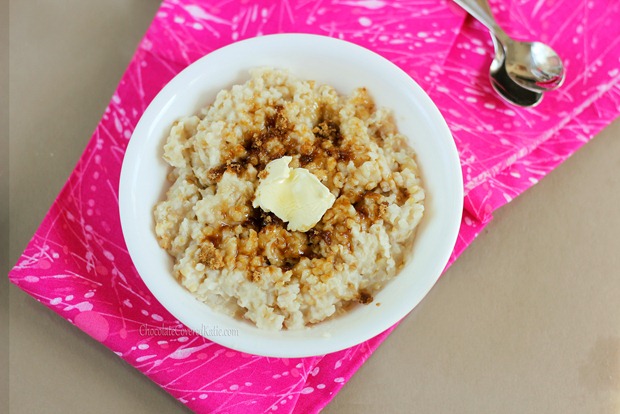 Below is my basic crock pot oatmeal recipe. You can easily customize it for endless breakfast options.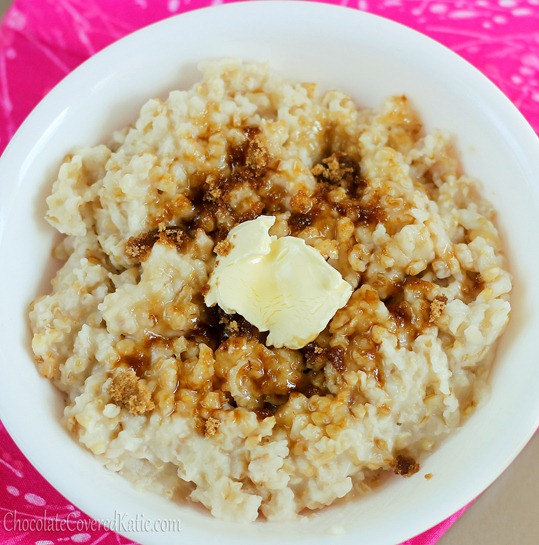 Crock Pot Oatmeal Recipes
Cinnamon Raisin Crock Pot Oatmeal: add raisins before cooking. Stir in ground cinnamon and sweetener of choice (and butter-type spread if desired) after cooking.
Mounds Bar Oatmeal: add shredded coconut, sweetener, and chocolate chips after cooking. Use coconut milk when it calls for milk of choice. Slivered almonds optional.
Apple Pie Oatmeal: peel 2 small apples, chop, and add them to the uncooked ingredients along with 1/2 tsp to 1 tsp cinnamon or apple pie spice. After cooking, stir a butter-type spread and sweetener of choice (good choices for this variation include brown sugar or Sucanat or coconut brown sugar) into hot oats.
Peanut Butter & Jelly Oatmeal: stir 1-2 tbsp peanut butter and 1-2 tbsp jelly into each cooked serving of oatmeal. Pour some milk of choice (such as almond milk) over top just before serving. Everyone knows a pb&j is nothing without the glass of milk!
Crock Pot Oatmeal
This healthy crock pot oatmeal recipe is an easy slow cooker breakfast.
Ingredients
3

cups

milk of choice or water

1

cup

steel cut oats

(160g)

1/2

tsp

salt

add-ins of choice

(see above for flavor ideas)
Instructions
Slow Cooker Oatmeal Recipe: Combine all ingredients in a slow cooker or crock pot, put on the lid, and cook on low heat for three hours. No need to stir or anything until the time is up! I use a 3-quart slow cooker for this recipe; cooking times may vary if you use a much-larger size. If you double the crock pot oatmeal recipe, cook for 5-6 hours on low. (If you don't own a slow cooker, you can of course still make steel cut oatmeal. Just follow the cooking directions on the package of oats.)

View Nutrition Facts