I'm sure you saw it coming.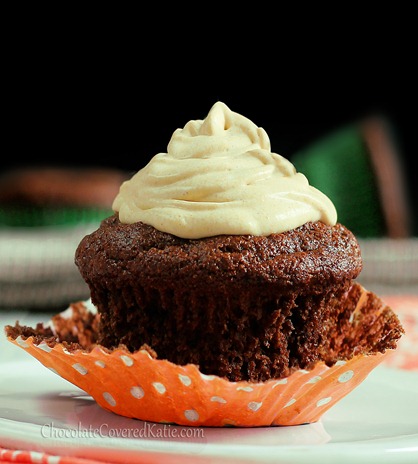 It's pumpkin "whipped cream" frosting!
Ridiculously delicious on cupcakes. Ridiculously delicious on pumpkin pie. And it also happens to be seriously crazily ridiculously delicious eaten straight off the spoon.
Shown above, on top of these: Healthy Chocolate Cupcakes.
The only thing better than a chocolate cupcake topped with homemade whipped cream is a chocolate cupcake topped with homemade pumpkin whipped cream.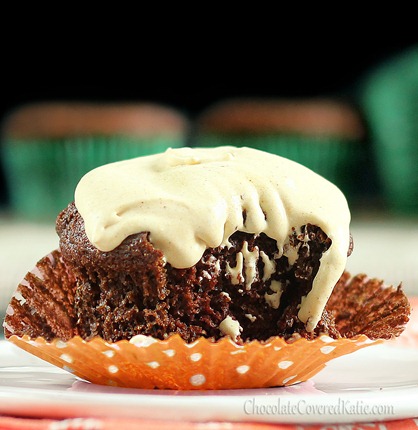 Click for other flavors: Vanilla, Chocolate, and Strawberry.
Pumpkin Whipped Cream Frosting
(or Pumpkin Frosting Shots)
pumpkin puree (or canned pumpkin)
full-fat canned coconut milk or coconut cream (For substitution, see "nutrition facts" link below)
cinnamon (or pumpkin pie spice)
stevia or powdered sugar
salt
I didn't list ingredient amounts because cans of coconut milk will yield different amounts of cream: For every 1/3 cup of cream your can yields, use 2 tbsp pumpkin, 1/8 tsp cinnamon, 1/32 tsp salt (a tiny dash), and sweeten as desired. If you're using beaters to whip this, it's best to use at least 2 cans of coconut milk.
Directions: Refrigerate coconut milk overnight. (If using coconut cream, you can skip this first step.) It should get very, very thick. (If it doesn't, you've gotten a bad can that won't work for the recipe. I highly recommend Thai Kitchen Organic, or Trader Joe's coconut cream.) Once thick, transfer only the thick cream at the top to a stand mixer (or a bowl, if you have no mixer and want to do this by hand). Add all other ingredients, and mix until it forms stiff peaks like whipped cream. It might be softer straight out of the mixer (depending on your ambient temperature), so let it firm up in the fridge if you want stiffer cream. And if you're frosting cupcakes, it's best to frost right before serving. (Chocolate cupcake recipe is linked under the first photo in this post.)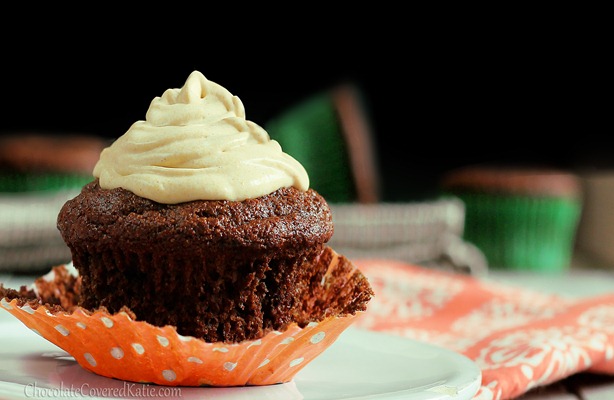 Link of the Day: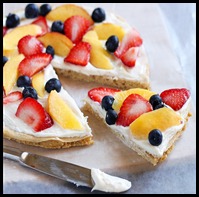 ..Single-Serving Breakfast Pizza
Today is National Pizza Day!