Good morning, and Happy Sunday!
Does anyone else equate Sundays with pancake-eating?
Because I don't like to be bothered cooking elaborate breakfasts in the morning, I often cook my pancakes up ahead of time. (I'll usually make multiple batches and freeze the extras.) This morning, when I came in from running, here's what was all ready for me: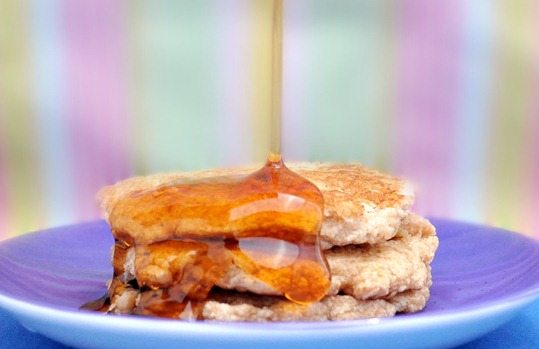 Despite the "for one" in the title, I did not consume these pancakes completely by myself. The following adorable little helper snatched a bite: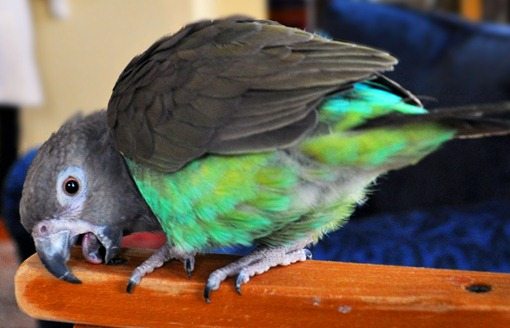 Meet Woody, the Meyer's Parrot.
I'm bird-sitting for the weekend, and I've had so much fun with this gal. (Woody's actually a girl.) She'll sit on my finger, say "pretty bird," and she even eats my food! Besides a small bite of pancake, I've also fed her a pepper from last night's stir fry, some raw carrot, and even oatmeal! Woody likes all the foods I like—grains, nuts, vegetables, fruits… everything but chocolate. (So sad, chocolate is bad for birds!)
Not everyone's a fan…
Who's not thrilled with out houseguest? Henry.
He's 1/2 Jack Russell, which is supposed to be a bird dog. But Henry's other half is made up of cat. Fraidy cat, to be exact! The little guy has spent the entire weekend hiding in the closet. (Before we rescued Henry, he was abused as a puppy, so many things still scare him.)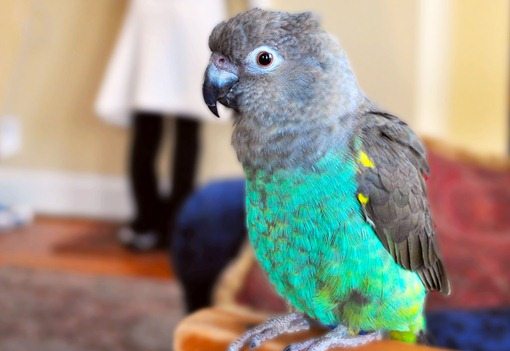 Hermit crabs, hamsters, fish…
Have you ever owned a pet other than a dog?
In my lifetime, I've shared a home with all of the above, as well as rabbits, a lizard, and a Quaker Parrot. (By the way, Quaker Parrots are the best pets ever!!)
Don't forget:
Be sure to enter the Funfetti Giveaway…
If it gets up to 700 comments, I'll pick three winners

.