For most of the year, here in Texas, the weather is… weird.
80 degrees one day, 20 degrees the next. Sunny one minute, hail storm the next. They have a saying about Texas: If you don't like the weather, wait five minutes. However, when it turns to summer, you can count on our weather to be one thing: oppressively hot!
Luckily, I'm well-prepared for the heat wave… with Frozen Hot Chocolate.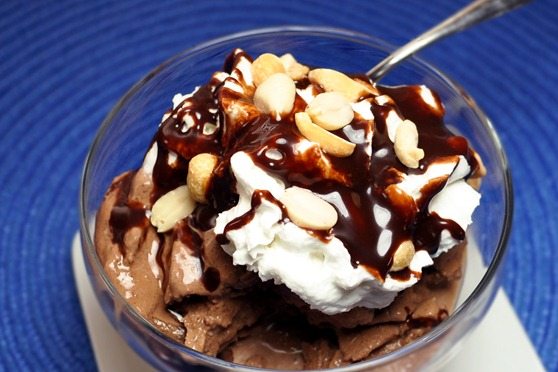 Remember Erika, with the Healthy Chocolate Cake Batter Milkshake?
She's slowly warming up to the idea that healthy food can taste incredible. And the concoction I whipped up for her yesterday afternoon certainly didn't hurt her opinion.
Peanut Butter Frozen Hot Chocolate
(Makes 1 really big serving)
1 cup milk of choice (at least 1/3 cup as full-fat canned coconut milk if you want a really-rich treat)
2 tbsp cocoa powder (10 grams)
1/16th tsp salt (do not omit this)
pinch stevia, OR 2 tbsp pure maple syrup or sugar of choice
Optional: for an even richer flavor, try adding a little melted chocolate (Serendipity's recipe calls for this) or chocolate syrup
1-2 tbsp peanut butter
Combine ingredients and whisk together on the stove. Or microwave 30 seconds, stir, then microwave another 30 seconds. Let cool, then pour into an ice-cube tray. If you don't have one, pour into three or four small containers. (Or pour it all into one container, but be sure to thaw before doing the next step so your blender can handle the one big block of frozen-ness.) Freeze. Once frozen, pop the mixture into a blender and blend! (I used my Vita-Mix.) Do not add ice. I repeat: Do NOT add ice. You will dilute the flavor.
See original fro-co post for Frozen Hot Chocolate Nutrition Information.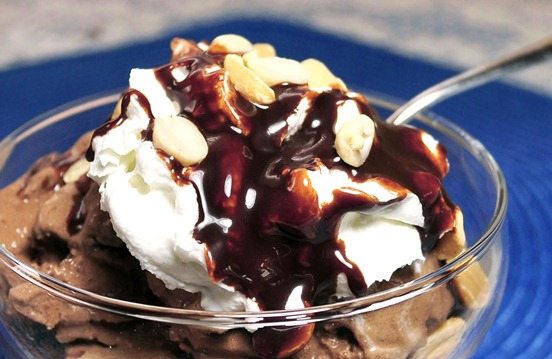 Is the weather warm where you are?
And do you have any summer plans yet?