Oatmeal Cake… for One!
It's like eating a giant oatmeal cookie, all by yourself!
You might worry that oatmeal cake won't keep you full like a big bowl of hot oats, but guess what: This cake is so dense and so filling!
For Thanksgiving, I posted this recipe: Pumpkin Baked Oatmeal.
Afterwards, I made a mental note to try out other flavor variations. And since St. Patrick's Day is not Thanksgiving (What? Really?), yesterday was the perfect time to try the following: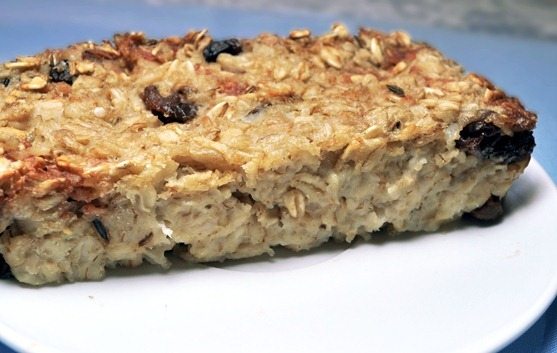 With St. Paddy recipes zooming through my mind, thoughts of boatmeal crashed into thoughts of Irish Soda Bread. Thus, the birth of Irish Soda Boatmeal! (Boatmeal = baked oatmeal.)
"Irish Soda" Oatmeal Cake
(Single-Serving!)
1/2 cup oats (50g)
sweetener, such as 1 and 1/2T agave or 1 pack stevia (I omitted, but I've cautioned y'all before about my lack of sweet tooth.)
1/4 cup unsweetened applesauce (50-60g)
1/4 cup milk, creamer, juice, or water (I used 60g water)
heaping 1/16th tsp salt (or less, if you add vegan butter)
a bit over 1/8 tsp baking soda (This is just for the "Irish soda" flavor)
handful raisins (I used 1T)
Optional: 1/4 tsp caraway seeds (I did use them.)
Unless you enjoy the taste of fat-free baked goods, you can add 1-2T vegan butter (or oil or even nut butter!). If you use oil, scale liquid back to 3T.
Preheat oven to 385 degrees. Combine dry ingredients, then add wet. Pour into a small baking pan, loaf pan, or 1-cup ramekin. Or you can use two 1/2-cup ramekins for baby oatmeal cakes.
Cook for 20 minutes, or until firm. Finally, set your oven to "high broil" for 3 more minutes, or until desired crispy-ness is reached (or simply just bake longer, but broiling gives it a nice crust).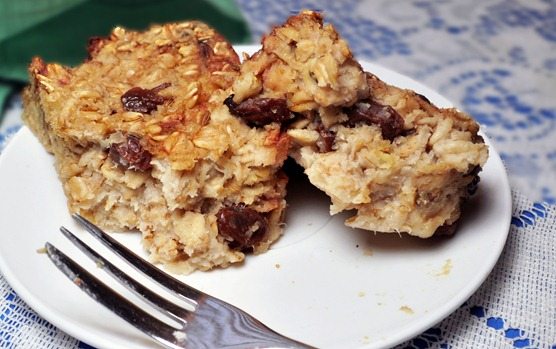 I also have a non-baked version of Irish Soda Oats, but I don't think I'll have time to post it before St. Patrick's Day. So if you want it beforehand, just let me know in the comment section and I'll give you a quick outline of the recipe.
Pancakes, cookies, granola…
Do you ever eat oats in ways other than hot cereal?
If you like baked oatmeal, be sure to check out: Oatmeal Cake Flavors.