Yay, y'all share my sweet potato love!
And my excitement about the Coconut Banana Butter.
Yesterday, I ate another sweet p with the luscious spread. But this time, upon my discovery that you can melt the banana a bit (pre-blending) things skyrocketed to a whole new level of deliciousness!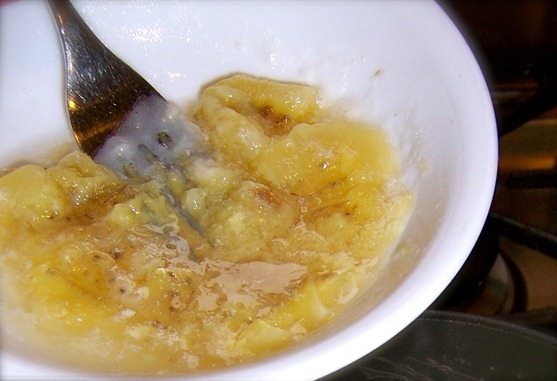 You know how much I *heart* the Melted Banana Trick.
(For the record, the "melted banana" in the photo went into oatmeal. I didn't melt the banana quite so much for yesterday's coconut spread; just enough to bring out the caramelized taste.)
In other coconut news: I snagged a Chocolate-dipped-Coconut Luna Bar to try out. Normally, Luna Bars aren't my favorite, but I was curious. How can you go wrong with chocolate and coconut?
As it turns out, you can't. I think this is one of Luna's best flavors to-date (their only other flavor on which I'm keen is the Nutz-over-Chocolate).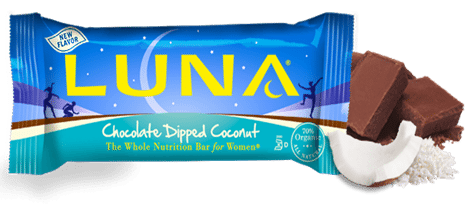 Not as good as my homemade Coconut Bars.
But pretty darn good for a packaged product. I'll probably buy another one, just to throw into my purse for an emergency snack. Once every few months, I'll get an unexpected Luna-Bar craving out of nowhere. Weird.
I'll leave you with something that has nothing to do with either chocolate or coconut: Henry, a.k.a. the laziest doggie in the world. He must get like 23 hours of sleep every day! (And in that other hour, he's either mooching for food or rolled over on his belly, hoping someone will pet him.).
Do you like Naps?
And how much sleep do you normally get?
Am I the only one who hates naps?? I've hated naptime since preschool. (Wait, does anyone like naptime in preschool?) Even power naps just make me more tired upon waking up.
As for sleep, I usually get 7-ish hours. But every now and then, I wake up in the middle of the night and cannot fall back to sleep. It's so frustrating to just lay there, staring at the wall! But sometimes, I get the most-creative ideas during those times. For example, the other night I came up with a recipe for fudge.
Here's a sneak peak:  Healthy Vegan Fudge.